Update on 10th October 2018: Here we have discussed the best Free Android Torrent app a few days ago but somehow we missed one of the best torrent app which gets the great response from users. This is one of the most competitive torrent app of Utorrent which is called qBittorrent.
The qBittorrent is a software which aims to provide a Free Software alternative to Small µTorrent iconµTorrent. Apart from this, qBittorrent runs and provides the same features on all major platforms (Linux, Mac OS X, Windows, OS/2, FreeBSD).
Here are the key Features of qBittorrent
Polished µTorrent-like User Interface
Well-integrated and extensible Search Engine
Simultaneous search in most famous BitTorrent search sites
Best Free Torrent Apps for Android – Tips, Tricks and Tutorials
Every day we come across that type of data to which we are unable to access due to certain reasons but with the torrent client,s we can download every desired file. Although torrents are not well-reputed as there is a strong belief that these sites contain malware which can infect your pricy still many legal sites use Best Android Torrent app. With these torrenting apps, you can download Audio-video files, PDFs, movies e-books and much more. Here we will describe the 5 best torrent apps for Android in 2018.
Best Android Torrent Apps To Download Torrents In 2018
Best Fastest Torrent Downloaders For Android 2018
What is the best torrent downloader for android?
Best Free Torrent Apps for Android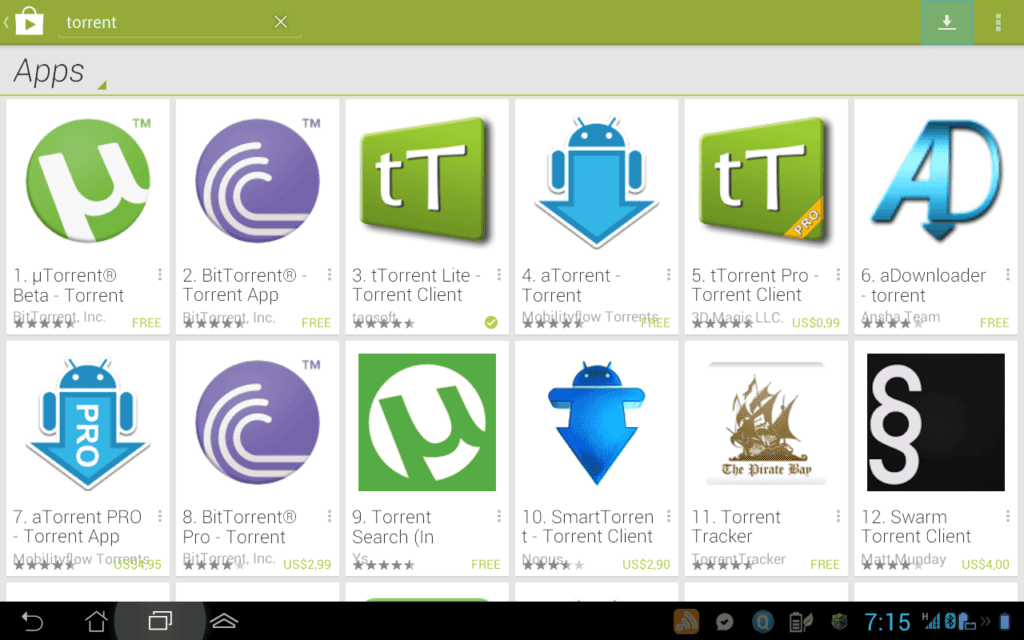 Fastest and best torrent downloaders for Android in 2018
1.Flud – Torrent Downloader
The best torrent client for android is flud which is free to download and offers you a quick and easy user-interface. The most favourable feature of this app is that you can download and upload unlimited data. You can choose files you need to download, attach torrent from files, and it also permits to move files at the time of downloading. Also have the facility of pause, stop, and restart downloads. Flud supports numerous protocols like DTH, UPnP, and PeX etc.
Here is one more facility for you as it allows you to choose Wi-Fi mode while downloading. Flud also contains encryption, IP support, and proxy support etc and you can also modify the look of the interface and choose the storage venue.
Top 50 Popular Android Apps Banned on Google Play Store
Best Android Torrent app in 2018
2. uTorrent – Torrent Downloader
Let's discuss our next top torrent app for Android in 2018, uTorrent. It is one of the best torrent apps which has more than 100 Million downloads. uTorrent supports magnate link permits you to initiate torrent search and you can also fix the amount of active torrent for the single time. Featured with media library and media player and you can enjoy your videos and music files on uTorrent.
It allows you to download multiple files at a time and you can also play all the flies at the same time. uTorrent has the accessibility for RSS subscription, Wi-Fi only mode, and also allows you to choose the download location. It also gives you the facility of sharing files. There are two versions available free and paid. In the free variant, you have to deal with annoying Ads but with the premium version, you get a better experience.
3. BitTorrent – Torrent Downloader
It is like the uTorrent and you can say it the twin- brother of the uTorrent app. BitTorrent is our next best torrent app for Android devices and offers you an easy user-interface. There is no specific download limit or size in BitTorrent but if you want then you can configure in settings. Here you can explore, download, and share with anyone.
The best facility of BitTorrent comes with a video player and media library which allows you to access your device media and music. It supports RSS Subscription, Wi-Fi only mode, and also allows you to select the download location. There is also Ads in its free version for premium version you have to pay.
How to download a movie from Android Torrent app
4. Vuze – Torrent downloader
Our another torrent client which is in our best torrent app for Android is Vuze comes with inbuilt explorer. There are more than thousands of files in its data and also amalgamated with other P2P. You don't need to struggle between app and Google search for downloading as it contains inbuilt search module.
Vuze is an excellent torrent downloader but it is a well-known name for file sharing also. Another prominent feature of Vuze is its HD media player with which you can stream live videos and you don't need to download them.
Best Torrent app to download movie free
5. Torrdroid
Last but not least our next best torrent app for Android users is Torrdroid which comes with a quick and simple way of downloading files. There are three sections of history, search, and download for your ease. It contains inbuilt file browser, search engine and also accesses the magnet links.
It allows you to download multiple files at the same time and you can also filter your exploration. It also gives you the choice to select the download location and Torrdroid is the totally free app which doesn't contain any Ad.
Wrap Up
Folks, This guide of best torrent clients for Android devices will definitely assist you to choose the best one for you. Still, any query then comments below and also share your experiences if you are currently using one. For more updates stay connected.