Back in 2000, Directplay was required to play the games on Windows PC.
However, as the time has progressed Directplay is replaced by Microsoft game for Windows Live.
With the new program in the mix, you can play almost every Graphics Heavy video game using it.
But what if you want to go back to same good old days and bring back the Nostalgia of 2000 era?
Is this possible with Windows Live for Games applicattion?
Well, technically yes. But you might Run into some never ending errors.
So it would be smart of you to to once again go back to the directplay software.
But the question is how would you do that after 21 years?
To be honest, there isn't anything you can't do today.
I have myself used directplay sometime to play classic games like mario, contra on my Windows 10 PC.
If I can do it with ease, you can also do it. Besides, you're only asked enable it on your PC.
How to Enable Directplay on Windows 10?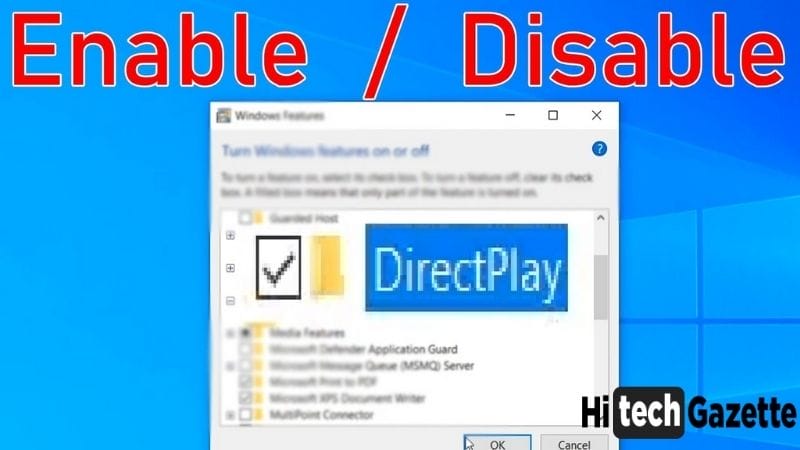 ENABLE DIRECTPLAY USING WINDOWS FEATURES
You can enable direct play by following these steps:
First, press Windows + S keep together. This will open up the search bar type in control panel.
Once you see it in the search result, open it.
When you're already in the control panel, change the view fromm category to large icons.
Then from the list of options, click on program and features.
Once you're in the menu, you'll see a list of programs installed on your PC.
Instead of messing up with any of the installed apps look over to the left Lane and click on turn the Windows feature on or off.
Give all the necessary administrator permissions, and search for Legacy components in the features list. Expand the list and you will see another option called directplay.
Enable both the options and click OK.
To be honest even after trying all these steps you might still get some unprecedented errors because of directplay.
So it will be best if you keep the solutions ready before run into any critical errors.
ENABLE DIRECTPLAY USING POWERSHELL
A non-techie person never prefers to follow a long list of steps
Instead what he would want to do is finish the process quickly and get on with it.
And when it comes to enabling direct play is there anyway to do all this within a few steps?
Yeah! You can do this by using some commands in powershell.
Do you know what is powershell?
It's system program something like command prompt where you can enter commands.
So, next up I share a command that will directly enable the directplay in your PC
First press Windows + X keys together and in the long list of options select Windows powershell admin.
Before the program opens in your PC, it will ask for administrator rights. Give the necessary permissions.
Then in the powershell, type the following commands and press enter.
"C:/ dism /Online /enable-feature /FeatureName:"DirectPlay" /NoRestart"
Once done, exit the powershell and try to play the old games again.
I am sure you this you would be able to play old games using Directplay in your Windows 10 PC
How to Fix Direct Play Compatibility Issues on Windows 10
Directplay was built for older operating system like MS Windows 2000, MS Windows XP. It was never meant to work for latest operating system like Windows 10.
Now that they are of no use, it would be best if you run the Directplay and old games in compatibility mode for windows XP.
Even in windows 10, windows 7 is set as default compatibility settings.
So, make sure to change it to windows xp.
You can do all this by following these steps:
Right click on the game you want to play using Directplay.
Select Properties
In the property section, you will see five different tabs.
Out of the avalable tabs, jump to the compatibility tab.
Then under the compatibility tab, checkmark the column saying 'Run this program in compatibility mode for"
By enabling the option, you will unlock the available operating system. In the list of options, select either Windows XP or Windows 98.
At last, select apply and then ok to save all the changes.
Frequently Asked Questions
How to install direct play on Windows 10 PC?
Direct play Never Comes pre-installed with a Windows 10 PC if you have installed directx on your PC then it is included in that software. By default, direct play is disabled. If you want to play older games then you can enable it using the two methods. I have mentioned at the top.
Is direct play safe to use on a Windows 10 PC?
In terms of security purpose direct play is safe to use but this doesn't mean it is prone to errors. In the end, it's an API of directx.
If a particular game has some bugs then these bugs can conflict with direct play to cause some serious errors.
Is there any way to enable direct play without admin permissions?
Before you enable direct play on your Windows 10 PC, you are required to  to give it admin access.
Final Thoughts
Time and again, it feels great to bring back the 2000 Nostalgia back.
Isn't this true?
And there is no better way than playing classic games that you used to play in your childhoood days.
That is all for now.
I hope you were able to enable direct play on your PC and if you're getting any compatibility issues while enabling in it, refer to the part of this post where I have briefly explaned how you can play some incompatible games on your Windows 10 PC