If you are looking for the best project management tool in 2018 then there are many options. yet, the two leading debates are between Jira vs Trello.
You will find many differences, but the most crucial segregation arises from the fact that Trello implemented as a task-model, while JIRA is implemented as a task-meta-model.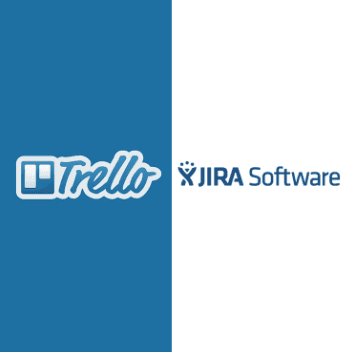 If you are a marginally small sized organization with default work flow requirements then Trello is the go-to software. This means you can use it to assign, update, follow up, amend your tasks assigned to all the team members.
On the other hand;
JIRA is a logistically flexible and powerful tool to manage your project tasks. It was designed with a software engineer in mind so, if you are looking for extensive task process then Jira is your go-to software.
But this is also why you should not use JIRA. You need JIRA if your task management is not covered by Trello and you are clear on what you need in your project management requirements.
See More: Best Alternative of Jira and Trello
Get Trello if you need accurate defaults and have a reasonably small team. Get JIRA is your project management requirements are more complex and your team is much larger.
So, honestly, if you are looking for the right project management tool, then, in the end, it depends on what kind of tasks requirements your company has. There is no straight answer. The Jira vs Trello argument really lies on the kind of work flow you are using these tools for.
Jira+Trello Integration ( The Alternate to Jira vs Trello )
Jira Power-Up removes context switching and that makes sure all your team members are on the same wave length. By integrating Jira and Trello, every member in the tools can connect their tasks and work flow together, having a very centralized effect. You can also input your Trello work flow to your Jira backlog too.
The Jira Power-Up makes it easy for you to:
Create Jira tickets form your Trello cards.
Integrate Trello cards to your Jira project.
Without leaving Trello you can supervise the Jira tickets.
Jira+Trello Importer Plugin:
Jira Trello Importer plugin lets you import Trello boards, cards and users and integrate it to Jira.
This easy 2 step import process will initially ask to access your Trello data; then it just boils down to mapping the integration of Trello boards to Jira projects and the Jira Trello Importer plugin will do the rest. Using their public APi the importer will easily import and integrate all your data form Trello to Jira.
You can use the following mapping to import:
Jira Projects and Trello Boards ( Jira Agile Board)
Trello Cards and Jira Tickets
Integrate both users from Trello and Jira
You can find the Jira+Trello Importer plugin on the main Jira Admin view under the tab of External System Import.
Looking for the right balance between the two lies in the secret of synchronizing Jira and Trello, instead of focusing on the Jira vs Trello debate. Both these tools give your organization the power to accurate streamline the work flow.
Requirements For Trello+JIRA Synchronization:
To integrate your Jira cards accurately, you would need the below requirements to be fulfilled first.
The configuration where your project is specified where you intend to copy the cards has to have the required fields as per the Scope of synchronization.
The user-specific configuration needs user permission to write a project.
The Jira vs Trello Wrap Up
As mentioned above, you would need to first determine what are your task requirements and how big of a company you are. As you know Jira was developed for software engineers. But, Trello is an easy go-to option if your task requirements are marginally smaller.