Mini-Militia is a 2D shooting game which offers you plenty of eye-catching features. This game is hugely popular among all age groups and people love to expand their hours in the gameplay of Mini Militia. But there are certain issues which occur at the time of playing. If you are facing such issues and want to fix them then you are in right place. Here I will describe the solution of most common issues of mini militia.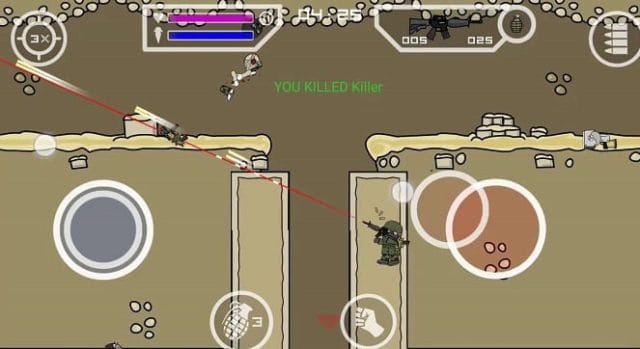 Mini militia problems and ways to fix them
Although there are numerous issues while playing but I have the most frequent issues so take a look below and learn how to solve them.
Problem: Slow and lagging performance
While you play mini militia and you notice that it is going to slow and don't performing well then you have to navigate to the internal memory of your device. You have to clear some space of your SD card for better performance.
Problem: Unfortunately stopped working
When we download any app it can be deranged and shows such type of issues. The best way to fix it to reinstall the application. Or other reason can be that you didn't install the update for that application so you have to update for fixing the problem. Installing from third-party apps can be another reason so you must install from the genuine sites.
Problem: Mini militia is not installing
If you want to enjoy this game then you must have android 3.0 or higher for smooth performance. You must have the knowledge of compatible android versions for installing the different mod files of Mini militia. If you have the lower version then you can't run it on your device.
Problem: Game hangs in multiplayer mode
Many times when you play Mini Militia you have observed that the player is hovering in the mid-air and you are unable to kill and after few seconds you both will die. The root cause behind it the slower internet connection. You just need constant data of 20~KBPS to play it.
Problems: Connection lost, login issues, player not found
Many times you notice that connection has lost or you didn't find the player then you have to reset the app preference. For it you have to follow these steps:
Initially move to the settings of your device
Now scroll down the installed apps
Then you have to click on More.
Here you find Reset app preferences, click on it.
Finally, click on Rest apps.
Problem: General issues
Cache is the data which your device receives from the apps for fruitful functioning. Many times due to the modification in the Android operating system these files can be amoral. So this can create problems, you have to clear the cache of your device. For removing the cache and junk files there are certain apps available but you can also do so with below-mentioned steps:
Firstly move to the settings
Then all apps
Situate all tab
Now find the Mini militia in the list
Finally, click on clear cache
Factory Data reset (final solution)
As time passes your Android operating system may tend to different problems like crush, become slower so we have a solid solution to fix all these issues. Factory resetting will enhance the performance of your smartphone and you will take the maximum enjoyment of Mini militia game.
Make sure before factory reset you must take a backup of your data because during factory reset all your data will vanish. Follow these steps for factory reset:
Navigate to the setting
Then move to personal and after it back up and reset
Insert your password if necessary
Please confirm system restore is enabled
Then click on factory reset and reset your phone
Again you will be asked for a password or pin
You have to press delete all
Finally, choose reboot and your phone is ready for a better performance to play Mini militia.
Final verdict
Folks' as I have mentioned earlier that there are numerous issues with Mini militia but I couldn't give you the solution for all in one article. If you have any issue which I didn't define then comments below. We will try to give an instant reply. If you have enjoyed the article please share it with your close ones. For more updates stay connected.