Are you looking for a software application using which you can manage your Android phone or tablet through your Windows computer system? Nowadays Majority of the smartphones don't include any software in their packaging which allows the users to access and manage data on their phones via computer. But thankfully there are heaps of third-party applications, which can be used to achieve this task easily. One of the most popular among these is the MoboGenie App.
What is MoboGenie App?
You can just download the MoboGenie application on your computer or laptop that is running Windows operating system, and manage your Android devices with just few clicks. This Android device managing software is supremely useful since it lets us perform many operations by just connecting our Android device to the computer. Owing to its fluid user interface and easy utilities, this software has been experiencing rising popularity ever since its launch into the market.
Update on 6th October 2018: Before reviewing the Mobogenie app you must know how to download the Mobogenie app on your android devices. When you will download Mobogenie app on pc or android then you will get lots of features like One-Click Installs, Social Media Share, Android Manager, backup and restore, One click rooting and so many other advanced features. But to get all these features you will have to download it first. Here is the link you can follow to download Mobogenie APK on your devices:
Download Mobogenie Apk For Android 
MoboGenie App Review
What can you do with the help of MoboGenie?/ Mobogenie App Market Offers:
Well, what can not you do with the MoboGenie app! Anything that you can possible think of, related to the access and management of data and files on your Android device, can be smoothly achieved with the help of this application. You can install apps on your phone; manage your device file system. All the latest games and other applications, which are difficult to search and download on your phone, can be transferred from your PC to your phone via MoboGenie. You simply need to install this application on your computer and connect and to the Internet to refresh the feed with all the latest games, apps and wallpapers available. And then, all that you need to do is connect to the computer and transfer all these latest downloads on to your Android device. That's all! It seems like a lot of things need to be done one after the other, but if you have MoboGenie installed on your PC, then all these steps will be over in a jiffy! Let's check out "What's available on Mobogenie App Store?"
Applications
Ringtones
Wallpapers
YouTube
Manage contacts, SMS, Music, Pictures & Videos
Backup/Restore
MoboGenie Market App Features
Transfer files easily and synchronizes data:
Along with downloading games and stuff from the Internet on to your phone, importing and exporting information residing in the memory card of your phone is also easily achievable with the help of the user-friendly interface of MoboGenie. To use this application, you need to connect your phone with your computer with the help of a USB cable and put the USB debugging option to "on". After your device is detected, you will be able to find its preview on the left hand side of the home screen of this app. However, delay in display is common and you will not be able to control it during the time, i.e., it does not let you to take screen shots or do any other task while connected.
Backing up your data is now easier than ever:
With MoboGenie, you can ensure that all important data in your phone stays secured and can be retrieved easily whenever you need to. MoboGenie comes with an amazing feature for backing up all data backup and you can save a copy of all the files which are there on your Android device as well as its memory card, onto your computer or laptop. In this way, it will be easy for you to fetch data from your PC in case any important file ever gets deleted by mistake. If any of the files on your Android device is corrupted somehow, you can also replace them by transferring a copy of the files from your PC with the help of MoboGenie.
Download latest Version Software from Mobogenie App:
You can directly access all the latest media files from the web and search manually to download the latest files of your choice on to your Android phone. This way you can get access to a premium collection of quality media files like latest videos, pictures, music and much more. The most advantageous feature of MoboGenie is that it directs the users to the direct downloading link of the file thereby saving time and preventing download of spurious files unknowingly.
Manage SMS reading and sending with the SMS Manager:
Send, edit and send SMS to all your phone contacts within a short span of time with the help of MoboGenie's SMS Manager feature. It allows the users to send and receive SMS from their computer. Tedious hard work of typing on the phone is now replaced by easy editing from your computer and you can also read SMS on your computer instead of peering into your phone screen all the time. SMS management is now quick and easy thereby enhancing efficiency and effective utilization of time.
Manage your phone contacts easily:
You must agree that managing phone contacts, copying and transferring every bit of contact information is a humongous task when you buy a new phone. But the good news is that using MobGenie, you can now edit and manage all the contact numbers present in your phone, from your computer. This app lets the users save all their contact numbers on the PC thereby facilitating easy retrieval in case of any emergency, like if your mobile hangs or the data within it is corrupted.
Now you must be wondering, what experts have to say about the performance of this Android device managing application. Well, we can only that all things in this world have two sides to them, and as per experts, the MoboGenie app also comes with certain downsides to it.
Demerits or Downside of Mobogenie App
*Firstly, in order to use all the features that MoboGenie software comes with, a rooted Android device is required.
*Secondly, the software cannot be connected to the phone over Wi-Fi so you would always need to carry a USB data cable to connect your Android device and your computer.
*Thirdly, this software is only available for Windows computers and Android devices as of now. But the developers have expressed their plans to roll out a version of MoboGenie which can be used by Mac users soon.
Finally, You still can't update the OS on the phone. Also, There are many files which take ages to transfer ultimately means it takes a lot of time to transfer the files sometimes. Speed is missing.
Mobogenie App Customer Testimonial: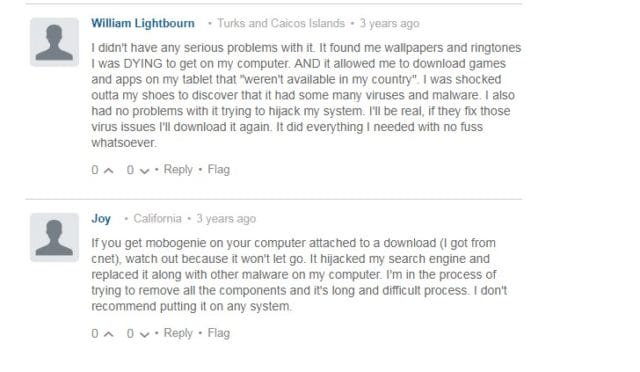 If you have any question regarding legality or safety of this app, If you want to know if this app is having any type of virus or not – then check out: Is Mobogenie Safe?
Mobogenie vs Aptoide: battle of Android app stores
Conclusion:
As per Mobogenie App Expert Reviews, you can safely conclude that the Mobogenie application performs quite well for Android users. It presents a simple and suitable interface, a means for taking backup of data and restoring when needed, managing phone contacts and SMS. You can also explore the files on your device memory card and download apps, ringtones, games, videos and wallpapers easily. It is a secure platform offering files from reliable sources so that Android users can use them freely and safely. This software has got almost all of the most popular Android apps for you to download on your computer, and are saved as ".apk" files.
The overall idea of MoboGenie is quite commendable and useful however there is still no option to connect to your computer via Wi-Fi. This is something that many users have found to be a downside to this application since Wi-Fi connectivity would have increased the convenience of managing data manifold. Also, certain pop up advertisements make it a bothersome affair at times. Also, once this is available for Mac users, it will be a truly incredible experience.