Pakistan authorities sends the shoes of Kulbhushan Jadhav's wife for forensic testing.
Pakistani authorities have now sent the shoes which were worn by Kulbhusan Jadhav's wife for the forensic examination to know the nature of the
suspected presence of any foreign object.
The authorities were ascertaining whether the "metallic object" in the shoes was a camera or may be even a recording chip.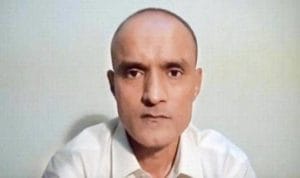 In the statement, Pakistan had rejected as "baseless" India's contentions that was Jadhav's wife and mother were harassed and it was claimed that his wife's shoes were also confiscated on security grounds as there was "something" present in it. Faisal had said, "There was something in the shoe. It is being investigated. We gave her a pair of replacement shoes. All her jewellery etc were returned after the meeting."
The external affairs ministry had said in a statement yesterday that now Pakistan has gone so far as to even have the mangal sutra, bangles and bindi of Jadhav's mother and even the wife to be removed before they could even meet him.
India had also accused Pakistan of disregarding the cultural and religious sensibilities of the family members of Kulbhushan Jadhav under the guise of security.
"This even included the removal of mangal sutra, bangles and bindi, also the change in clothes was not warranted by security."
The FO had said that Pakistan now does not wish to indulge in a "meaningless battle of words" and is now categorically rejecting India's baseless "allegations and twists" about the attitude of authorities which was during Jadhav's meeting with his wife and mother. It said,"We do not wish to indulge in a meaningless battle of words. Our openness and transparency belie these allegations."
In the December 25 meeting, whose pictures were then released in Pakistan media, Jadhav was shown sitting behind a glass screen and his mother and wife sat on the other side of the glass screen. They had a conversation through intercom and all of the forty minutes proceedings were recorded.
 Jadhav was captured in March in 2016 and was sentenced to death by the Pakistani military court for his alleged spying, it was an accusation that India dismissed as concocted. According to Indian reports, Jadhav was kidnapped in Iran where he had gone for legitimate business interests, and was brought to Pakistan. In order to save Jadhav, India had moved the International Court of Justice, which had ordered Pakistan in May to put a stay on his execution.