If you are looking for a conversion tool to convert MBOX files into PST format, then you've landed on the right page. This post will give you a complete overview of Stellar Converter for MBOX – one of the most popular MBOX to PST converter tools present in the market. You will learn about the software's various features, its functionality, price, and other aspects.
Software Specifications
Software Name: Stellar Converter for MBOX
License: Single and multiple users
Version: v4.1.0.0
Edition of the Software: Technician and Corporate
Language: English
Latest Release: June 2022
Minimum System Requirements
Before installing the software, ensure your system meets these requirements.
Hard Disk: Minimum of 250 MB of free space
Memory: Minimum of 2 GB
Processor: Platinum Class 1 Ghz or faster
Operating System: Windows 7 or higher
These are just basic requirements but better hardware specifications will provide better performance.
Versions and Pricing
There are two versions of Stellar Converter for MBOX – Corporate and Technician, based on the features and functionality. You can choose the version, depending on your requirements. The Corporate version is available at a price of $39 and the Technician version at $99.
Similarities between Corporate and Technician versions:
License validity of 1 year
Multiple email clients support
Advanced filters
MS Office compatibility
In addition to these features, the Technician version also provides options to save file in different formats and directly into Outlook profile. It can also export converted MBOX file directly to Office 365.
In addition, there is a free version of the software that allows you to scan, convert, and preview the MBOX file. However, to save the converted file, you must activate the software.
Installation
Installing Stellar Converter for MBOX is easy and takes only a few minutes. We downloaded the software directly from the official website. Then installed the .exe file and accepted the terms and conditions that followed. The whole installation process was finished in about 3 minutes.
Features of Stellar Converter for MBOX
The software is brimmed with many features. It boosts your overall performance by creating various shortcuts to tasks. It also supports conversion of Gmail (Google Takeout) files to PST.
While using the software, we came across multiple features. Some of the notable features are:
Quick Conversion of Files
The conversion process is quite fast and easy. Extracting and scanning process takes almost no time at all. It also allows you to convert multiple files simultaneously.
Test observation: The MBOX to PST conversion requires a lot of effort but the software converted a 780 MB file in just 72 seconds.
Multiple Saving Options
Other than saving the file in PST format, it offers various other file saving options, such as MSG, EML, PDF, HTML, and RTF in the Technician version.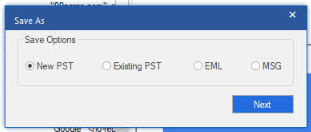 Test observation: We saved our MBOX file in .pdf format using the Technician version of the software.
Facilitates Conversion with Various Filters
Stellar Converter for MBOX has Apply Filter feature that allows you to view, exclude, or include emails. You can apply filters, like sort with the date and others. You can even remove multiple emails beforehand to reduce conversion time.
Test observation: We sorted our emails and converted emails between two specific dates.
Split Large File into Smaller Files
This feature allows to convert large MBOX file data into smaller PST files.
Test Observation: This auto split feature sorted the mailbox data into smaller files for better manageability.
Log Report
Every activity performed during the conversion is summarized in the log report. The report comprises scanning, conversion, and data file selection. Moreover, it also displays information about the time the software took to complete the conversion.
Test observation: This feature validated the process and time the software took to convert the file.
Preview Converted Mail Items
Stellar Converter for MBOX offers a well-sorted preview of all the items after conversion. It helps validate the items before saving them.
Test observation: This feature helped us review and correct the errors before saving the file.
User-friendly UI
Stellar Converter for MBOX offers a very user-friendly and simple interface. It has every option present right in front of the user. With each feature readily available on the menu bar, you can perform the conversion much faster and more efficiently.
Test observation: We have never used the software but still we are able to efficiently convert the files. This is due to its easy-to-use and sleek interface.
Some Limitations
Stellar Converter for MBOX also has some caveats. One major downside of the software is that you can export MBOX files to Office 365 only through the Technician version, which is $60 more than the Corporate version. The other problem is that you need the Technician version to save the converted files into other formats, such as RTF, PDF, and HTML.
Conclusion
Stellar Converter for MBOX converts almost every component of MBOX file into PST format. The best part is that after the conversion, the file hierarchy remains intact. Moreover, the preview feature helps validate the mailbox data before saving.
The software did an excellent job for us and we recommend using it. You can download the software directly from the official website.