It could be argued that sports betting was made by the technological advances of the past 20 years.
Or perhaps the more appropriate way of putting it would be that the sports betting industry was made for the technological advancement that the world has witnessed over the past generation.
The advent of the internet took sports betting out of corner shops and into everyone's homes.
No longer is it necessary to get dressed and trudge through bad weather down to the betting shop to put some money down on a match. The opportunity to wager on a game is now present at their fingertips 24/7 via online betting sites such as MyBookie.
That old line about the world getting smaller is certainly appropriate when it comes to sports betting. It's currently possible for someone in Japan to wager on Nicaraguan soccer, or for someone in Australia to bet on the Canadian Football League.
Today, online sports betting sites are frequently trendsetters and style leaders when it comes to technology, often on the cutting edge of changes that are making it easier for them to operate and for their customers to participate in wagering on sporting events.
Further technological advancements are only serving to make sports betting even more accessible to the general public across the planet.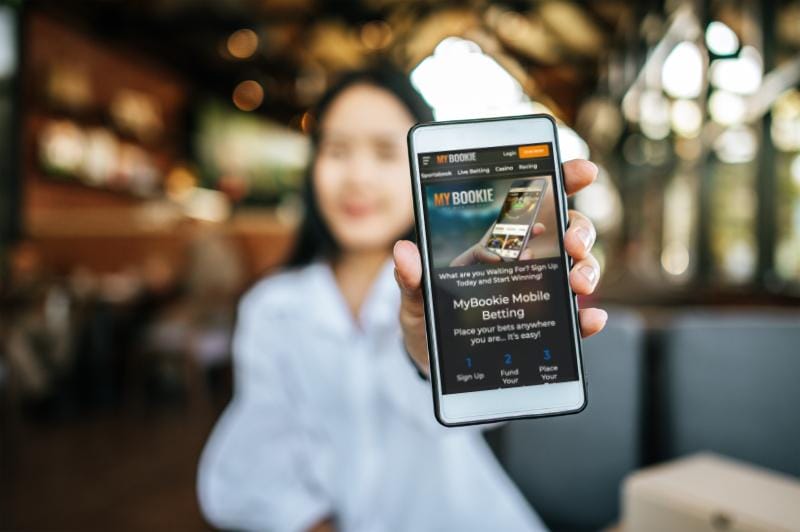 Mobile Apps
Mobile technology was the next logical step in the evolution of sports betting. No industry has embraced this type of technological advancement with more fervor than the online sports betting sites.
Smartphone technology is enabling people to take their life with them wherever they go and that's also true for those who wager on sports.
Waiting for the probable pitchers to drop for the day's Major League Baseball games?
In the past, a bettor would be tethered to a laptop or desktop computer while awaiting this word.
Today, they can get on with their day, run errands, visit family, go for lunch. The mobile app from their sports betting site goes with them wherever they are.
When that pitching matchup they've been waiting for finally materializes, they can bet on this game through the mobile app no matter where they are in their day.
Live Betting
The technological change in the betting industry that works for hand in hand with mobile apps, living betting is sports betting on steroids.
In the past, a bet was placed on a game and bettors sat back and awaited the outcome of that event to see if they'd be smiling or scowling at the final score.
With sites like MyBookie offering live betting, there's an opportunity for that grin to stretch from ear to ear every few minutes.
Live wagers are bets that are placed on outcomes within the game.
Which team will score next?
Is the next play going to be a run or a pass?
What will the score of the game be at the end of the next inning?
Today's world is an instant gratification society and live betting meets those needs. Should that live bet not work out in your favor, no worries. There's another wagering opportunity coming right up.
Live Streaming
The perfect companion to mobile apps and live betting is live streaming. If you're going to utilize the mobile app's ability to literally be betting on the move and want to play live bets, well then you need to see the action. That's where live streaming comes into play.
Thousands of sporting events are live-streamed by online betting sites to be viewed by customers. Through this method, bettors can be assured that they'll be able to catch the action from the game on which they have action.
Electronic Money Transfers
Moving money around was once a chore. Cheques could take days to be processed. Money orders and bank wire transfers were ordeals.
That's no longer the case. E-wallets such as PayPal, TransferWise, Neteller, and Skrill make the transferring of money a painless process that can happen in a matter of moments.
This has proven a boon for betting sites. Players want to get their money into their accounts as rapidly as possible.
Blockchain Technology
The blockchain is the next step in the world of financial transfers. Cryptocurrency such as Bitcoin and Litecoin are not only the safest way to transfer money through the world wide web, it's also anonymous.
That's a quality people who frequent betting sites – especially the high rollers – treasure. Betting sites are encouraging the use of the blockchain by offering added incentives in the form of extra site bonuses for players who top up their accounts via cryptocurrency.
Virtual Reality
It's not often that there's a lull in betting opportunities, but it does happen. That's where virtual sports enter the picture.
In sports sims or virtual sports, this form of artificial intelligence utilizes a random number generator to determine the outcome of the game. No one – the bettor or the betting site – can be certain of the outcome.