Although waking up early in the morning is good for our health but when its time to apply this good habit, it seems quite tough. I set alarm every day but set it up on snooze and sleep again. Do you want that extra push which compels you to get out of bed at right time? Here is 3 best free alarm clock app which will definitely push your butt from the bed.
Best Alarm Clock Apps To Push You Out Of Bed
After shuffling plenty of alarm clock apps I pick the top 3 apps which will definitely work:
Alarmy
Alarmy as is one of the best apps on both Google play store and Apple app store for cracking your sleep. With alarm facility this app allows you to see whether and news also. Alarmy attributed with some modified options.
The functionality of Alarmy to wake you up
For getting you out of bed, alarmy gives you three options.
Photo Mode: With this mode, you have to register the spot or a particular thing of which you will click picture to turn off your alarm.
Shake Mode: You have to put extra efforts to turn off your alarm. When you will shake your device fifty times then the alarm will turn off.
Math complexity mode: This mode give you a math problem and you have to solve it for making your alarm off.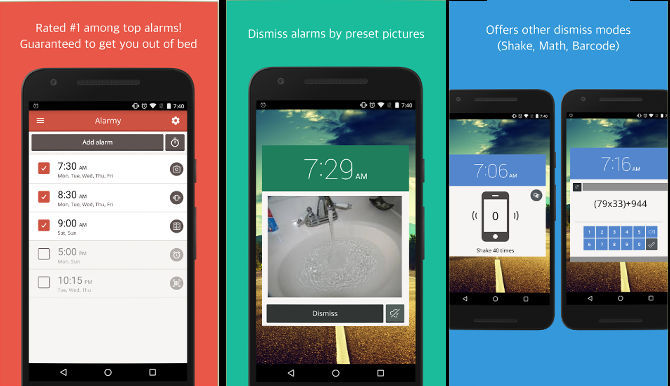 Ability
All the modes of Alarmy have the different effects to wake you up. Shake up mode needs extra physical push which will awake you and Math problem mode is not so effective. One of my favourite modes is the Photo mode which will definitely push your butt out of bed.
Walk Me Up!
Another Alarm clock app for pushing you out of the bed is Walk me up. This app supports the pedometer technology and you have to walk for closing alarm.
The functionality of Walk Me Up
This app works quite differently and it makes you walk to crack your sleep. For stopping alarm you have to walk to leave your bed and you have to cover an exact distance. It gives you two options first one allows you to set the number of steps on your own. Another one is the Evil mode which doesn't allow you to snooze the alarm until you move the exact steps.
Ability
For me, it is one of the most efficient alarm clock apps. It is really tough to get out of your bed in the morning and to walk a certain distance will surely dismiss your sleep. This app contains the smart algorithm to which you can't confuse by shaking your device. You have to walk for turn alarm off.
Wakie Community
After hearing its name you would probably be thinking that how this app works? When hearing it the first time you will feel weird but the wakie community really performs well to wake you up. In fact, it is a social platform and you need to communicate with a stranger across the world to turn off the alarm.
It's way to wake you up
Wakie community really cool app and it allows you to make new friends. There is two options to make you out of the bed. Through first option, you can select a particular person for calling you to wake you up. Another option works with bots which communicate with you. Though one of the unique ways to compel you to wake up.
You know what, Vivint alarms also give you security and 100% customer satisfaction that let you sleep so well and woke up everyday fresh.
Wrap Up
Finally, you have come across three coolest alarm clock apps with which you can easily wake up. We have lots more to explain and if you wanna be updated then stay connected. Also, share your experience with us and our comment box is waiting for you.