One of the major shortcomings of Cydia is that it doesn't offer something like 'the Feature tab' or 'Categories' in App Store. So finding the appropriate tweaks or packages on Cydia to install can be very frustrating. Recently, a bunch of new hacks has been introduced in the jailbreak market that allows users to customize their jailbroken iOS device. In this roundup, we'll talk about the best Cydia tweaks of 2018 for iOS 9, 10 and 11 released throughout the past few months.
We'll start things off by talking about the most commonly used and best Cydia tweaks of 2018 for Ios 9,10 and 11, and then we'll outline the latest hacks specifically for iOS 11, under a separate head.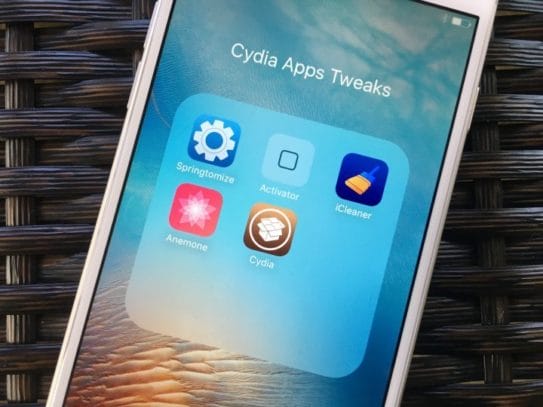 Without any further ado, here's a list that we have compiled outlining the best Cydia tweaks of 2018 for iOS 9, 10 and 11.
Best Cydia tweaks for iOS 9 and iOS 10
Activator – One of the most essential tweak that most people will install on their device after jailbreaking is the Activator. This tweak helps to provide a lot of shortcuts which you can use to invoke actions quickly. For example, you can assign a double tap on status bar gesture for opening App Switcher or you can skip to next song by using volume up button.
Applocker – Once you installed this tweak, you will no longer worry about your privacy. AppLocker helps you to protect your data with higher level by setting a passcode for individual apps like Photos, Messages or Facebook. In case your device is not a Touch-ID supported device, you can also use the password option.
CallBar– CallBar displays the call interface as a banner at the top of the screen. This tweak allows you to continue using your iPhone conveniently, without being interrupted by the unfeasible full incoming call screen.
Apex 2– allows users to categorize related apps together under one icon and access them with a single tap. For example, you can group all the similar music apps such as Spotify, Pandora and others under "My Tunes" and access them. You can also group different testing apps, social networking apps, photography apps and more. Once the icons have been added to the main app you can access them by swiping up on it. Apex 2 is available in Cydia at a cost of $3.99.
Alkaline – With Alkaline, you can customize the look of the battery indicator using a number of themes. Alkaline offers an easy to use theme-platform that, just like WinterBoard, enables jailbreak users to change the way battery indicator looks. After installing Alkaline you can choose from a variety of built-in options or download new battery themes from Cydia. Alkaline is available at free of cost.
iCleaner – iCleaner lets you remove unnecessary files from your iOS device and free up storage to make sufficient space, which can become a precious commodity over time. It removes unnecessary files such as message attachments, cookies, Safari cache, application cache and much more.
BioLockdown– This jailbreak tweak utilizes Touch ID feature in order to provide users with advanced levels of security. It not only allows users to safeguard their iOS apps but also restricts access to toggles and settings panes in the Stock settings app. The price of the app is $1.99.
Equalizer Everywhere– If you are a huge fan of music, this is your must-have tweak. Equalize Everywhere improves the audio quality to suit your speakers/headphones. The sound controller will be added to Control center, so you can quickly access it from anywhere. Price: $2.99.
Best Cydia Tweaks for iOS 11
Fludity – With Fludity, you can bring iPhone X exclusive UI elements to any iPhone. This tweak adds the iPhone X exclusive flashlight and camera 3D Touch buttons to lockscreen, adds a home bar that allows users to access the home screen with simply a swipe up gesture and connect to the app switcher with a longer swipe. You will also be able to activate the option of Siri by long pressing the power button, just like iPhone X. It also brings other physical buttons and related shortcuts as well as options of iPhone X to older versions of the device. You can download Fluidity tweak from Cydia at free of cost.
Rooster– The Rooster tweak enables you to disable notifications right from its 3D Touch menu, through a pressure tap on the app's icon, followed by a click on the button to disable notifications. You can also re-enable notifications using the same technique. Rooster provides a quick way to render an app on silent mode without enabling DND mode. Just like Fludity, you can download Rooster tweak from Cydia for free.
Mage – With the Mage tweak you can gain access to 'Hidden' SpringBoard settings, which are not available to normal users. These covert settings are meant for Apple's internal team of developers and certainly not meant to be accessed by people outside of the company. After installing the tweak you can access the SpringBoard Prototype Controller settings where the user swipes on the status bar, available on the home screen.
LockPlus Pro– LockPlus Pro is a lockscreen customization tweak that allows users to completely change the look of their iPhone's lockscreen using themes. Users can do many things such as add buttons, widgets and all sorts of stuff to create their unique lockscreen design.
Best Cydia tweaks of 2018 – How to add Cydia sources (or repositories) to find more Jailbreak Tweaks?
Open up the "Cydia app" that is installed on your device.
Tap on the "Sources" icon.
Tap on the "Edit" option which is available in the upper right corner of the screen. Then select the "add" button. (It will ask for the repo URL).
Enter the "Repo URL" you want to install & tap on add source "button" to move further.
Repo installation process will commence. Wait for the process to complete, because it might take a while.
After successful installation, you can tap on the "icon" of the installed repo to browse the various avenues that the platform has to offer and start browsing!
We hope that the above list of best Cydia tweaks of 2018 was helpful. If you think we missed out on some amazing tweaks, please let us know in our feedback section.