Everyone craves to have a productive day but hardly end up having one, but our devices are smarter as we call them " SMARTPHONES" they are productive in every sense and every way they work also could be made more productive by installing a PRODUCTIVITY APP. So this article is all about the Best Productivity Apps to make you more productive and efficient.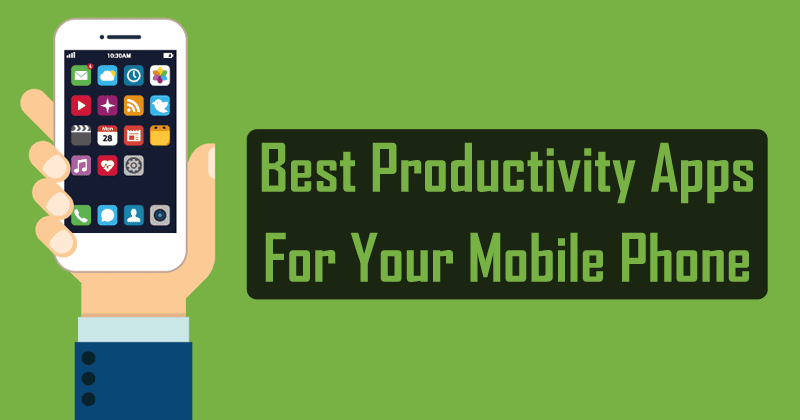 So imagine your smartphone being smart enough to-
Schedule and Manage your tasks
Manage all your tasks and projects in the "Master List"
Manage your Weekly Schedule/Calendar
Built-in Timers and Super-Focus Mode
Everyone wants to be more productive. With modern technology, there are plenty of ways to make your life a little easier. There are tons of productivity apps out there, and I've used a lot of them. With so many apps to choose from, it is sometimes difficult to find the best productivity apps. Everyone uses them in a slightly different way and not every app is available on all the platforms. I can't tell everyone what will work best for them, but I can show you what my best productivity apps are. Here are my top 10 favourites:
Best Productivity Apps to be more Productive
CamScanner
Google Assistant
Evernote
TeamViewer
Wunderlist
Here and now, bringing to the fore each and every app name we have mentioned above.
CAMSCANNER:
Features
~Mobile Scanner
Farewell to tedious operations of scanners. Let your mobile take care of everything.
~ Send scanned docs anywhere
Must-have for business travellers, being available to send scans to customers even when you are out of the office.
~No more typing
OCR (optical character recognition) feature extracts texts from images for further editing or sharing
~Share and Collaborate
Share with your friends by collaborating, or via email, WhatsApp, wechat or and via link to other social networks
~Auto edge cropping
Capture document by phone, remove busy background, generate high-resolution JPEG or PDF file
~Enjoy scanning anytime
Anywhere and anytime, scan, save, archive, and upload your files. Managing and searching has never been so easy.
~OCR, Convert image to text
Convert images to text files. Support 16 languages including Chinese, English, Japanese and Korean.
~Auto-enhance image quality
Auto enhancing makes the PDF look clear and sharp. You can easily export the files in multiple ways and sync to the cloud with high speed
~Print wireless. Fax globally
Support wireless printing. You can also fax to more than 30 countries and regions
~Have it everywhere
Sync your docs, it's instantly available on all your devices,whenever and wherever you are.
GOOGLE ASSISTANT
Jealous of iphone users having SIRI? You have GOOGLE ASSISTENT with you then. Read what google assistant had got for you-
Keeping you updated with what's new, what's popular out in the world
let's you play tv shows of your own choice.
You could check business news at one click or audio request.
Google assistant checks messages for you and infact deals with them for you as you instruct it to.
check account balances
set alarms
get info about govt. Services and organisations.
Manage shopping list
play videos and a lot more…..
EVERNOTE
Evernote is one of the best note-taking apps. It's designed to store your most important information in a way that you can always find it, no matter what device you have on hand and no matter how disorganized you are. Whether you type notes, scribble ideas by hand, take photos, record voice memos, copy information from websites, attach images and documents, Evernote has a way to store everything you need to remember.
Evernote Features
Search notes, including text in images
Collaborate with others Android, iOS, macOS, Windows, and web apps available
Clip material from the web
Chat with teammates (requires Business account)
Save, organize, and sync typed text, audio recordings, reminders, images, images with handwriting, sketches, and content clipped from the web
Annotate uploaded documents and images
TEAMVIEWER
Features :-
REMOTE CONTROL
Remote device control
Cross platform access
VPN alternative
Mobile device access
Secure unattended access
IOS screen Sharing
Wakeup, restart and install
CORPORATE AND TEAM
Channel group
Comprehensive reporting
Servicecamp ticket management
User and device configuration management
SECURITY AND MONITORING
End to end security
Malware protection
Remote data backup
Remote device monitoring
WUNDERLUST
Features
Wunderlist makes it super easy to get stuff done.
With wunderlust get reminders anytime.
Share your lists and work collaboratively on projects with your colleagues, friends and family.
Wunderlist works seamlessly across all major devices to keep your life in sync.
Wunderlust options look like –
* Folders
* Comments
* Share lists
* All your devices
* Reminders
* Duedates
* Notes
* Notifications
* Mail to wunderlust
* Add to wunderlust
* Tags
* Print
So this article here has minimized you research work of finding the best to just downloading it. All the above productivity apps have the best ever updates and features and that is all you require for your smartphone to make it smarter. Get to the google store install and let your phone get it's own way.