Do you like an app that has a combo of features? If yes, you are like me and so you may find the Boo app as a super fun app that presents a combination of rich texting, video chat, filters in tons and GIFs, that it is ideal for teens.
Boo group video chat app comes not only with chat messenger, but also has magical effects. Believe me, it is a social networking app that allows the users to record video contents and you can enjoy adding captions to your drawings, enjoy the animated effects and also the filters.
In fact, now sharing videos has become easy and can be done with other users. Posting creations automatically to Instagram, Snapchat or to Musical.ly is possible.  I liked the fact the feature that allows emailing video or saving it in the camera roll of the device. This is same as Snapchat, allowing adding friends using another device after a special scanning of bar code. You can search friends by using the username and also request adding others profiles.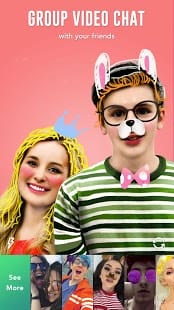 Is it safe?
Boo chat app has lured the kids with its amazing features, but the fact cannot be denied that it offers the same as all other platforms. Yet, some may have concerns is boo app safe. This concern arises because this app collects the user's personal information. However, this may be ruled out as the developer's website has assured it is a private and safe app that by default retains your profile as private
How to use?
Actually, searching friends downright is not easy in real life. But, if you like to stay connected with your old friends like me, you should know how to use boo app.  Learning it helps as you can use the Boo video chat with people you know and use that to get old and new friends online. This app can be used in iPhone, Android, iPad and Ipod Touch. It will be available for free.  Knowing to use the Boo app is simple:
Make a profile with correct information
Personal information and contact friends list are asked to furnish
With this you start getting notifications on who visited your profile
The profiles of others can be seen only on paying the charges
What parents must know
Parents must know by going through the Boo app review.  They can be convinced that Boo is a video chat messenger featuring magical effects. This is a tool that offers video social networking where teens can share videos, photos and video chat. It includes built-in music, animated filters and also sharing features, that it is more a combination of Snapchat, Instagram and Musical.ly.
The app surely collects information about the user, your social media accounts and contacts list that you consider having connection. This is a privacy policy of the app. Parents can go through the privacy policy of the app and feel assured.
This app allows sharing videos and photos automatically. In fact, content can also be shared directly through this app. You can include people you are not aware of by searching for usernames, but of course, the user must approve of the friend request you sent.
What's New
Bigmoji stickers
Chatting in Boo with friends is better with new pack of Bigmoji stickers
Add the Bigmojis on the videos and new pictures taken, they look fantastic.
The bugs are fixed and so good improvements can be seen in the app.
Converse with children
Families, you must spend some time with your children and inform them about the social networks. Tell them the importance of sharing information and also frame rules for your kid using Boo app.
Parents remind kids that posting on the internet may come haunting them itself.
Ask your child; how they use Boo, do they know how to get filters on boo app. Is your child using only this app and does not post it on other sites, if yes, it means less risk.
Way to use filters on boo app
How to get filters on boo app is important to know to have a great experience of the app. The filters are useful as they allow you to share your photo on social networks. There are cool filters featuring cat face, doggy face, rabbit face and emoji filters in funny style for Musical.ly.
You can alter the face and take animal pictures such as dog ears. Use this magical face app and have fun with built-in masks.
The face apps available inside the filters are Rainbow effects, lovely eyes, cute rabbit, stickers, doggy boo face filters and cool text Emoji.
Steps to use the filters in Musical.ly app
Take or chose a picture from the gallery.
Put Filter/stickers/Emojis on the image
Zoom, rotates to adjust emojis using two fingers
Save images in sd card of your phone
Set as wall paper on social network and share.
Pros                        
Stable and easy to send photos, texts and video
Chat with friends anonymously, until you identify who they are
Safe and private

Cons
Not many songs available.
Limited filters
Compulsory sharing of phone number, email address and contact list
Bottom Line
The Boo Group video Chat app is identical to Snapchat. It can be posted on Instagram, Musical.ly and Twitter, once you take photos and filter it.  Undoubtedly, this is super easy, cool and fun; make the best use of your time.  Get started to making new friends, it is now or never, it is amazing!