Our mobile devices are the handiest tools and we always keep them with us. You will amaze to know that mobile phones are used by over 4.50 Billions peoples globally. There are tons of apps in our smartphone which assist us in numerous ways. We can learn new things, play games, watch movies and much more with the Mobile apps. Nevertheless, you can also manage your business with an app called Zoho CRM. This is the creation of Zoho and enables you to connect to your clients and access all the required information via your smartphone.
If you want to download the Zoho CRM mobile app then you have landed at the right page. Here we will discuss the special features of this unique app. Thus you will discover why you should download the app.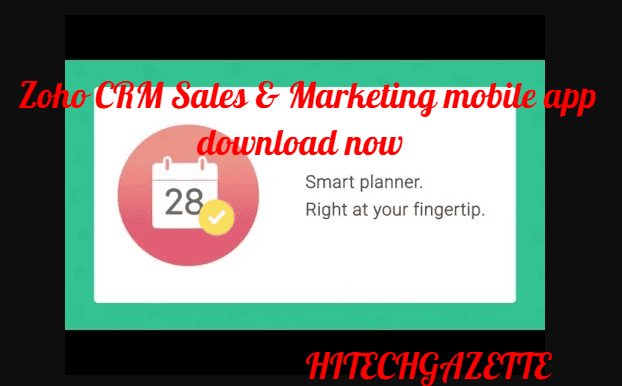 Zoho CRM Sales And Marketing Mobile App
Zoho CRM mobile app is the best app to manage your day to day business activities right from your smartphone. The app enables you to schedule your daily tasks, events, and calls and you can also set reminders, and gather the details of your conversations for further uses. In brief, you can track all your activities in real time with this incredible app and you can call it your personal manager.
Why should you download the Zoho CRM app: Key Features of the app
There are multiple benefits of downloading this app. Here I have included the important ones so take a look below to be familiar with them.
1.Grab any information at any time wherever you want
You will get the constant information of clients interactions, recent transactions, and the latest price pricing knowledge. If you have all the customer data within your fingertips then you can easily prepare yourself for meetings and follow-ups.
2.Track down customers information
This app is special designs to manage your relationship with your customers and it will track down each and every information regarding your clients. Like this, you don't need to waste your time on collecting client's data and you can use this time to forecast your customer requirements.
3. Collaboration
Suppose you are out of the town and want to integrate with your team members then what will you do? Don't worry Zoho CRM will integrate you with your teammates quickly. You can add photos and files straight to your feeds for quick access.
4. 15 Days free trial
If you are not convinced with my views for this app then you can test it by yourself as the app comes with 15 Days trial offer.
How to download the Zoho CRM app on your Android and iOS smartphones
If you want to be up to date with this amazing app then you can download it from the official stores. You have to follow these steps to access this app on your devices.
Initially search for Zoho CRM from your smartphone's browser.
If you are an Android user then you will get the app from the Google Play store and in case of iOS users, you will access it from the Apple app store.
After reaching the official stores you will get the install button and tap on it to get the app on your mobile.
Final Thoughts
Well, folks change yourself with the ever-changing technology and I think you can take your first move with Zoho CRM. I think you are ready to turn your smartphone into your sales assistant so download the app now. Hope you found the post informative and if you liked it then pass it on with your nears and dears.
Still, any question regarding the app then let me know below in the comment section. For more recent updates stay tuned and keep reading.