Hey! How would you feel if you saw yourself with your face being replaced by any celebrity's face?  Isn't it amazing? Definitely, that's why we are here with 12 face swapping apps that 99% of users love and share with their friends.
Today, Social media like FB, IN & Pinterest got so many posts from their users and Many people upload their pictures just to have some fun. Now, what if their faces got exchanged or animated with a celebrity?
It's a new way of entertainment. You can exchange your face with your favorite celebrity or a pop star and can share your hilarious pictures with your friends to have more fun.
Let us first know "What do you mean by face swap?" and "which technology is working behind face swapping?".
Face swapping is basically the interchange of your face with someone else while clicking a photograph. The technology behind these face-swapping apps is Deepfake technology.
12 Best Deepfake Technology For Android and IOS
1. Snapchat (Compatible with both Android and IOS)
Free and in-app purchases are available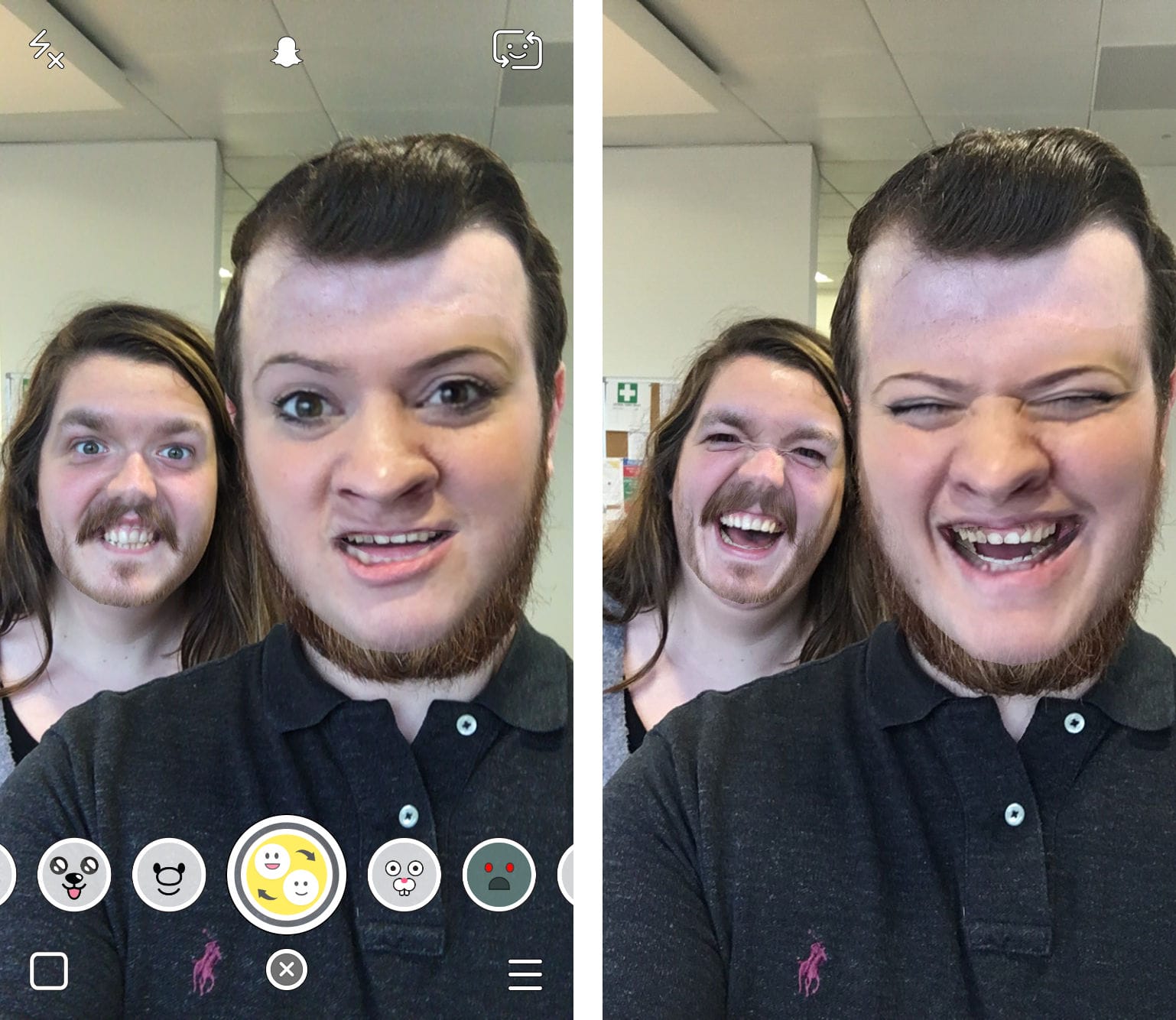 Snapchat is the first one on the social media platform which integrated the deepfake technology for its user's entertainment.
In-built face filters are quite good.
Face swapping from your camera roll is also possible.
Face swapping in photo or video is the main feature of the app.
The pretty good feature of this app is that the snaps clicked using this app can be shared instantly with anyone.
2. Cupace (Compatible with Android devices only)
Free but contains ads.
Contains a very handy feature known as Paste Face which allows you to copy the face of a person and paste that on the face of another person. This is a very funny feature that we can use to tease our friends.
The exciting feature of the app which makes it unique is that we can extract the face of a person from any image and can use that face on some other image.
The face you cut from any image can be saved in your Gallery to use on multiple images later on.
A magnifying glass feature is also there so that we can cut face from a pic very precisely.
3. Face Blender (Compatible with Android only)
Free of cost
It is a poster creator app. You can create a poster of your own with a beautiful template.
A large variety of templates, more than a thousand, is available from Astronaut to a gymnast.
You just need to select a particular template and your face will be placed on that template.
Auto adjusts angle and orientation of your face according to the template you selected.
A simple face swap with some other picture on your phone is also possible.
4. MRRMRR (Compatible with both Android and IOS)
You might be thinking that I have written MRR twice by mistake but you are wrong here. It is its actual name. The DeepAR technology is working behind this app's amazing features.
Real-time filters and masks are available.
Attractive Emoji feature is there with three variations of Donald Trump, Kanye West or animated emoji.
Different masks and filters are there to use.
You can also add extra effects to your photos.
Track your face movements in real-time and create emoji accordingly with the help of a real-time face tracking algorithm.
Rainbow drool, cat ears and animes etc. are its very attractive features.
You can create a video or click a pic with the mask on your face.
Sharing option is also there using which you can share your pic on social media.
5. Reface (Compatible with both Android and IOS)
Price: 3.99$ per month
The technology used by this app is AI(Artificial Intelligence).
A group of famous memes is available where you can swap your face. And these memes are now available with your face.
Can save videos and pics on your phone.
can swap your face with your favorite celebrity.
Limitation: You need to pay money for its premium features like sharing your own GIF without the watermark of Reface on social media and removing full-screen ads.
6. Mix Booth 4.0 (Compatible with Android and IOS)
Free
Very simple to use.
This app does not swap your face instead it mixes two faces and prepares a new pic.
Just select the pic of your favorite person or celebrity, you want your face to be mixed with. and shake your phone.
The result is there. If you like that animated pic then you can share it with your friends on social media also.
You can use existing pics from your phone gallery or download it from your Facebook account.
7. Face Swap Live(For IOS)
Price: 1.12$
The unique feature of this smart app is that you can interchange your face with another person in real-time. When you come in front of the camera with your friend then it automatically swaps your face with your friend and vice-versa.
Also, you can create videos with swapped faces.
If you are clicking a selfy alone then there are other options to replace your face with your favorite person or celebrity.
The Lite version is also available for those who don't want to spend money.
You and your friend should get fit in the camera viewfinder for swapping features to work properly.
8. Face Swap Booth (Compatible with IOS and Android)
Free, In-app purchases are available.
If you want to have a collection of faces that you can use frequently in other images then this is the best app for you.
The auto-detect faces feature is also available.
You can swap your face with the other celebrity's faces.
Amazing app to create funny images with different faces of the same person.
Limitation: Need to upgrade to the premium version for using advanced features of the app.
9. MSQRD (Compatible with Android and IOS both)
This is also known as Masquerade.
This app has been acquired by Facebook.
The best tool for making real-time videos.
Provides different types of funny masks that you can use on your face while making a video or a short clip.
You can share your creations on social media like Twitter, Facebook and Instagram.
The app is compatible with both the rear and front camera of the mobile phone.
Limitation: Work in live mode only and can not use with the existing images on your phone.
10. Portrait AI (Compatible with both Android and IOS)
A wow factor with the app is that you can create your portrait or painting pictures of the 1980s type.
3.99$ per month
AI algorithm is working behind the app.
Till now, the app is trained with European faces only so it leans to that side.
A video mode and other filters are also available with it.
11. Microsoft Face Swap(Compatible with both Android and IOS)
Free and No ads
As the name reveals, This is an amazing product from Microsoft company.
We can extract a face from a pic and then place that on another one.
Can add text over the picture using the Annotation tool in this app.
Can place our face anywhere either on to a pic of some other person or animal or wall etc.
Limitation: You can cut the face from the source picture and apply on to the destination image but the reverse is not possible. For that, you need to do all processes from the beginning.
12. B612 (Compatible with both Android and IOS)
Free to use
A camera is there with different filters of beauty using which you can take hilarious pictures.
You need to install the app and click on the smiley icon. Now select Face swap option to click a pic with exchanged faces.
Two persons are required in a shot for swaping their faces.
You can either click a pic or record a video with swapped faces.
Limitation: Work in real-time only.
Final Words
You can now use any of the above-mentioned apps to create funny images, GIFs and Videos etc. with your friends for your entertainment. Different applications have different features. You can use anyone depending on your taste. For real-time apps, MSQRD (with a large variety of masks) and B612 are the best apps and for having a collection of faces in your gallery, you can use "Face Swap Booth" app.
Please share with me which app do you like the most out of all? Or you are using some other app? If you want any information regarding any of the face swap apps then feel free to ask me.
If you are not using any of these types of apps till now, then I will personally suggest you to pick any app and use it. There are mind-blowing features that will fill your life with so much fun and entertainment.