If you have been looking for Google App Store's alternative then 9Apps app store names you must already be familiar with. 9Apps is also a mobile app store for Android users like you and me which provides app downloads. Including uploads and various features that you can use.
These extra features are giving users like you a competitive edge and it has already secured the reputation of being the best alternative to Google app store.
Update on 22nd September 2018: 9Apps App Store really becomes a strong competitor in front of Google play store. The no. of 9Apps store users increasing day by day. Using 9Apps store is quite safe and easy.
Is It Safe To Use 9Apps Store? 9Apps Store Secure installation!
What is 9Apps App Store?
9Apps is an android app store where you can find the same if not more features for your daily dose of apps download and updates. 9Apps app store has already secured 160 million users like you and me and is firmly competing with the google app store. The store allows you to download plenty of games and apps.
How is the security for 9Apps app store?
Malware and viruses are on the rise with the use of smartphones and the constant use of apps. Experts always recommend using the Google app store. So, it is natural for you to think twice before making a shift to 9Apps. Everyone would like to know about the safety of 9Apps app store.
But, with the huge amount of loyal users 9Apps app store is actually a very secured end-end app store that maintains their security measures to the fullest. The company is constantly checking and making sure they are up to date with all security measures when it comes to using their app store.
But, as it goes with Google app store, it hardly is about the app store's security, but mostly about what kind of apps you are downloading that actually gets the bugs on to your Android device.
There are have user complains about having adware that can't be removed for factory settings, but this where every app store biblical rule applies; verifying the app you are about to download matter mos tin keeping your device secured.
Features of 9Apps that make it the best alternative for Google app store
9Apps app store has managed to secure so many users for one simple reason and that is, their easy to use utility for consumers, and their wide range of apps available there.
App recommendations are better
9Apps app store uses a complex algorithm to recommend you apps of your choice. So, even if Google app store gives you all you need, chances are you will discover more unique apps of your choice form this app store.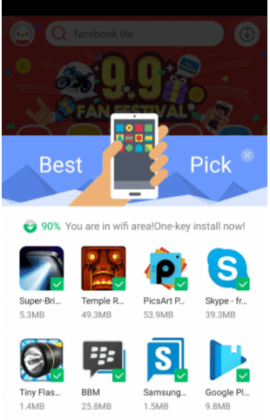 The categories available for app browsing is huge. And that is a feature you will love if you are an app freak like me. You get to choose from their widespread category list and start exploring what fits you best.
Paytm, Flipkart, Myntra, Snapdeal, Jabong, Askmebazar, Voonik and Shopclues, all these names must be familiar. 9Apps app store has partnered with all these leading e-commerce sites. this also means that you can compare prices of products with 9Apps giving a consumer like you a competitive edge on using apps.
State of the art data compression technology
9Apps comes with state of the art data compression technology and that makes sure that your mobile bills come down. This a very feature rich options in using 9Apps instead of the Google app store.
Just like every e-commerce site, it has set itself apart from the other app stores by giving out purchase coupons for its users. You can also check if there are coupons available before targeting your preferred app or product.
Downloading Amazon gives you instant cashback
Amazon is a must have an app for people like me and I am sure you are no different. 9Apps app store has partnered with Amazon to give you cash back at your download from 9Apps. These are features that really have been pushing the bar for 9Apps popularity.
See More: Download 9 App Store For Android
So, how do you get the best alternative to the Google app store?
If all of this has already gotten you up and about on your seat for your next app does, then click here and get 9Apps app store on your device.
It is supported on all platforms and can also be used on IOS with an android emulator.
My 9Apps app store EndNote
This is where I get to say the most important thing about this overview. 9Apps app store is an amazing platform and a wonderful alternative to the Google app store.
As far as its security is concerned, the general rule of any app downloading platform applies. It's hardly about the carrier platform of these apps, but the app developers themselves. The more trusted apps you will download, your app store experience will be better.
Lousy apps always have added viruses with them. So, you just need to know what to download and what not to download.
Don't forget to leave your comments below about your 9Apps experience and let me know if I have missed out anything.