In older generation, there was a clock speed more than 2.5 Ghz but over a period of time and with the coming generation, turbo speed started playing a big role but how? to dive in deep with this topic, keep scrolling with us…
What is Turbo Boost?
Dynamic Overclocking is a concept behind turbo speed which increase or decrease the processor's operating frequency automatically. What does that mean?
Suppose, you are running an software which is taking a minimal clock speed and that performance can be delivered by running 1 core and by keeping all other core ideal or running slower, then processor automatically operate frequency accordingly.
Turbo boost depends on or limited by
the processor power
current
thermal limit
Number of cores in use
Maximum frequency of active cores
If electrical or thermal limit increase, clock speed automatically decrease so that processor operates properly and running.
Today, turbo boost is Inter's trade name and used in core i3, i5, i7, i9 and Xeon series. Initially, turbo boost was launched in 2008, Turbo boost 2.0 was launched in 2011 and Intel Turbo Boost Max 3.0 Technology introduced in 2016.
Turbo Boost 2.0
Turbo boost 2.0 introduced time windows feature with different level of power limits which means a processor clock speed can be increased for few seconds specifically.
Turbo Boost Max 3.0 Technology
It comes with more flexibility and ultimate gaming experience. It is a combination of software and hardware that delivers more than 15% better single-threaded performance.
Recently, a movie came Shakuntla Devi who have a record of fastest numerical calculations than computer and that's why she known as human computer but in today's world when computers are so quick in making any transaction, solving any numerical calculation, it's hard to beat computer.
How to Check & Activate Turbo Speed?
First of all, if you want to know anything about your processor, follow these steps:
Click on "Start" button in Windows and type "This PC". Here, you will see feature of "Properties"
2. Click on "Properties" and here, you will have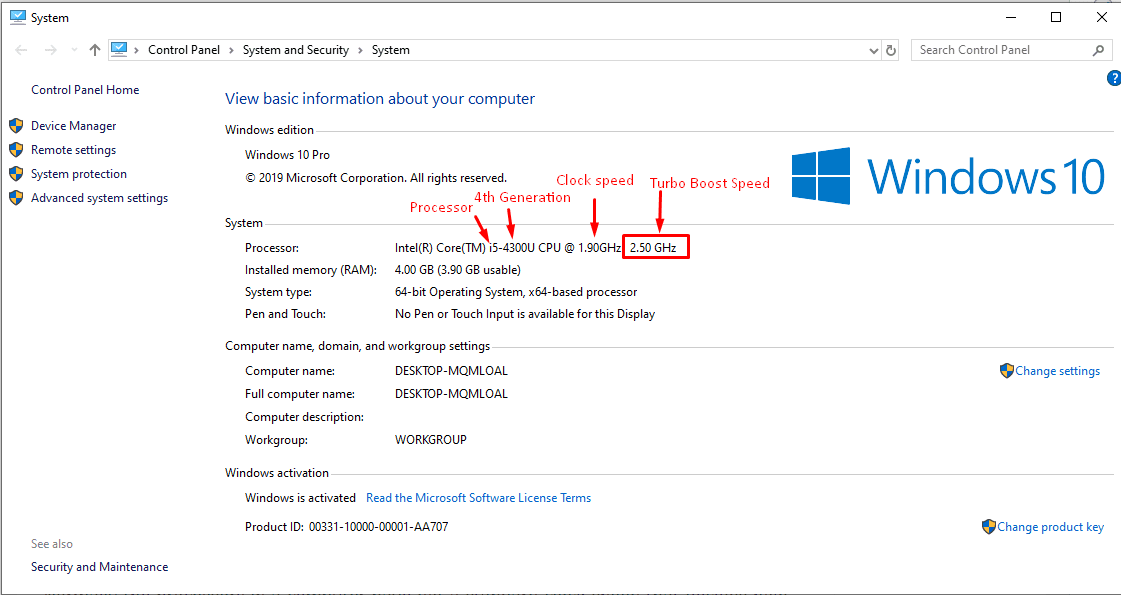 Now, is turbo boost enabled or not? is it by default or what? Do you want to check your laptop generation? If yes, just check out the first letter of your processor such as here i5-4300 refers to 4th generation, i7-5700 will refer to 5th generation and so on!
3. To check clock speed frequency in action, go to your "Taskbar Settings" and click on "Task Manager > Performance"
As, you could see, Maximum turbo speed is already enabled or enabled by default to bring ultimate gaming experience.
How to Get Control on Maximum CPU Speed?
4. If you can download the Prime95, CPU-Z or Hwmonitor by CPUID than that will help you to switch on your Turbo.
Note: To overclock, to know everything about Hardware and Performance, Start using CPU-Z and here are the details on how to use cpu-z.
5. So with it, you can trigger up the speed of your computer with the help of turbo boost.
Note: You can disable or enable the technology with a switch in the BIOS. Here are the pros and cons of overclocking speed.
See More: 7 Game-Changing Technologies You Might Not Know About Yet
Normally the processors in a computer have got a standard clock speed that decides how fast a computer will perform. In order to save power, the clock speed will sometimes lower down. Until you want to overclock your computer, clock speed will be the fastest.
If you want to overclock your computer or ask help from someone who has done it before then you will get to know some dirty secrets.The clock speed of a computer is lower than the maximum speed of the device.
The extra room is used for the development of AMD and Intel processors that means that the processor was sold as 3Ghz and will work as if someone wants to use a winter jacket in the form of the PC case.
In the new Intel processors, a Turbo Boost feature is added which has the ability to rise up the speed of clock speed in your computer that actually depends upon the thermal headroom available. But you got to know how you can increase the speed of PC? And here are the ways through which you can increase the speed.
How Does Turbo Boost Works?
Turbo Boost present in Intel processors actually looks after the usage of the processor and determines the closeness of the processor's thermal design power to the maximum level. And also the amount of power that a processor suppose to use. If the speed of the processor is in limit then the Turbo boost comes in to play.
It is one of the best features that boost up the speed of the processor whenever needed. But it not in common that an Intel processor has reached its maximum speed but sometimes it depends upon the type of workload taken.
Everyone might have a question is turbo boost automatically enabled? And the answer is yes, if you are an Intel processor user than it is natural that the turbo boost of your computer will be enabled automatically without any manual intervention.
Whenever the clock speed gets less than the turbo boost automatically starts speeding up.
Turbo Boost is one of the best clock speed up software that is made to increase the speed of your processor. And here I have shown the steps to enable the speed of Turbo boost on your Intel processor.
Now speed up your computer to get the best performance out of it. For any query, let us know in the comment section below.
Also, please help us to know whether this article is helpful to you or not?