Mini-Militia is a 2D shooter game which can be played by multiple players. It is available for iOs and Android devices. Initially, it was released for Google play on 5 April 2011 and later for Android on 15 March 2015. The game was considered as one of the top games on app store 2017. This game gives you the opportunity to challenge the enemies of the whole world.
If you are playing online then 6 players can play concurrently and if you are using Wi-Fi, 12 players can face the battle at a time. There are two sticks to stir your character, virtual stick and pointing stick. For moving your character on life Side you have to use the virtual stick and for right side movement, you will use pointing stick. You have to focus on aiming.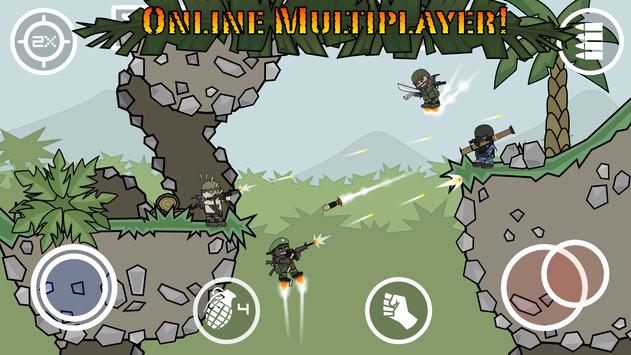 Mini-Militia has different levels and every level is full of weapons and grenades. It provides you with a broad space to fight and escaping from your opponent. If you are a newbie in this game, you can play with guiding mod. The soldiers are created with special powers like they can fly in the air and can flutter with rockets so it may be tough to control them. You should not focus on controlling the speed, you should concentrate on your weapons.
If you like to win every game then you should try the moded version of mini-militia. In this, you have advanced weapons which are not available on the original version.
Although graphics not so unique it looks appealing and addictive. Gameplay is very simple.
Previous update of Mini Militia
Its previous version was Mini Militia 4.0.42 and was updated on 25 May 2018. Mini-Militia previous version was attributed with these features:
With improved connection quality and provides Ping to know who is dragging.
Now CTF Map comes with Flamethrower
CTF Map includes spawning points
New Variety of weapons added
Now enjoy Mini Militia with large screen
Alerts for informing you at the time of Google's call failure
CTF Flag despawn rate is decreased
Fixed more bugs
The game will not end at the time of booting
G+ multiplayer is detached
Latest Update of Mini Militia
The latest version on Mini Militia is 4.1.1 and it includes an updated on 1 June 2018. It has added these features:
New zoom alternatives:
Default: which keeps the latest zooms between deaths.
Max: At the time of picking weapons, revert automatically to the max.
Smart: Every time weapon zoom moves to the most zoomed out, nearest to the latest.
UI/UX modification: No irritating banners and an improved flow between menus.
In the setting menu, you can easily get "Help" and "New".
"Play online" allows you to play custom games.
More bugs fixes.
User's Reviews
Meet Parikh
6 June 2018
Best game ever! Only annoying thing are the hackers and cheaters in the game
Ankit Kumar
7 June 2018
Still playing since 1 year and never get boared… Only a single game in playstore i play.. 5 star
WWE MINI ab de VILLIERS
7 June 2018
I liked this game but it was nice before update The worst game of the world It not even work when I started to play then it disappeared in a black screen and my phone started lagging
kshitij Mishra
20 June 2018
I've upgraded and bought pro pack..Every time I get a call my game automatically ends…Saying game over…Kindly fix this lag please
Well, guys, Mini Militia offers you to improve your shooting skills with online players. I have pointed out the features of previous and latest updates and now its time to dive in Mini Militia's battlefield. If you have any question regarding this, comment below and also share your experience if you have played this game.