Have you ever considered sharing your favourite mobile games, photos, or videos from your iPad to your Samsung TV?
Screen mirroring is a popular way to achieve this and add an immersive and enjoyable way to the consumer media experience.
So, this article discusses the built-in options, third-party apps, and tips for a seamless iPad to Samsung TV mirroring experience.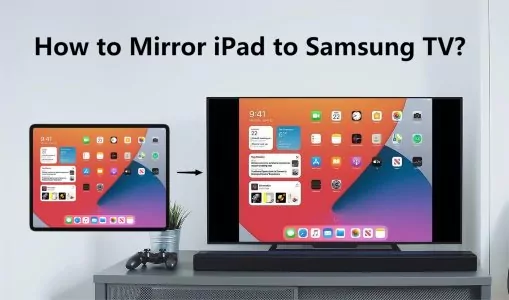 Built-in Screen Mirroring Options for iPad and Samsung TV
| Feature | iPad | Samsung TV |
| --- | --- | --- |
| Built-in Screen Mirroring | Yes (Apple AirPlay) | Yes (Smart View, AirPlay 2) |
| Compatibility | Apple devices | Samsung Smart TV models |
| Requirements | Wi-Fi network, AirPlay 2 support on TV | Wi-Fi network, AirPlay 2 support on TV |
Third-Party Screen Mirroring Apps
1. Mirror for Samsung TV
Features:
Real-time mirroring
Audio streaming
Pricing: $4.99
User Reviews: Positive remarks on ease of use and compatibility
Pros:
Cons:
It costs a one-time fee
Some users report occasional lags
The app may require updates for compatibility with software updates
2. AirBeamTV
Features:
Screen mirroring
Audio streaming
Professional support
Pricing: Free trial, then a $9.99 one-time purchase
User Reviews: Positive feedback for connection stability, some negative reviews regarding audio delay
Pros:
It comes with professional support
Good connection stability, reducing the chance of mirror errors
Offers a free trial to test out the service before committing
Cons:
The one-time purchase may be more expensive than competitors
Credibility could be impacted by users reporting audio delay issues
Requires purchases even after the app is purchased for additional capabilities
3. Video & TV Cast
Features:
Video streaming
Full HD support
Pricing: Free, with in-app purchases for pro features
User Reviews: Mixed feedback with some complaints about ads, yet praised for high-quality streaming
Pros:
Video & TV cast is free to download and use
Full HD support ensures higher-quality streaming
In-app purchases allow for customizing and upgrading your experience
Cons:
Contains advertisements which can disrupt user experience
Pro features, considered necessary by many users, involve additional charges
There are some negative user reviews about the casting quality.
Step-by-Step Guide to Mirroring iPad to Samsung TV
Follow these steps to mirror your iPad to Samsung TV –
Step 1: Ensure Compatibility and Connection Between Devices
Check the Samsung TV model to ensure that it supports AirPlay 2.
Make sure both devices are connected to the same Wi-Fi network.
Step 2: Set Up a Mirroring App or Feature on Both Devices
If using built-in mirroring, enable AirPlay on your iPad and Smart View or AirPlay 2 on the Samsung TV.
If using a third-party app, install the app on your iPad and follow the instructions to connect to your Samsung TV.
Step 3: Test and Optimize Screen Mirroring Settings
Conduct a trial run for screen mirroring to determine whether adjustments are needed, like fixing screen resolution or orientation.
Consult your Samsung TV user manual for additional tips on optimizing screen mirroring settings.
Step 4: Launch Content and Enjoy the Mirrored Display
With the screen mirroring, you can now display iPad content on your Samsung TV. Ensure you're using compatible media formats your TV supports for optimal viewing experiences.
Common Screen Mirroring Issues and Solutions
Screen mirroring is extremely useful but can sometimes have issues like any technology. Here are some common problems you might encounter while screen mirroring from iPad to Samsung TV and possible solutions for them:
1. Issue – Unable to Connect
This can occur if your devices are not connected to the same Wi-Fi network or if either device has not been set up correctly.
Solution:
Make sure both devices are on the same Wi-Fi network.
Ensure the mirror function is activated on both devices. On your iPad, this is called AirPlay; on Samsung TVs, it is called Smart View or AirPlay 2.
2. Issue – Lagging/Poor Quality Video
Experiencing lag or buffering issues could be due to a slow or unstable internet connection.
Solution:
Try moving your TV or iPad closer to your wireless router.
Use a network cable for a more stable connection if your TV has an Ethernet port.
Lower video quality (if the streaming app permits) to reduce bandwidth usage.
3. Issue – Video Is Mirrored, But Not Audio
Sometimes, the audio does not mirror even when the video does. This can be due to various factors.
Solution:
Make sure the volume is not muted on both devices.
Make sure the correct audio output is selected on the iPad.
Disconnect and reconnect to the mirroring service, which can sometimes fix the issue.
4. Issue – Devices Don't Support Mirroring
Some older models might not support screen mirroring.
Solution:
Check whether your Samsung TV and iPad models both support screen mirroring (AirPlay 2 is critical for iPad and Samsung TV compatibility).
If either does not support screen mirroring, consider using third-party hardware or software that allows for mirroring. For instance, an Apple TV box can connect to any TV with HDMI input and enable screen mirroring with an iPad.
5. Issue – App Not Working
A third-party mirroring app may stop working, crash, or cause the mirroring process to fail.
Solution:
Always make sure your apps and devices are updated to the latest version.
Restart both devices.
Try reinstalling the app if the problem persists.
Conclusion
Mirroring your iPad to a Samsung TV provides a fantastic way to unlock the various applications and occasions that come with screen mirroring options.
With the simple step-by-step guide I've provided in this article, you'll be able to create an enhanced multimedia experience that's truly immersive. Go ahead and give it a try now!