Doesn't matter how many games you have in your smartphone but only matters how skilled you are to play these games. There are various games over the internet and if you want to sharpen your strategy skills then you must play role-playing games where you have to build your own empire. Among all strategy based games Lords Mobile got the huge popularity and over 60 Million players are playing this game across the globe. You have to follow certain tips and tricks to master the game and if you are a beginner then you have reached the right page. I am here with the Lords Mobile Guide to offer you the best tips to build your kingdom.
Lords Mobile game comes with a cool introduction but it never suggests you what to build. Don't worry folks we are here to assist you to observe the post carefully.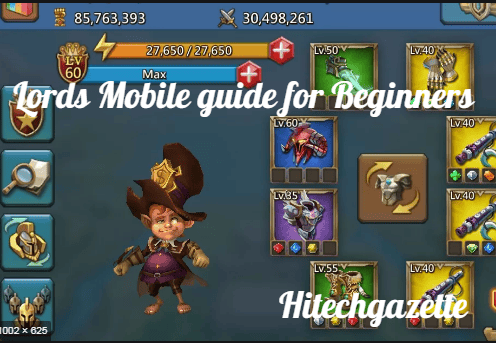 Lords Mobile Guide: Tips and tricks for beginners
At the initial stage of the game, your motive is to construct as much as you can. But to build your kingdom you have to focus on various aspects of Lords Mobile. Let's initiate our Guide and learn how to be the great player in Lords Mobile:
The VIP system
If you love to play online games then you would be familiar with the VIP system as many games contains this system. If you earn more VIP points then your VIP level will increase as well. When you start playing you will get gems as a reward. After joining a guild you also attain gems. For the 2 you can reach to VIP level 5 instantly. You can obtain Free Acceleration time bonus with these VIP points to get down your construction time. Users can also grab VIP points by logging in to every day.
Guilds
The most important step is to select a suitable guild for you in the best strategy game. There are many guilds and you can apply for one of them with the Guild menu (Initial button on the menu bar next to the map). You will find open guilds but before joining them research a bit. You can observe the leaderboards to find out the best guild for you. It is always a good idea to join such a guild where you get like-minded people of you. If you are not comfortable in a particular guild then you can switch to another.
Upgrading Buildings
Lords mobile building guide is one of the most notable things to consider. When you start the game you will get some suggestions to build and upgrade buildings but don't pay attention to them. If you are a newbie then it is highly suggested not to give emphasis on getting your kingdom to the highest level at an early stage but pay attention to upgrade other buildings. I will suggest you have an active building upgrade.
Barracks
Barracks are a very important part of the game and you need them to train your troops. Troops help you to attack and defense but it is highly advised to have the appropriate troops to gather resources. If you are not going for war soon then you should train the tier1 first as they trained instantly.
Castle wall
Traps are useful to defend against attacks. But for a long period, it is not advised to put extra efforts on building traps. As if you have a huge amount of troops then wall trape is little worthful. Wall traps are useful at an early stage. So don't focus to place the wall packed with the highest tier traps.
Fighting
We all know that Lords Mobile is all about fighting and building but choose your battles wisely. In case you have sufficient troops to make combat, don't be fool and attack on your neighbor to get gold. Complete your skirmish, construct new buildings then think for attacks. The game is full of tactics and you have to apply the best strategy to be the master of the game.
Concluding lines
So, folks, these are the few fruitful tips to be successful in the best fighting game. Hope you will apply these tactics to be the master of Lords Mobile and if you liked our post then do share with your friends.
If you have any other tips for beginners in Lords Mobile then share with us. In case any query regarding Lords Mobile Guide then drops a question in the comment section. For more informative updates stay connected and keep reading.