Cryptocurrency is the future of finance!
As per Crypto analysts, the global cryptocurrency market will triple by 2030.
But this doesn't mean everything's okay at present.
Even today, buying, selling, storing, withdrawing, or even exchanging cryptocurrency may cause headaches to investors.
Do you feel the same?
So, keeping that in mind, I'll share and then compare MoonPay and Simplex as two of my favorite crypto exchange services.
Let's get started –
What is MoonPay?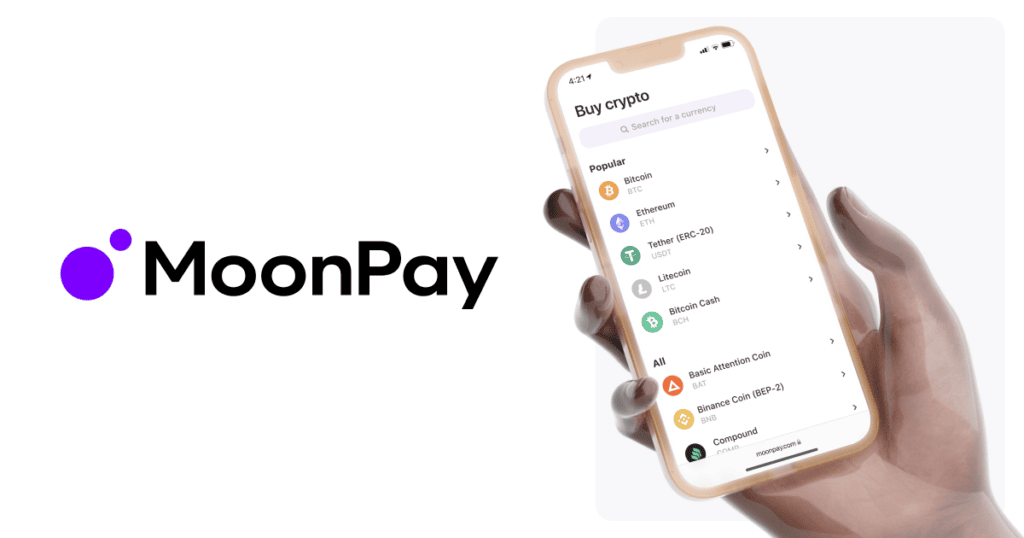 MoonPay is a cryptocurrency exchange platform that allows users to buy and sell cryptocurrencies. It supports over 300 cryptocurrencies and allows you to buy or sell your favorite coins with fiat currency.
MoonPay also has a user-friendly interface, making it ideal for new investors. On the other hand, Simplex only accepts credit card payments at the moment (although they will soon introduce other payment methods).
On top of this, MoonPay offers more features than Simplex:
Supports multiple currencies
Provides information on each coin it lists (for example, project details)
What is Simplex?
Simplex is a payment processing platform for cryptocurrency. It was founded in 2017 as a subsidiary of SimplexCC, an Israeli financial institution licensed by the Israeli Ministry of Finance.
Simplex is a fully licensed financial institution and payment processor that allows you to buy cryptocurrencies with credit cards.
MoonPay
MoonPay allows you to buy, sell and store cryptocurrencies like Bitcoin (BTC), Ethereum (ETH), Litecoin (LTC), Ripple(XRP), etc. It also lets you exchange one cryptocurrency for another currency or vice-versa.
Simplex lets you buy and sell various cryptocurrencies like Bitcoin, Ethereum, and Litecoin and exchange one type of cryptocurrency with other types at the best possible rates determined by live market conditions.
Using MoonPay to Buy Crypto
One of the most convenient ways to buy MoonPay is using a credit or debit card. You can buy crypto with a credit card for free and for a small fee when you use your debit card. However, if you want to make your purchase through bank transfer, it may take up to 3 business days before the funds reach the MoonPay system.
When buying cryptocurrency on MoonPay with either option, you'll have an opportunity to view all available exchanges and compare prices across them before making your selection. Each exchange displays its rate in Bitcoin (BTC) or Ether (ETH).
How to sign up for MoonPay
Once you have downloaded the MoonPay application, you can sign up by entering your email address and mobile number. You will receive a verification code on your mobile, which will be sent via SMS.
After entering the code sent to you, you are ready to start buying cryptocurrency!
How to Buy Crypto with a Debit Card using MoonPay?
Go to moonpay.com
Click "Buy Crypto"
Select your cryptocurrency and payment method
Enter your card details and click "confirm" or "submit" (depending on which you have chosen) on the MoonPay website
Your bank will notify you of a pending transaction in their billing system.
Buy crypto with a credit card using MoonPay
MoonPay offers a way for you to buy cryptocurrency with a credit card. It also allows users to sell, store and exchange cryptocurrency using their credit cards.
The MoonPay interface is simple and easy to use. You can buy cryptocurrencies like Bitcoin (BTC), Litecoin (LTC), Ethereum (ETH), Ripple (XRP), etc., in just one click!
They are currently supporting more than 20 countries across the globe, including the USA, Japan, Korea, etc., where they have partnered with local banks so that people can deposit their fiat currencies through bank wire or ACH transfers.
You can also sell your various crypto assets, such as BTC, ETH, etc., on MoonPay, providing you instant cash in return for your assets. No worries if you don't have enough time, as they have a 24X7 support team available on live chat who will help you whenever needed!
MoonPay vs Simplex: Payment Restrictions
MoonPay accepts USD, EUR, GBP, and CAD.
Simplex accepts USD, EUR, GBP, and AUD.
Simplex also accepts bank transfers from some countries (US and EU). It doesn't accept Japanese Yen (JPY), Canadian Dollars (CAD), or Singapore Dollars (SGD).
So you can't deposit using your credit card with Simplex, but it supports bank transfers and other payment methods in most countries.
MoonPay vs Simplex: Transaction Fees
MoonPay and Simplex charge a 3.9% fee on every transaction made using their platform.
So if you buy cryptocurrency with MoonPay or Simplex, you will have to pay 3.9% of the total amount as a processing fee.
This is similar to other crypto exchanges like Binance, Coinbase Pro, or Kucoin.
Simplex
Buying cryptocurrency using Simplex
Simplex is an online payment processor that allows you to buy cryptocurrency with a credit or debit card. Simplex is a trusted payment processor and offers a secure platform for buying crypto.
Simplex charges a 1.9% higher fee than other cryptocurrency exchanges, but it might be worth the extra price if you don't have time to wait for your bank account to be verified and need to trade crypto right away.
Signing up for Simplex
Signing up for Simplex is pretty straightforward. All you need is your email address, phone number, name, country of residence, and social media account details (if applicable).
You will then be asked for personal information like your full name and address so that Simplex can verify your identity before signing up for an account with them.
Buying cryptocurrency with a debit or credit card on Simplex
Simplex is a payment processor that allows you to buy crypto with a credit or debit card. You can use Simplex to purchase Bitcoin (BTC), Ethereum (ETH), Litecoin (LTC), and other cryptos from exchanges or marketplaces like Coinbase, Binance, Bittrex, Kraken, Coinmama, etc.
Users widely trust simplex as they have been operating since 2013 and have processed over $1 billion transactions without any security breaches reported.
The main advantage of using the Simplex platform is the low fees it charges for each transaction. It charges 1% for buying Bitcoin on Coinbase with your credit/debit card, whereas other platforms charge 2%-5%. This makes Simplex the cheapest way to buy BTC from Coinbase if you already have a credit/debit card!
MoonPay vs Simplex: Final Verdict!
The choice between MoonPay and Simplex is a difficult one. Both platforms offer different services but are equally helpful for buying/selling crypto with your card.
I think that when it comes to buying and selling cryptocurrency with a card, Simplex is better because of its lower fees and higher security standards.
However, suppose you're looking to store your cryptocurrency in a secure place. In that case, we recommend you go with MoonPay over Simplex because it has more payment options (such as Visa/Mastercard) available on its platform compared to Simplex, which only accepts credit cards now.
Finally, although both platforms have good customer service teams that can help resolve any issues quickly through live chat or email support (available 24 hours a day), I feel the latter has an edge here, too, since they usually reply within one hour.
In contrast, some users complain about waiting up to three days before answering their questions by MoonPay staff members!
Conclusion
It's time for me to conclude this article about MoonPay vs Simplex.
To recap, I've compared these two cryptocurrency services, their features, and their differences.
They are very similar in many ways, but they also have some critical differences in how they work with cryptocurrencies and what types of transactions they allow users to make.
Overall, if you are looking for a place where you can both buy and sell cryptocurrency at any time, then Simplex seems like the better choice because there aren't many exchanges that let you do both and book a nice profit!