Whenever we want to amuse ourselves or learn new things then the initial name which strikes in our mind is Youtube. You can watch each and every kind of Video here. These videos are made by common peoples like us. There are unlimited Youtube channels and it is pretty tough to find out the best Youtube Channel for you. But you can assume their greatness with the number of subscribers they have. If you are looking for the most subscribed Youtube Channels then you have reached the right page.
Let's initiate our list of most subscribed Youtube channels and try to know what are the specialties they have which make mad millions of people and compel them to subscribe.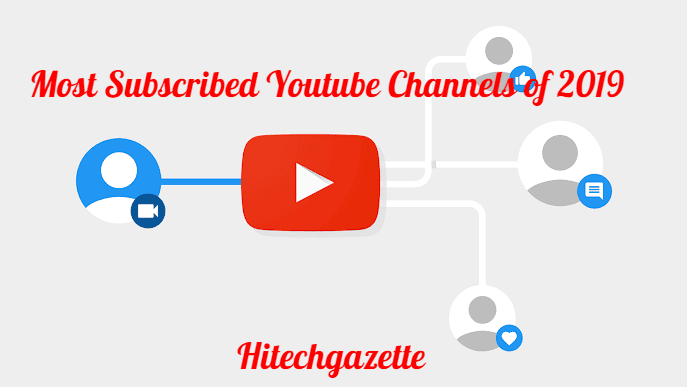 Most Subscribed Youtube Channels of 2019
PewDiePie (83.4 Million Subscribers)
PewDiePie is a Swedish Youtuber and his channel became the most subscribed channel on Youtube in 2013. He has the unique style of gaming commentary that's why Felix became the king of Youtube. When Felix (PewDiePie) was in college then he had created his account on Youtube and for his Youtube career, he left the college. In 2016 Felix was included in the list of World's 100 most influential peoples.
T-Series (82.1 Million Subscribers)
If you love Indian Music then no need to introduce T-Series, the hub of Indian Music videos. T-Series boasts the 2nd position in the list of top most subscribed Youtube Channels. There are music videos of multiple languages and their bright colors and immense scenes don't let you go anywhere. If you didn't subscribe the T-series channel yet then go ahead and subscribe now to feel the magic of Indian music.
5-Minute Crafts (48.1 Million Subscribers)
Let's discuss our next Youtube Channel which has grabbed the 3rd position in our list of most subscribed Youtube Channels, 5-Minute Craft. This channel got huge fan-base for its DIYs, phone hacks, home-decor hacks, Food hacks and many other tricks which help us in our day to day life. If you want to learn home base ideas then don't forget to subscribe 5-Minutes craft.
Canal Kondzilla ( 46.1 Million Subscribers)
With 46.1 Million subscribers this Youtube Channels has positioned at the fourth rank. The canal is a Brazil-based music video produces and director who learned cinematography, photography, and Post-production to amplify his camera skills. He creates music videos for Brazilian hits and his unique style compel you to hook up for every second of the video. If you love Brazilian music and searching for cool Brazilian music videos then subscribe to his channel and be the part of his followers.
Justin Bieber (43.1 Million Subscribers)
Justin Bieber's Youtube Channel got the 5th place in the most subscribed Youtube channel list with 43.1 Million subscribers. He used to post the latest releases, music videos and behind the scene clips of his tours on his Youtube Channel. There is a "Most-Popular" section where you will observe his 10 yeard old music videos and you will amaze to know that this section is the most watched section of the entire channel. If you are a fan of bright-eyed and long-haired guy then don't forget to subscribe his Youtube channel to be the part of his army.
Well, Folks, these are the top-ranked Youtube channels and if you want to become the great Youtuber also then create your channel now. Youtube is a great platform to showcase your unique talent in front of a huge audience. To follow your best channels subscribe to them and enjoy their stuff.
Hope you got the exact information via our post and if you loved the article then do share with your friends.
In case you want to know about any specific Youtube Channel then ask us in the comment section. We will back to you as soon as possible. Don't forget to bookmark our site for more informative updates.