Mobile payment apps have become the need of everyone because of their convenience and safety also. There are numerous mobile payment apps in forms of UPI, Mobile wallet, and online shopping. In fact, all these apps make our transactions hassle free and quick. All the apps come with different features. Here in Paytm vs Tez vs Phonepe which is the best payment, you will get all your answers.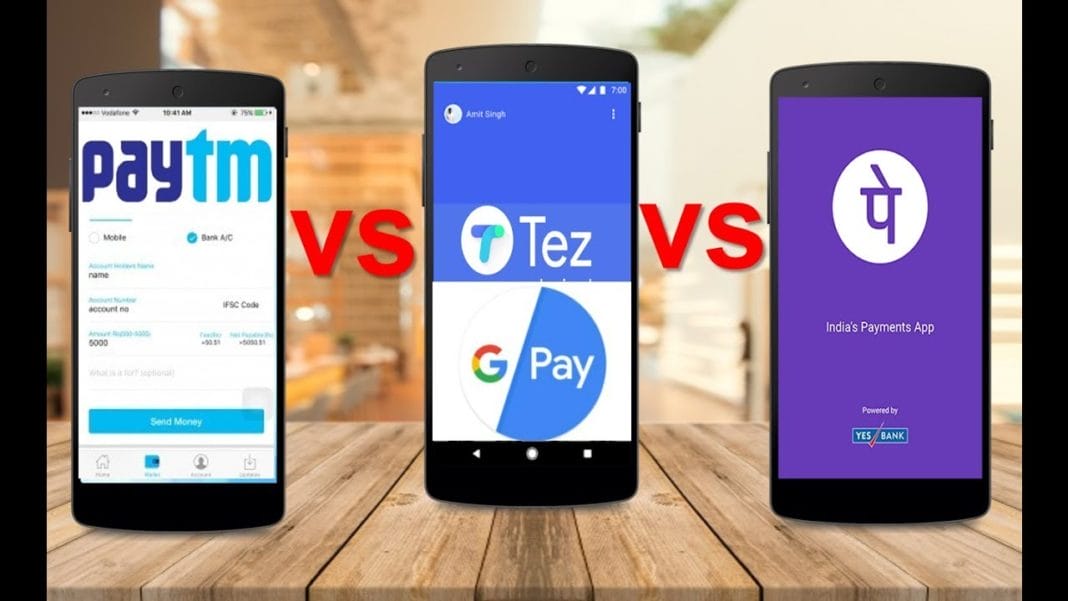 Google Tez
Google Tez is the latest launched app and featured with UPI amalgamation. It is the best mean of quick easy and straight payments via your bank account. Google tez is quite secured app and it is the product of Google so we can rely on it. There is a cash mode which allows you to transfer cash without inserting any information of beneficiary. You can also pay bills with Google Tez.
Paytm
Paytm is the versatile mobile payment app and you can transact money via a mobile wallet, UPI, Credit cards, Debit cards. Recently Paytm is fascinated with cash back feature in which you grab cashback in form of gold. Paytm is also one of the most used apps out there for mobile transactions.
Phonepe
Another recently launched app for mobile payments is Phonepe and it is also integrated with UPI. Phonepe permits you to make payments through mobile wallets, credit/debit cards, and UPI. Now you don't need to stand in queues for paying bills as Phonepe allows you to pay bills and also recharge your mobile.
Paytm vs Tez vs Phonepe which is the best?
I think you came to know that how these apps work and for knowing which app is best we have to analyze them through different aspects. Here is a comparative analysis of all the three apps so take a look below to know more.
Wallet Kind
All these apps different platforms for payment and we have to compare them to get the best out of them. Google tez amalgamate with UPI and this app allows you to make payments with UPI only. But Paytm and Phonepe both offers you multiple platforms for money transaction like UPI, mobile wallet, debit card, credit card.
Both apps also permit you to recharge and pay bills but Google tez don't offer you such facilities.
Payment Support
Although there are plenty of options for payment on mobile devices and not all apps support the same modes. The motive of every app is to offers a simple and universally accepted method which make transsection easy.
Initial supportive method of payment is UPI and Google tez, Paytm and Phonepe all the three support it.
Second payment medium is the mobile wallet and both Paytm and Phonepe offers you this feature but google tez doesn't support this type of payment. You can utilize your mobile wallet for instant payments and also scan QR codes and for online purchasing. One more thing about Paytm is that it has an online shopping platform known as Paytm Mall.
Another method of payment is credit/debit cards and both Paytm and Phonepe supports this but Google tez supports only UPI for payments. Another missing feature of Google tez is that you can,t pay bills or do recharge with Google tez app.
Cashback
The topmost feature of any payment app is the cashback they provide in return of transactions. In google tez all your rewards and cashback straight added to your bank account and you can utilize them anywhere.
Whereas in Paytm all your cashback added to your mobile wallet but the drawback of this app is that you can't use them anywhere because there should be paytm accepted for using it. In Phonepe also cashback added to your mobile wallet and don't integrate with your bank account.
Final verdict
Well, all the three apps have different facilities and every app is for the specific purpose. But in terms of versatility Paytm and Phonepe are ahead as they both give you various payment supports and Google Tez is behind in terms of payment support. I think in Paytm vs Tez vs Phonepe you got all the answers to your queries so choose wisely and keep in mind all these facts.
Still, any query then comments below and also share your experiences if you are currently using one. For more updates stay connected.