Are you tired of fumbling for your keys in the dark or worried about the safety of your home when you're away?
It's time to consider investing in smart security lights.
These smart devices not only light up your property but also provide an added layer of protection against potential intruders.
So, when you install these security lights in your home, you may feel like scratching your head in bafflement.
So, in this post, I'll compare the Ring Floodlight Pro and Ring Floodlight Plus, two popular smart security lights on the market.
I'll share my insights and help you decide which is best.
So, let's get straight to this –
Ring Floodlight Pro: Features and Specifications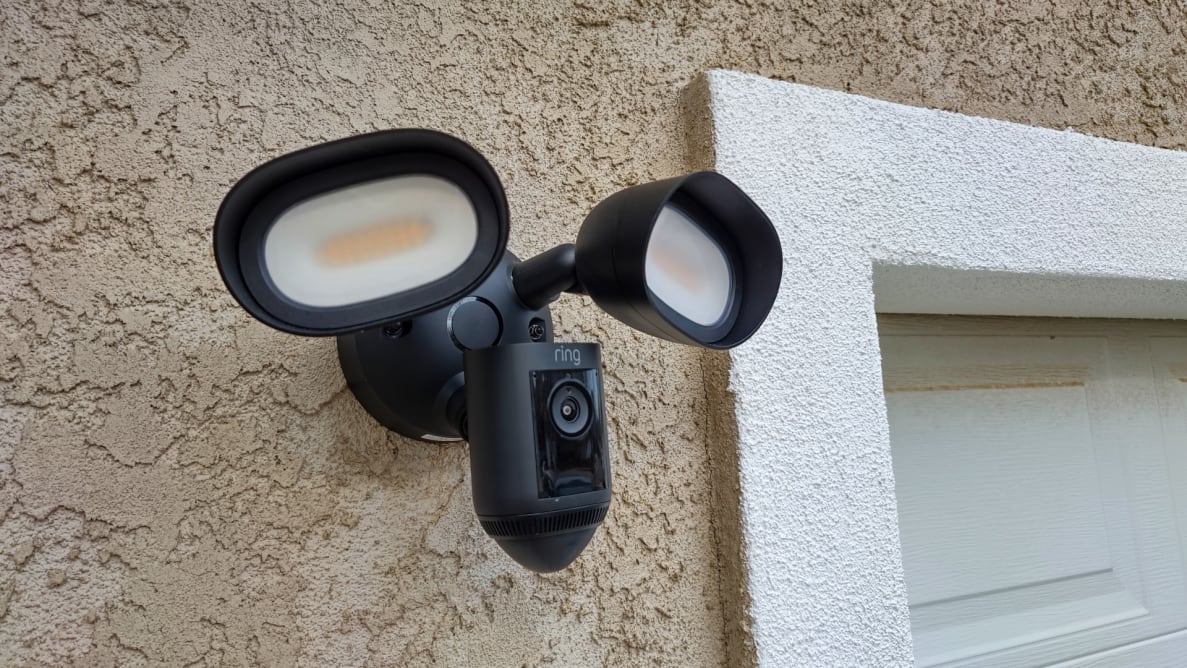 Camera resolution and field of view: The Ring Floodlight Pro has a 1080p camera and a 180-degree field of view, allowing for high-resolution video and the ability to capture everything happening directly in front of and behind the camera.
Integration with smart home ecosystems: The Ring Floodlight Pro is compatible with popular smart home ecosystems like Amazon Alexa, Google Assistant, and IFTTT. This allows seamless integration with your existing smart devices and lets you control the floodlight using voice commands or automation routines.
Night vision capabilities: The Floodlight Pro has a 30-foot night vision range, allowing you to see clearly in complete darkness or at dusk.
Motion detection customization: Despite some issues with the Ring App, it provides multiple smart benefits. And one of them is to allow you to customize your motion zones, reducing false alerts and allowing for more accurate detection.
Siren and two-way audio: The Floodlight Pro has a built-in siren that can scare off intruders and two-way audio that allows you to communicate with anyone outside your home.
Weather-resistant design: The Ring Floodlight Pro is built to withstand various weather conditions, including rain, snow, and extreme temperatures. This ensures the floodlight continues to function optimally and offers reliable yearly security, regardless of the climate.
Data privacy and security: The Floodlight Pro features data encryption and two-factor authentication for added security.
Easy installation and setup: The Ring Floodlight Pro is designed for easy installation and setup, allowing users to quickly mount the floodlight and connect it to their home Wi-Fi network. The user-friendly Ring App guides you through the entire process, making it simple for homeowners to enhance their security without requiring professional assistance.
Ring Floodlight Plus: Features and Specifications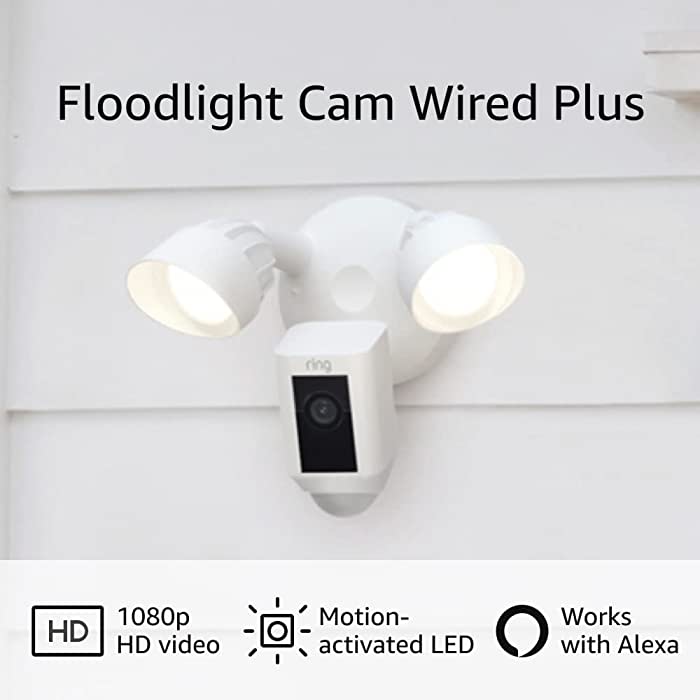 Resolution: The Ring Floodlight Plus has a resolution of 720p, meaning it can capture high-quality images and video. However, the quality may not be as clear as those captured by 1080p cameras like the Floodlight Pro.
Field of view: The Floodlight Plus has a field of view of 130 degrees, meaning it can capture a wide area in front of the camera. This allows for more comprehensive coverage of your property.
No night vision capability: Unlike the Floodlight Pro, the Floodlight Plus does not have night vision capability. This means it may struggle to capture clear images and video in low-light situations, especially during the dark winter months when there isn't much sunlight.
Motion detection: The Floodlight Plus' motion detection works well in daylight but may struggle in low-light situations. You can adjust the sensitivity in settings to reduce false positives, which may also increase the chances of missing important events.
Two-way audio capabilities: The Floodlight Plus has two-way audio capabilities, which allow you to communicate directly with nearby individuals. This can be useful when assisting someone or communicating with law enforcement.
Requires internet connectivity: To use the communication features of the Floodlight Plus effectively, you will need a reliable internet connection. If your internet goes down, you may lose access to these features during an emergency.
Customizable motion zones: The Floodlight Plus allows you to customize the motion zones you want to monitor. This means that you can focus on specific areas of your property that are most important to you and minimize false alerts from areas that aren't relevant.
Dual-bright LED floodlights: The Floodlight Plus comes equipped with dual-bright LED floodlights that produce up to 1,800 lumens of brightness. This provides ample illumination for your property and can deter potential intruders by drawing attention to their presence.
Comparing Ring Floodlight Pro and Ring Floodlight Plus
Built-in Floodlight: The Ring Floodlight Pro has a built-in floodlight that provides additional security by illuminating the area when motion is detected. The Floodlight Plus does not have a built-in floodlight, but it does come with four magnetic mounts that can be used to attach the device to any surface.
Siren: The Ring Floodlight Pro has an integrated 110-decibel siren that can be triggered manually or automatically by motion detection. The Floodlight Plus does not have a siren.
Price: The Ring Floodlight Pro is priced at $249.99, while the Ring Floodlight Plus is priced at $179.99.
LED Lights: The Floodlight Pro has 12 LED lights that can produce a maximum brightness of 1,000 lumens, while the Floodlight Plus has 7 LED lights that produce 24 lumens.
Versatility: The Ring Floodlight Plus is more versatile than the Floodlight Pro, thanks to its magnetic mounts that allow it to be attached to any surface.
Pros and Cons of Ring Floodlight Pro
| Pros. | Cons. |
| --- | --- |
| Improved home security with a high-definition camera | A higher price ($249.99) may be a deterrent for some homeowners |
| An advanced motion detection system | Requires a strong Wi-Fi connection for optimal performance |
| Remote monitoring via smartphone, tablet, or computer | Privacy and data security concerns with cloud storage |
| Seamless integration with other smart home devices (e.g., Alexa) | Subscription needed for cloud video storage and playback |
Pros and Cons of Ring Floodlight Plus
| Pros. | Cons. |
| --- | --- |
| A more affordable option with a price of $179.99 | Lacks built-in floodlight for additional illumination |
| Versatile installation with magnetic mounts | No integrated siren for added security |
| Compatible with smart home devices (e.g., Amazon Alexa) | Lower brightness with 7 LED lights producing 24 lumens |
| Fewer reported connectivity issues compared to Floodlight Pro | Some users may prefer the more advanced features of Floodlight Pro |
Verdict: Choosing the Right Ring Floodlight for Your Needs
To choose the right Ring Floodlight for your needs, consider the following factors:
Assess your home security requirements – If you need a floodlight with a built-in speaker and weather resistance, both Ring Floodlight Pro and Plus are good options.
Evaluate your budget and subscription preferences – While Ring Floodlights may appear affordable, remember that additional features and cloud storage require monthly fees.
Consider installation and compatibility – Ensure the chosen floodlight is easy to install and compatible with your existing devices and infrastructure.
So, there you have it! Now that I've compared both Ring Floodlight Pro and Plus, it's time for you t make the right decision.
However, if you still need help making the right decision, please feel free to share your questions and concerns in the comments below.