SEO is simple. You must have heard that. Who hasn't by now. Simple but not easy by any means. I personally love SEO tools and yet, it took me a while to discover Ahrefs. I will tell you why.
Because nobody writes about it. After the end of Yahoo Site Explorer, there have been many tools that have engaged SEO experts. Yet, till I stumbled upon Ahrefs, it changed much of what I used to think about SEO.
So, what is this Ahrefs?
Ahrefs is an all-rounder SEO tool and SaaS tool that tracks and analyses your entire SEO process.
When I started using it, I saw it is an all-rounder powerful SEO tool.
These are the SEO information Ahrefs will analyze for you, and I think the list is covers everything in your SEO efforts.
Keywords Research and Position Tracking
Backlink and Competitive analysis
Technical SEO and On-Page SEO analysis
Ideation and Link Building
Organic Traffic Analysis
So here is the spoiler! Ahrefs is such a good tool for grasp & its SEO Package shows all data of backlinks. Crawling finds you all the backlinks and Ahrefs has set up an enormous crawling.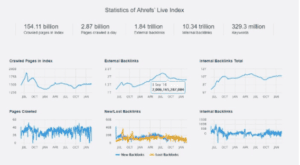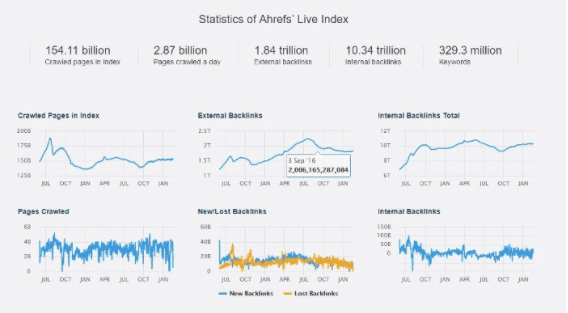 As you know, SEO tool is directly in relation to the size of the web crawling robot. This SEO tool has managed to lead above all the rest of the tools. Even SEOMoz.
How much does Ahrefs cost you?
This is swelling! Right here this particular part of this amazing SEO tool gets my vote. Ahrefs has 5 levels of accessibility and one of them is actually free. The paid plans range from somewhere between $49 to $499 per month.
That's not a steep ladder for SEO experts and people looking for a compact and one-stop SEO tool.
So, let me get on with my review here and tell you what this amazing SEO tool does.
Ahrefs Features –
Ref pages, Total backlinks, Ref ip's, Ref subnets, Ref domains and domain types by TLDs. Their analysis also holds,  backlink types in text, redirect and images.
Their features let you dive in deeper into the New Links, Anchor Texts, crawled pages and reffing domains. Not forgetting Lost links too. They also give you all this data to be exported to CSV.
Along with this, you will get an optimum SERP's analysis too. They provide this database in so many languages for keywords. In addition to UK and US, they RU, FE, AU, DE and much more. That in numbers mean, 50 million keywords are refreshed every 30 minutes with a good 30-day report update.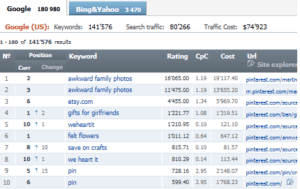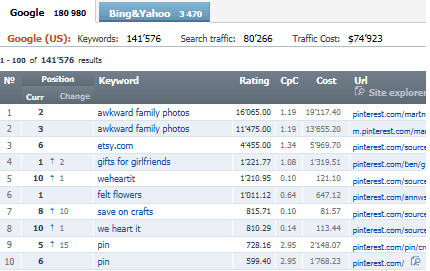 This is highly useful if you are a daily checker like me and you can use it to do your client's research too. Giving you the competitive upper hand than most of your competitors.
Now, moving towards your website comparison requirements, when I am asked where to start with your SEO module. I always advise, let's start with comparing your website to your competitors. And, I have found Ahrefs to be giving you such valuable and accurate domain comparisons.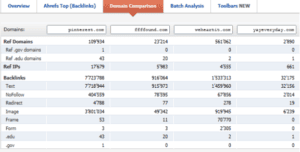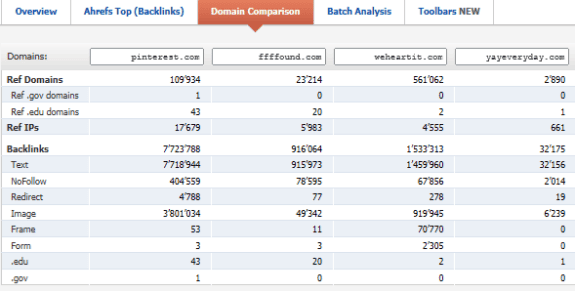 And, finally, if you are like me, then you will want your reports all lined up in one place. All paid plans with Ahrefs gives you a detailed report of everything, starting from your backlink database to your progress in your SEO module.
Crazy! How much you get in such an affordable package.
Who can use Ahrefs?
Everyone who wants to work in SEO use Ahref tool no matter you are a company or individual.
Here is the best part of this godly SEO tool. The size of your business does not matter. You can be a large scale enterprise or even a small business, Ahrefs works well with both.
If you have $150+ on your monthly SEO budget, then this will fit your module very well. I don't recommend the smallest plan and I will tell you why in the limitations list.
With all technologies, there will be a learning curve of the terms and features. But, that has never been an issue for SEO enthusiasts, as SEO is still in its infancy and even universities do not teach you SEO formally yet.
Cons- Ahrefs
With great benefits and features, comes minor limitations. So, here they are.
Don't go for the lowest plan, it is not worth, you probably won't get full feature either. Go for realistic budgets with Ahrefs.
Ahrefs has no integration with Google Analytics of Search Console.
Technical SEO and On-Page Optimization are down for some reason.
Web traffic tool not as robust and like other tools, there is no outreach tool.
Quick Way to Get Optimum Use of Ahrefs:
Although there are so many tactics to use ahrefs but let me tell you some quick ways through which you can plan your implementation easily and which will not let you waste your time on finding the long tail keywords, high traffic with the low competition keyword. Ahrefs will make it easy for you. Let's see HOW?
Every small, medium or big scale businesses, we have few competitors in our mind and same is applicable on the website.
Just put your competitor's website into Ahrefs' Site Explorer and you will get top performing keywords along with the pages on which your competitor is getting traffic.
Now, It's time to check referring domains of those websites and pick the high quality referring domains for contextual backlinks.
Even, you can plan your implementation based on their top performing pages, keywords, and referring domains.
The Bottom Line
Let us be fair here, a review only itches the upper end of the barrel. Until you start using SEO tools, you really don't know what's for you in store.
With this, they also offer interactive forums to collaborate and share ideas. They give you API's and toolbars for advanced users. The navigation and user interface for this site is very easy. And, that happens to be an excellent thing for people like me who loses patience.
I would recommend Ahrefs to any SEO and Link Builder because finally there is a state of the art SEO tool that does not make you want to hide in a corner.
Why people do not write more about this tool, I will just never know.
Don't forget to leave your comments below and tell about your exploration of Ahrefs.