Previously, in my effort to bring the 90's nostalgic moments back, I shared 7 of the safest rom sites with you.
But what would be their use if you don't have a suitable emulator.
You can't use a ROM file alone. So, this time, I'm presenting you with some of the best Dreamcast Emulators.
In case you don't know, Dreamcast was a home video gaming console. It was released in 1998 and right away, it became quite famous.
But just like all good thing comes to an end, the popularity of this Vintage Gaming Console ended with the arrival of…
Sony's PlayStation 2.
Microsoft's XBOX.
Nintendo's GameCube.
And after incurring significant financial losses, SEGA discontinued the gaming console on March 31, 2001. By the time it was discontinued, 9.13 million units of Dreamcast were sold worldwide.
In any way, that's not a small number.
Besides, Dreamcast brought some revolutionary changes to the gaming world. And if you want to bring that vintage feeling of playing Mario on this gaming console back then you got to try these 10 Dreamcast Emulators on your Windows PC, android, and macOS PC.
Top 9 Dreamcast Emulator to Play Sega Games in 2021 on PC Windows 10/8.1/8/7
DEmul Emulator – Available for Windows PC
DEmul is welcomed by users and considered as one of the best Windows Dreamcast emulators. This Dreamcast emulator is compatible with almost all Dreamcast ROMs. It can provide you with the best gaming experience with its plug-in system for video and audio output.
Also, it is supported by a virtual memory card that reduces your game progress time. More importantly, this emulator supports almost all Sega games without any major jugs or lag.
Nevertheless, it's absolutely for free and emulates Naomi 1, Naomi 2, Atomiswave, and all sorts of Dreamcast games!
It can run well on Windows 7 and later systems but DeMul is not available on Android and that's where our 2nd Dreamcast emulator plays a big role i.e. Reicast.
Reicast Emulator – Available for Android & Windows
Although Reicast is known as the best Dreamcast emulator for Android, it is also available for Windows 10, 8.1, 8, 7, or Mac. What makes Reicast the best of other Dreamcast emulators is its strong reliability and durability. The regular update feature gives Windows users an excellent experience.
The drawback is that you must have a BIOS file to run this emulator. Overall, there are no bugs or flaws in this emulator.
Good GUI and pleasant experience are the USPs of the Reicast emulator for Dreamcast.
DreamSpec – Spectrum Based Dreamcast Emulator
DreamSpec is a spectrum-based Dreamcast emulator for Sega Dreamcast established by a group of BigBoy developers. It features many different features such as full sound, skinny GUI, full speed, NTSC, as well as screen brightness.
As it is preloaded with a lot of games, you don't have to worry about downloading or installing the game.
Due to its CDI image (which you can burn and start playing), it can be used directly.
NullDC Emu
NuLDC is a PC-based Dreamcast emulator that says it is an open-source Dreamcast emulator for Windows. It can also play almost all Dreamcast games including commercial games.
It not only emulates the games of the Dreamcast console but also emulates the Naomi console. NullDC is basically built for Windows Operating System and has been running since 2006. It has an amazing user interface and gives you cutting-edge graphics quality for Dreamcast games.
To run this emulator, you must have the latest DirectX version and the Visual C ++ runtime.
Also, for this Dreamcast emulator to work, you must get a basic console BIOS.
Redream
Compared to other Dreamcast emulators, Redream is relatively new. It can provide you retro emulation with advanced features that other emulators cannot provide. This emulator can support many systems including macOS, Windows, Linux, and Android.
With this Dreamcast emulator, you can access your Dreamcast games up to 1080p or 4k quality. It is compatible with a lot of games from the Dreamcast library. You must meet the following requirements to run it.
Windows 7 or above
Processor x86
512 MB RAM
Graphics OpenGL 3.3 support
ChanKast – Emulator Especially for Windows XP/2003
ChanKast is another great simulator of Windows OS. It was the first emulator to play commercial games for the Dreamcast. It is only on our list of the 8 best emulators from Dreamcast.
ChanKast is planned specifically for Windows XP or 2003. Nevertheless, Windows 7 and 10 work perfectly well.
These are 256 DC bios, Pentium 4, and 256 MB RAM, with a minimum of 1.6 GHz, the latest Windows XP, DirectX, or higher. The Dreamcast emulator is simple and fun.
Sega Genesis

Sega Genesis (GENS4ALL) has the strongest emulator for Windows 10. This simulator can also support VMU games and VGA outputs. Best of all, you can use this emulator to re-generate the action code for Origin.
To relive the old days, just install the emulator for your childhood classics and start playing. The only weakness of this emulator has since been stuck in its beta phase.
NesterDC
NesterDC is an immense Dreamcast simulator with all its functionality. Its excellent functionality was appropriate to put in our list of the best emulators of Windows 10. It emulates 10 countries that save.
It also has an interactive screen with the ability to display NES box art and classical background ChipTunes
Makaron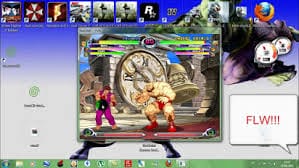 Makaron is a Windows platform simulator for Sega Naomi and Sega Dreamcast. On 19 August 2010, this emulator was released. It has a high compatibility rate, so almost any traditional Dreamcast game can be played. Makaron is also able to play many commercial games.
It provides an enjoyable user and easy interface for gamers. Will look for you.
These were the eight largest emulators for the Dreamcast. Any or all of these can be downloaded and an egocentric tour begins.
DreamEMU
Last but not least is DreamEMU. It's a single performer emulator made exclusively for the Microsoft Windows Operating System. Even though it's quite an old emulator for Dreamcast gaming consoles, it's not the stable one. It has its own sets of issues.
The only major Con with this emulator is that it doesn't support the use of commercial games on Dreamcast consoles. So, this means, instead of playing a full game, you can only play Demo on it.
However, the developers are pushing regular updates to make sure commercial games works effectively in the future.
Dreamcast Emulator FAQ
1. Is it worth buying a Dreamcast?
Dreamcast alone is worth buying because of apathy. It is especially worth buying because of the many accessories that offer it as a "phishing reel" that has made all the games fishing on the console a lot of fun!
2. How do I connect my Dreamcast to my computer?
Connect the battery to the cable and then plug the cable into the USB and Dreamcast fax modems. Now connect open the virtual machine and the fax modem to the PC. When the virtual machine loads the operating system, right-click on the desktop and click Terminal.
3. Is Dreamcast more powerful than ps2?
Compared to the competitive PlayStation 2, Dreamcast is more effective on textures, image quality, and anti-aliasing, while PS2 is more effective on polygonal geometry, physics, lightning, and particles.
4. Did the Dreamcast killed?
The console was given the tank in Japan, which reduced Sega to $412 million by the end of March 2000, and by the end of the year, he suffered a loss of about $400 million.
5. How to Run Dreamcast Emulator and PSP Emulator on ps classic
If you want to run Dreamcast and PSP altogether, you will need Retroarch & couple of BIOS files inside retroarch's system folder, and then just follow the procedure given below:
Run retroarch
Load content and browse the /media folder and the rest of the folders to where you have copied the game files
Select .cdi image to load and retroarch will ask for the core
Now, you will need to select Reicast.
In case you have any questions regarding Dreamcast emulators and how to use them? Please feel free to ask in a comment section or else you can follow us on telegram too.