Have you ever tried sneakers? Easy ha! But what If I will ask you Have you ever tried a waterproof Sneakers that is made up of hamp? Definitely, your answer will be going to be a Big No.  But with Dopekicks, you can experience truly waterproof sneaker shoes that are made of Hemp. Yes, I said Hemp. It was shocking to me too as I had Never ever imagined that Hamp can be for anything besides Smoking. 
It's true there is certainly fire in it, But you can't smoke them😆. 
I have found these unique sneakers on Kickstarter last week and this project has covered crowdfunding of US$ 210,448 among 2000 backers and still, 5 days are left to "back this Project".
Here, you can have a pledge starting from $1 to anything and if you pledge for more than $297, you will have 3 pair of dopekicks shoes absolutely at your home without any shipping charges.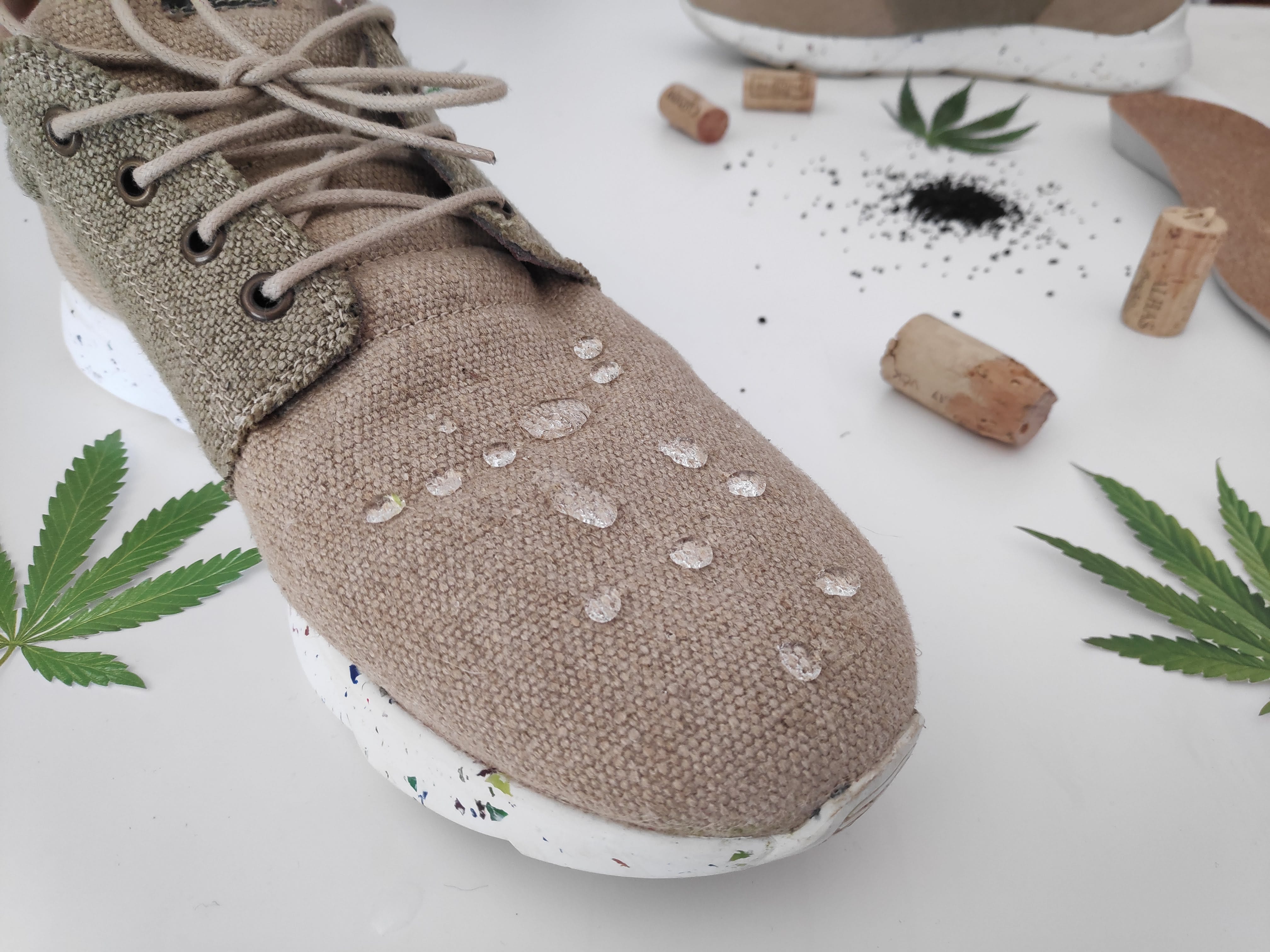 I feel that these sneakers are going to be a trendsetter not in terms of fashion although will be an aid in preserving nature. The shoes are fashionable, Tough, Waterproof beside these, much more things are associated. Let's discover reason why dopekicks will blow your mind while being first ever pure vegan footwear.
1.Eco-Friendly 
The Dopekicks use cannabis to craft out its upper layer which you all know is natural but that's not the only thing. Dopekicks made insoles by using cork tree bar which is again natural along with a rubber outer sole. Don't Worry by listening the term rubber as they used recycled rubber to mould out a custom sole.
Which is a mile ahead in terms of caring environment as most shoe brands just keep on manufacturing new soles. However, Dopekicks is trying to help environment by clearing the garbage without compromising with the quality created by other shoe manufacturers which is truly appreciable.
2. Super Strong
Do you know hemp fibres are stronger than steel? Yeah, it's not a joke. There is a valid reason behind it. Hemp fibres can hold almost twice the weight as steel before it cracks or breaks even it has 6 times better bending properties. 
While communication with Bernardo, CEO of DopeKicks, He claimed that the durability of this vegan sneaker is more than any Nike or Adidas out there. It's just "no one have used these sneakers so long as they just launched it".  
3. Flexible
As you already know Dopekicks is a sneaker that is made up of Hemp used for outer covering, Cork used for insoles and Recycled Rubber for Outer sole. All these combination make the shoe super flexible as rubber has a tendancy to go in its original shape after getting bended or streched. These thing make dopekicks shoes a perfect partner for your yoga, gym, dance session as they will complement your each and every move.
4. Waterproof
Besides being durable and flexible, its quality of repeling water makes it fit to be used in rainy season. Hamp canvas is a tough material which has its properties being water ressistant but with some advance reasearch and design. 
The Dopekicks made the shoe water repellent which means you can use the shoe in forest where unplaned waterways exsist or in a rainy day when streets are full of water. You can also any through water just to clean it up unlike regular shoes where you need to wait for shoes to become dry.
5. 100% Vegan Product
Yes, the sneakers made by Dopekicks are 100% Vegan as no animal product is used in its making. As you already know, hemp and cork are a the type of trees, Here I would like to add that rubber is made up from a fluid released by latex trees which means rubber is also an ecological natural thing. These things together make the shoe Vegan.
6. Temperature Regulator
The insoles are made up of cork which is known for being non deforming even after years of use. Apart from this, it is also a temperature regulating properties which absorbs the heat produced by friction. It keeps the feet cool for long hours even in hot humid days.
Do you know cork is widely used in Portuguese construction for insulation purpose? Yes, It's a tried and tested thing or you can say, it's a tip from our ancestors to become less affected by hot weather.
7. Infection Proof
Yes, the shoe is infection proof which means it as will prevent any kind of bacterial or microbial growth. Cork is widely known for having antibacterial/antimicrobial properties as these are common problem for feet. Several people around the world suffer from itchy feet, odourful socks etc. 
Do you know main cause behind most of these problems. Nothing, but bacteria wearing shoes for long hours in hot and humid environment make feet sweating with the growth of bacteria this problem starts. No worries with dopekicks, as you can effectively fight with any kind of possibility of microbial growth.
8. Versatile
The cool design and qualities like being waterproof, flexible, tough makes it a perfect fit for any occasion. You can use these shoes for tracking, wild safari, office, party without even caring of the season or weather.
9. Social Cause
Besides having tremendous qualities there is another reason to back the product. The Dopekics is helping Hemp farmers by purchasing hemp at decent prices. This innovation will lead to endless possibilities for farmers as shoe is a really big market and if these hemp shoes replaced the regular shoe. Than demand for hemp will increase which will increase hemp farmer income as well. Providing them with a bigger means towards life and much more.
10. Fashion
Here is the quick look of these sneakers: 
How to Buy Best Deals
Right now Dopekicks are not available in Open market. You can buy them on Kickstarter as they are a featured project their. Two deals are available on Dopekicks that are as follows:
Buy 1 Pair for $99 here you get saving of $61 as real price for a pair is $160.

Buy 2 Pair for $198 by opting Kickstarter Duo here you saves $122 Only.

Buy 3 Pair for $297 with a discount of $183 by selecting Kickstarter trio.  
Conclusion
So, ready for Dopekicks as per my opinion the Hemp shoes are really worth. Purchase it before anyone else because early adopters always get the advantage of being early. Who knows the costing of dopekicks shoes after it's launching to worldwide audience. May be, it will stand with shoes brand like nike, Jordan, gucci etc. As these shoes are comfortable, flexible, eco freindly, vegan and having lot of health benefits like no microbial growth, I hope this product will be trendsetter for other brands and make them serious to make vegan shoes. As of now, it's the first ever vegan sneakers one could have at a fair prices.
Finally, I will look forward to your comment and suggestion to the growing venture Dopekics along with the answer of this question "Will you buy these good looking footwear? If yes, why and if no, why not? Looking forward to amazing answers! And Please don't forget to share our content with your friends!