With high inflation, your finances can be unpredictable, and having quick access to small loans can be a lifesaver for unexpected expenses.
If you've already used Solo Funds, you know how peer-to-peer lending can fill the void between paychecks. But what if you want something different or seek to explore more options?
Fear not; I've crafted the ultimate guide to provide you with the best alternatives just as efficient, if not more, as Solo Funds.
Now, let's get started with the list –
Branch
Branch is an app that focuses on helping users manage their overall financial wellness by offering a variety of financial tools. In addition to providing short-term loans similar to Solo Funds, Branch also offers budgeting tools, expense tracking, and instant access to your earned but unpaid wages.
With features like fee-free banking and access to cash advances, Branch can be a great alternative if you're looking for a more comprehensive personal finance app.
Payactiv
Payactiv, like Solo Funds, aims to help individuals needing a small loan cover unexpected expenses or make it to their next paycheck.
The app allows users to access up to fifty percent of their earned income, eliminating the need for payday loans and helping users avoid overdraft fees. Payactiv has an easy-to-use interface and includes services such as bill pay, savings, and financial coaching.
Dave
Dave is a financial app designed to help you avoid overdraft fees and provide small cash advances when needed. The app offers up to $100 in no-interest cash advances and alerts users if their account balance is getting too low.
Dave also provides budgeting assistance and tracks upcoming expenses to help users plan better for their financial future.
Earnin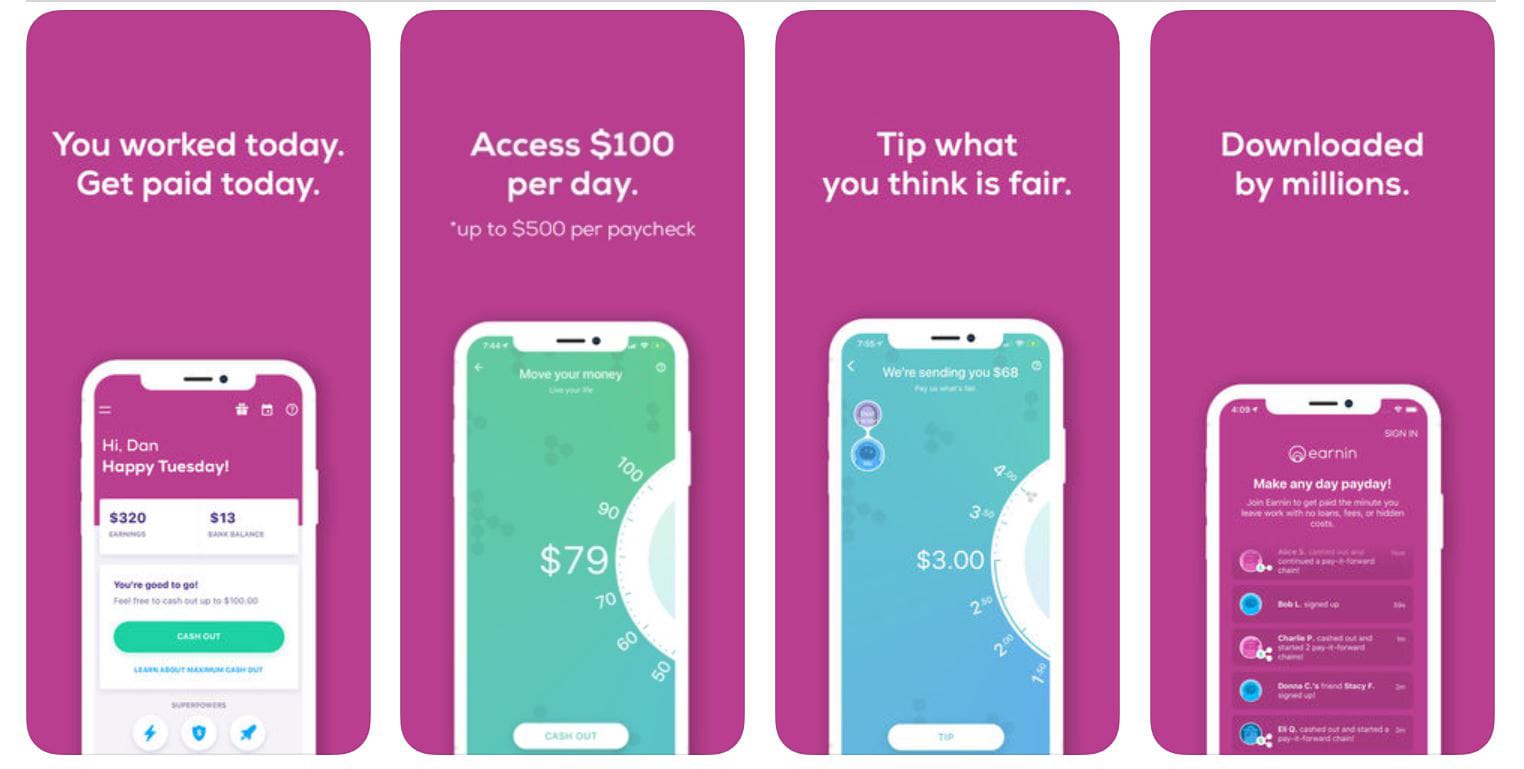 Earnin is an app that lets users access their earned wages before their payday, making it an attractive alternative to payday loans and Solo Funds. Earnin allows users to access up to $500 per pay period, charging no fees or interest.
Instead, the app relies on a voluntary tipping system, encouraging users to pay whatever they feel is fair for the service.
MoneyLion
MoneyLion is a financial wellness app offering various services, including short-term loans. Their Instacash feature allows users to access up to $250 in cash advances without interest.
MoneyLion also offers a suite of other financial products, such as investment tools, credit-building loans, and a fee-free checking account, making it a comprehensive solution for managing personal finances.
FlexWage
FlexWage is an app that partners with employers to provide employees access to their earned but unpaid wages.
You can request a payout through the app without interest or fees, making it a cost-effective alternative to payday loans and Solo Funds. FlexWage also offers a debit card for users to access their funds easily.
DailyPay
DailyPay is another app that partners with employers to allow employees to access their earned wages before the scheduled payday.
DailyPay aims to help users avoid costly payday loans and overdraft fees by providing instant access to their earnings. Besides, the app also offers budgeting tools and financial guidance.
Even.app
The Even app is designed to help users budget better and achieve financial stability. Alongside its budgeting and expense tracking features, Even offers an "Instapay" feature that allows users to access their earned income before payday, with no fees or interest. This service is similar to Solo Funds and can help users avoid short-term financial stress.
Fundsjoy
Fundsjoy is a platform that connects users with short-term loan providers, offering an alternative to Solo Funds for those needing quick cash.
Users can apply for loans ranging from $100 to $5,000, depending on their eligibility. Fundsjoy aims to make the process fast and easy, with funds often deposited into users' accounts within 24 hours.
PockBox
PockBox is an app that connects users with lenders offering short-term loans up to $2,500. The app features a straightforward application process, and users can receive funds in their bank account as soon as the next business day.
PockBox can be an alternative option for those seeking a quick loan similar to what Solo Funds provides.
Conclusion
These ten apps offer various services and features to help users manage their personal finances and access short-term loans when needed. These apps provide unique approaches and solutions to common financial issues as alternatives to Solo Funds.
Whether you need a small cash advance, budgeting assistance, or various financial tools, these apps can provide valuable support in today's fast-paced financial environment.