Are you looking for a countdown app for your Android/iOS device but unable to choose one?
Tbh, who wouldn't be?
Just by typing in the countdown app in the Google Play Store or Apple's app store, you will get 100's of apps.
Therefore, making it challenging to pick one app. So, up next in this post, I'm ranking 10 of the best countdown apps for counting days. Let's get started:
Countdown+
Countdown+ has a simple interface that makes it effortless to use, even if you are not tech-savvy. It can be used for any event, project, or life event. This app is also great for businesses who want an easy way to count down the days until their next big sale or product launch!
Days Left
Days Left is a simple countdown app that can count days, hours, minutes, and seconds. It has a widget that allows you to keep track of your activity. In addition, the notification feature lets you know when the date on which you have set the countdown has arrived. This app can be used for any purpose: for upcoming events such as Christmas or birthdays, planning trips, or even counting down the days until retirement. Days Left is available for Android and iOS devices through Google Play Store and iTunes.
DaysTo
DaysTo is a simple countdown timer app for tracking the time until an event you're excited about. The app has several preloaded events that you can use as a starting point, and it also lets you add dates manually. In addition, DaysTo comes with a built-in alarm clock that lets you know when your big day is here—and if it happens to be on another continent, DaysTo can handle that too!
Tally Counter Plus
Tally Counter Plus is a beginner-friendly app for counting days, hours, minutes, and seconds. It is a simple countdown timer app with a beautiful interface and many features. In addition, it is a free app with no ads and no in-app purchases.
Tally Counter Plus has customizable settings that allow you to:
Change the background color or image,
Set the font size or display text in bold style, etc.
Count up from some other date (not just today), and
Also, set different ringtone sounds depending on when each phase begins or ends (for example: start at 10 minutes left until an event begins).
The user interface of Tally Counter Plus looks excellent on all devices because it was designed specifically for them! For example, the countdown timer widget allows you to quickly glance at how many hours/minutes/seconds until something happens when your phone's unlocked screen turns off. So there's no need to open another app or wait for it to load before seeing how much time remains till your next appointment begins!
Time Counter
Time Counter is one of the best countdown apps on the market. It's free, allowing you to count down or up any amount you want. So, for example, if you have 10 days left until Christmas, Time Counter will automatically show those 10 days as a countdown in your app.
You can also set up multiple countdowns simultaneously, which is great if you're using this app for more than one thing (like counting down your vacation days and wedding anniversary). You can even set up a single counter for both countings down and counting up!
When it gets closer to your special day (a birthday or an anniversary), Time Counter will switch from showing how much time remains until then to how much time has passed.
Countdown App Widget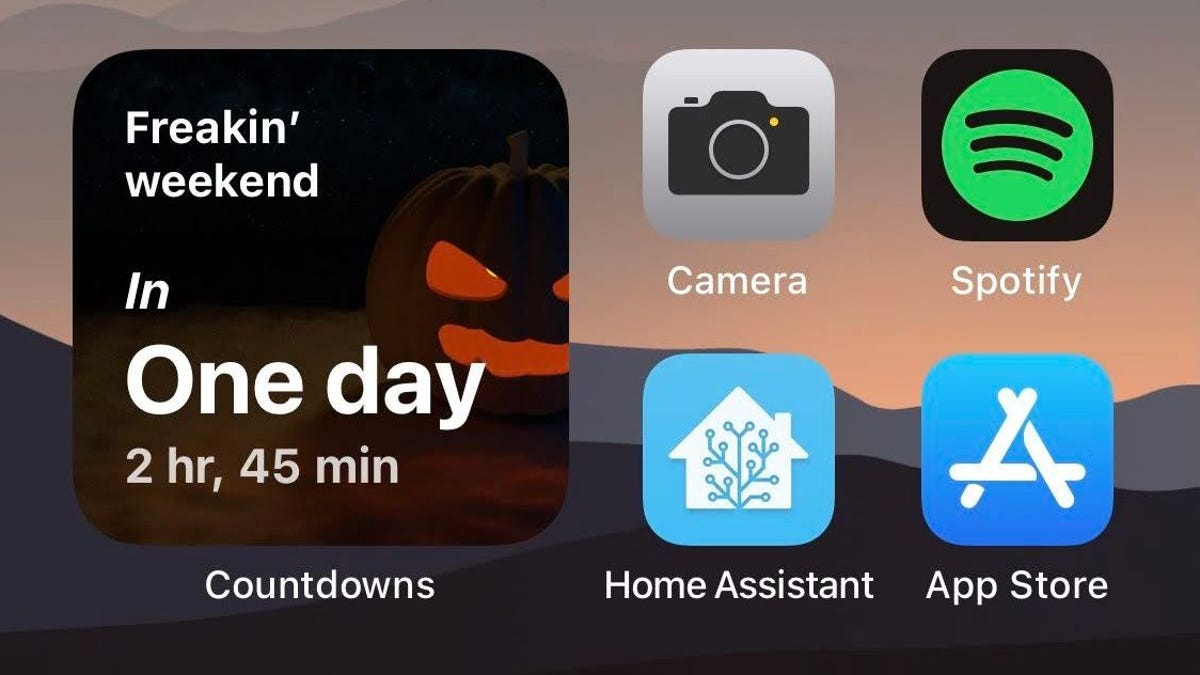 Countdown App Widget is ranked 6th countdown app in this list. Here are some of its features:
The countdown app widget is compatible with both iPhones and iPad.
Countdown App Widget can count down days, hours, minutes, and seconds until an event.
Other features include:
Countdown in real-time with the timer or manually set it up by choosing your event or task's start date and end date. You can also choose between a 12-hour or 24-hour format;
Choose from different themes like "Black Metal," "Retro Gaming," "Space Station," etc.;
Add as many profiles as you like (you could have one for each person in your family).
DaysUntil, Days Since – Event Counter
DaysUntil, DaysSince – Event Counter is a simple countdown app that helps you keep track of the days left until a specific event or date.
This countdown app has various features that allow you to customize your countdowns and make them unique. You can set up multiple countdowns at once and keep track of them all in one place. There is also an option to create reminders for yourself to don't forget about your events or dates!
Live Countdown Timer
Live Countdown Timer is a countdown timer app with some great features, including:
Count down to events and count up to events
See the live countdown timer on your Android device's home screen or lock screen
Choose different fonts and colors for your text
Count down to time or count up to time (including in other time zones)
CountDown – Event Timer
CountDown – Event Timer allows you to create a custom event with your images, start times, countdowns and sounds. It has several different themes, including one with an analog clock display and another with an old-fashioned digital look.
Egg Timer Plus
Egg Timer Plus is a simple countdown timer app. It is a free app that is available to download on Google Play and the App Store. You can set the countdown timer to a specific number of minutes or an hour or set it for an amount of time until an event occurs (for example, "set timer for one hour from now").
Parting Thoughts
Countdown apps are a great way to keep track of time and stay motivated. Whether you need it for school, work, or fun, countdown apps can help you do many different things. They can be used for personal or business purposes, so they're helpful in almost any situation.
With all these real-life usages, I hope the 10 countdown apps mentioned in this post will help increase your productivity.
That's all for now.
If you've any questions, feel free to reach out in the comments below.