Your choice of VoIP service provider can significantly impact the health and productivity of your business, so it's essential to do your research before paying up for a plan.
I've put together this guide to help you find the best fit for your small business, whether you're after an affordable hosted VOIP service or an on-premises system that you can manage yourself. Let's get started:
Dialpad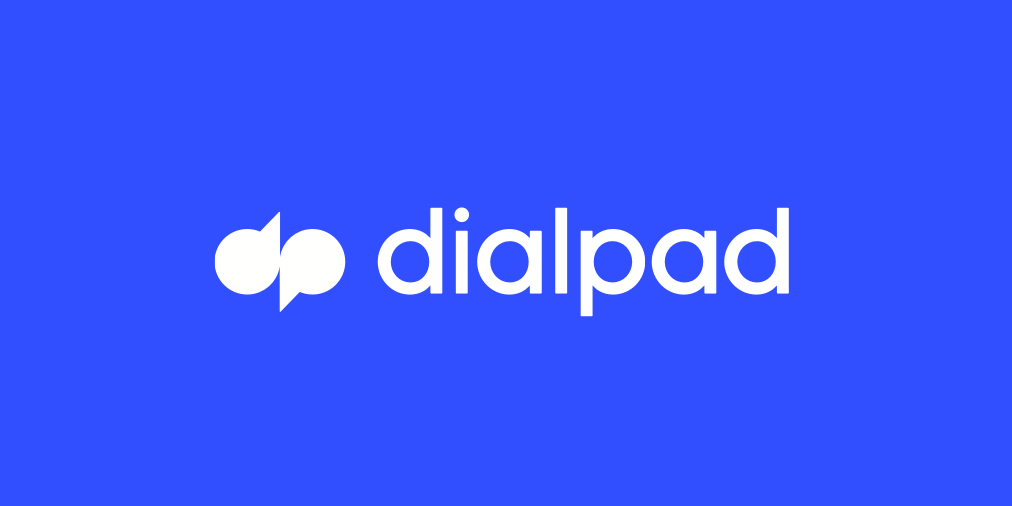 Dialpad isn't a newcomer to the VoIP business market, having launched in 2012. But the San Francisco-based company has made enormous strides in the past few years with its cloud-hosted service and AI capabilities.
Touted as a "business phone with a brain," Dialpad takes many of the typical features of cloud-hosted VoIP systems and adds an automated assistant named Amy.
With the help of Dialpad's AI, you can manage calls, messaging, and video conferencing all in one place. The result is an intelligent business phone system that adapts to your needs.
Zoom Phone
Zoom Phone is the 2nd cloud phone provider on this list, as it offers a full-featured business phone system that includes VoIP, video conferencing, and contact center capabilities.
Zoom is well known for its free video conferencing software and services. In January 2019, Zoom launched Zoom Phone to compete with traditional PBX systems.
Zoom Phone is priced at $10 per user per month for the entry-level plan. It also has two higher-priced plans, including an enterprise version. The number of features in these plans depends on the size of your company. There are no long-term hidden fees with Zoom Phone; pay for what you've used in the month. You can either lease a VoIP phone from Zoom or use your IP phone system. In most cases, it's cheaper to adapt your existing PBX system than to buy new equipment from Zoom.
With all three service plans, you can add video conferencing by bundling with a Zoom Meetings & Chat subscription. The basic plan costs $25 per month and includes unlimited meetings with up to five participants per meeting; higher-tier plans include even more participants in a discussion.
RingCentral MVP
RingCentral is the 3rd cloud-based business communications platform on this list. It provides company directory, call forwarding, auto-attendant system, and multiple extension services. A 99.999% uptime SLA also means that businesses can have peace of mind that any disruptions to their communications network will be infrequent affairs.
RingCentral was founded in 1999, and it's now one of the key players in the cloud-based business communications sector. With 6 million users and 13,000 businesses signed up for its voice and video calling services, RingCentral is one of the most respected names in the industry.
The company offers a range of business phone systems that can be used by organizations around the world, including RingCentral Office (or MVP), RingCentral Meetings, RingCentral Fax, and RingCentral Phone.
The company offers a range of office phone systems for business that can be used by organizations around the world, including RingCentral Office (or MVP), RingCentral Meetings, RingCentral Fax, and RingCentral Phone.
In addition, it provides a range of features to help improve your productivity and make your customer experience much better.
PROS:
Good selection of features;
Free local/toll-free numbers;
Unlimited voice/video calling; 9
9.999% uptime SLA;
CONS:
Limited number of users;
Prices increase with use;
RingCentral also has many additional features that set it apart from many competitors. For example, there's 24/7 live support via a chat app or web browser, along with an optional $100 credit towards professional installation services. There is also a range of paid add-ons you can use to customize your service further.
GoToConnect
GoToConnect is the 4th cloud-based phone system that includes audio and video conferencing. In addition, this VoIP service has call management tools, desktop, and mobile apps, SMS text messaging, and more.
GoToConnect offers three service plans: Basic, Professional, and Premium.
The Basic plan ($20 per user per month) includes:
100 minutes of calling between users
Up to five simultaneous calls, unlimited extensions on a single number
Intelligent call routing,
Call forwarding,
Queues
Ring groups
Team messaging
SMS text messaging
Integration with G Suite and Outlook (email)
Voice mail for your cell phone or landline
Agent console for customer service agents
Conference calling for local and international calls,
Desktop and mobile apps for iOS or Android devices allow you to make calls from your computer or phone anywhere there's Internet access.
24/7 support via email or phone, e-faxing
The Professional plan includes all the features in the Basic plan plus expanded video conferencing capabilities.
The Premium package adds ring groups, IVR menus, intelligent call routing, and more for one base price. In addition to unlimited calling and messaging plus 20 other features and remote call recording, GoToConnect also includes contact center features such as call analytics, real-time queue updates, and agent effectiveness reporting.
Vonage
Last but not the least, Vonage is a new breed of small businesses that thrive on eCommerce companies such as Etsy, Shopify, and Squarespace make millions of dollars by selling their products online. But without a physical location, these companies have to make do without the kind of infrastructure most businesses take for granted: phone systems, employees, and marketing tools.
Vonage provides a solution to this problem with a range of integrated services for small businesses.
The company offers flexible features for small and large organizations, including mobile apps for Android and iOS devices, extension dialing capabilities, and high-definition voice quality. Vonage also includes unlimited international calling to 52 countries with the Business Essential plan (2015). Users can also connect their Skype for Business account, or Microsoft Outlook accounts to their Vonage accounts.
Vonage offers multiple packages for businesses of all sizes. The Starter plan provides up to 250 minutes of domestic calling, 20 voicemail messages, and up to four team members at $14.99 per month. The Business Essential plan goes up to $29.99 per month and includes unlimited domestic calling, unlimited international calling to 52 countries, SMS messaging capabilities, and five extensions. Finally, the Premium plan goes up to $39.99 per month and adds video conferencing with 100 participants, unlimited voicemail messages, and 30 extensions.
Final Thoughts
Even if you're a relatively small business or in the process of scaling it up, I believe VOIP phone service is one of the most important business tools for a startup.
Instead of looking over a dozen VOIP services, you can compare the VoIP services mentioned in the post to determine which service is best for your business.
That's all for now.
Please let us know if you need any help with that in the comments section below.