2020 is a year that's horror in itself. First came the Covid-19 pandemic then back-to-back lockdown. Hen the lockdown started, I used to feel suffocated.
Stay at your home. Don't go outside unless it's an emergency.
Wear masks all the time. It's tiring. Not physically but mentally. As living under a roof got innumerable, a friend of mine introduced me to the whole new world of manga.
Now, 2020 is about to end & I thought why not share the 10 scariest manga to make it even scarier. Here's the complete list:
Rasetsu, by Chika Shiomi
The spin-off to a popular horror manga Yurara, Rasetsu, Vol. 1 is here to haunt your nights. It's more of a paranormal manga that follows its story around the heroine Rasetu.
She's a bold & brilliant exorcist who works at an exorcism agency. She loves to capture ghosts & eat cakes. She's brave enough to never turn down a good fight.
Then in a sudden turn of events, Yako HOSHINO asks for her help as things get complicated because of a possessed book.
Urotsukidoji: Legend of the Overfiend, by Toshio Maeda
Urotsukidoji: Legend of the Overfiend by Toshio Maeda is only for adults. If you're a kid, read something else as this horror manga includes some explicit scenes.
Scenes you should avoid watching at any cost. And as for the manga itself, it has quite a disturbing storyline, which makes the manga series even more horrifying.
In this manga series, once in every 3,000 years, the Chojin emerges in human form. In every arrival, he tries to bring man, demon, and beast together.
Cirque Du Freak: The Manga, by Darren Shan and Takahiro Arai
Combine vampire with the evil creatures of the night and the circus. In the final form, what you'll get to see is far from your imagination.
It would be like a scary tale of friendship and blood. Its story begins when Darren (not the author) meets a vampire who's also a performer at the local circus.
The story takes a sudden turn when Darren has to make a deathly decision to save his friend. A decision that'll change his life forever. I'll conclude by saying it's a gruesome & bloody manga that comes with a killer cliffhanger. A cliffhanger that's worth waiting for.
Blue Exorcist, by Kazue Kato
Blue Exorcist by Kazue Kato follows the story of Rin. He has spent most of his life living with a renowned exorcist Father Fujimoto.
As the story begins, the two indulge in a fight, which results in father confessing a bitter truth about rin's life. He has the blood of Satan in his veins. And that's when he decides to defeat Satan. However, to do so, he needs to become an exorcist himself.
Soon, he enrolls himself in an exorcist school to sharpen his skills. But in the process, he struggles to hide his true identity from others as most spells require him to draw his own blood.
And once he draws his blood, he turns into a demon. The rest of the story is then all about his struggles & final fight with Satan himself.
Franken Fran, by Katsuhisa Kigitsu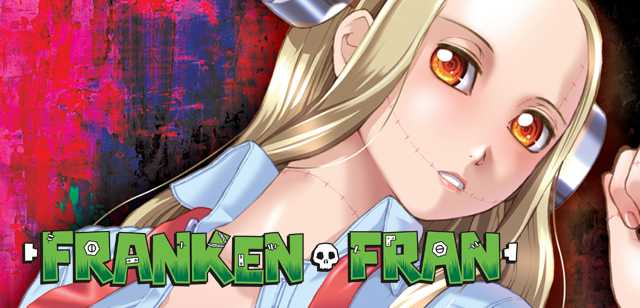 Franken Fran follows the story of a brilliant scientist Fran. She uses her brilliancy to fulfill her clients' wishes. However, as we move forward, these wishes turn out to be a nightmare for her.
It's like mixing biological horror with dark comedy. If you're a light-hearted person, don't watch it. Franken Fran is not for you.
Instead, if you read it with the right mindset, you might even find this horror manga to be quite funny (in a sick sort of way). And regarding the story, it concludes with each chapter & rarely extends to the next chapter.
The Drifting Classroom, by Kazuo Umezu
Kazuo Umeza created the Drifting Classroom in 1972. And today, in 2020, it's regarded as a classic horror manga. The Drifting Classroom's story follows around a school that is transported into a horrific post-apocalyptic future.
All thanks to a sudden earthquake. Now, in the aftermath of this new reality, the children have to find a way to survive among their peers.
Since the release in 1972, the drifting classroom has received many awards & has been adapted to multiple live-action TV and movie series.
Tokyo Ghoul, by Sui Ishida
Sui Ishida's Tokyo Ghoul manga tells the story of Tokyo. Ever since he came to life, some demons appear to stalk him in humans form. Then one day, a college student Ken Kaneki is involved in an accident.
The accident further leads to the transplant of ghoul organs to his hitherto human body. After this sudden turn of events, he becomes a half-ghoul & craves human flesh.
So, what would he do next? Will he kill a living human being to satisfy his hunger?
Read this horror manga right away if you're curious to find out how a young man deals with newfound inhumanity, how he crosses some lines to live in a brutal new world.
Ajin: Demi Human, by Gamon Sakurai
Ajin: Demi-Human is the story of a normal high school going student Kei Nagai. Then one day, he's involved in a traffic accident.
The accident that could have killed him right away, but somehow he comes back alive. And that too, without a scratch. How's this possible? Well, in reality, he's an Ajin.
Ajin is immortal beings who've powers over monsters. When his identity is revealed to the world, government agents are after him to capture & dissect him. Kei escapes & makes an important decision on who he can trust.
Happiness, by Shuzo Oshimi
Happiness is yet another masterpiece by the writer of Flower of Evil, Shuzo Oshimi. It is a Vampire manga that has everything to slither you.
Here blood is not the only thing that's horrendous; it's blood-sucking – constant inquest of growing guilt and passion. Happiness is the story of faint-hearted highschooler Makoto Ozaki's.  His life is nothing but a spectacle of minor teenage humiliations. Then one night, everything changes for him as a pale girl attacks him on his neck.
Because of the vampire bite, he has become a vampire & gets a constant thirst for blood. Now, you see where this is going. On a personal note, by reading Happiness, I had an extremely uncomfortable experience.
Pet Shop of Horrors: Tokyo, by Matsuri Akino
Pet Shop of Horrors by Matsuri Akino has taken a whole different level of approach when it comes to horror. It tells a classic fairytale story by using pets.
Yeah, pets. Isn't it crazy? In this horror manga series, some pets look quite similar to humans & to take them home, and you must sign a contract.
Once the owners take the pet with them, the never-ending horror begins as they ignore the pet shop owner's constant warnings. To witness the horror firsthand, start reading the series on mangahere.
Final Thoughts
That's all for now. These are the 10 horror manga that you must read before the end of the worst year 2020. What do you think which horror manga in this list will scare you the most? Let me know your thoughts in the comments section given below.