Camera FV-5 is a camera application for mobile devices that fulfil the requirements of DSLR manual controls in your hands. It is an app that brings together the features of a camera to your mobile phones. It works as an added advantage for an already built-in camera. Before downloading, any app a person wants to know all about it so; here is a camera FV 5 app download review to make it easier for you to understand the application better. However, before going on the review let us tell you more about the app and its features.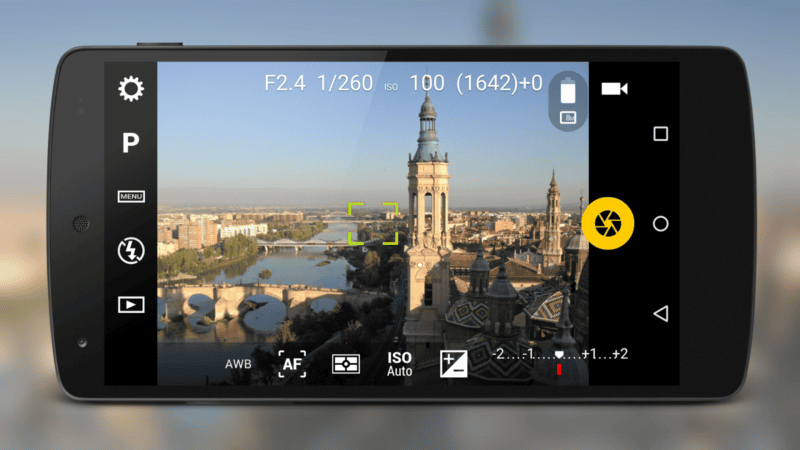 Camera FV 5 lets you take photos professionally, you can capture raw photographs and process them later. You do not need to carry a camera separately with you, all the work can be done through the app.  The camera app has the following features:
Camera FV 5 apk download: best Features
Easily adjustable: exposure, ISO, light metering mode, white balance, focus mode and program mode.
Exposure bracketing: 3-7 frames, custom EV shifting and unlimited stops display.
Viewfinder display like DSLR's: View aperture, stops display and exposure time with bracketing setting and EV.
Modes: speed-priority mode and program mode.
Built-in intervalometer: make time lapses (HDR or Bracketed) and time controlled picture series.
Formats: JPEG, PNG and DNG, incredible for post processing.
Long exposure support: nightlife photos, night trails with long exposure.
Volume keys: all camera functions assignable to the keys. Adjust ISO, color temperature, EV and more.
Focus: macro focus, auto focus, touch-to-touch focus, focus lock shift, infinity focus modes.
Digital zoom: Shows 35mm equivalent focal length.
Electronic viewfinder: 10 composition grid overlays, live RGB histogram and 9 crop guides available.
Organization options: fully customizable file names and different store locations.
Auto exposure and Auto white balance.
Self-timer for delayed shooting
XMP and EXIF sidecar metadata support.
User Interface available in more than 25 languages.
Camera FV 5 app download review
The camera application provides you with full manual control and avoids scene modes. There are a plenty of tools to use and an excellent user interface. There are a variety of filters and features. It has a sleek interface and comes with proper instructions. It has a tutorial incorporated with in it to make the user understand the layout better. It instructs you on how to access features and tells you what each icon does.
It is an adjustable app, it saves images in multiple formats, adjusts image resolution up to 640×480, adjustable image parameters, multiple light metering modes, adjustable exposure compensation, exposure bracketing changes, various flash modes, enabling an intervalometer, setting a times. The application can be used to edit raw footages or images and is the best for short to medium sized production. It supports android-based cameras and the footage captured can be easily edited in any software like Adobe Premiere Pro, Final Cut Pro, and Sony Vegas.
The application provides the image quality closest to that of a DSLR camera; you can leverage a high-quality, optically stabilized zoom. Depending on your smartphone, it can save images in DNG, JPEG, PNG or RAW formats. It will give you amazing results.
If we talk about camera FV 5 app download review. This app is an amazing way to kick start your photography in a professional level and gain skills and expertise. The people who are keen to grow their photography skills this app is the best fit for you. Even if you want to shift to a DSLR camera, you will know about all the setting of the camera, which will make it easier for you to get a hang of the DSLR.