Did you ever imagine that you can create videos with just a single touch on your smartphone's screen? It sounds pretty good to hear but it is also possible with Boomerang app that is offered by Instagram. It looks like a fun activity when you just tap on your screen on it will capture 10 photos and create a video instantly. When I heard about this app then I was also surprised but  I decided to give it a try and installed Boomerang from Google Play store.
Believe me, my kids have become a fan of Boomerang app and they often create videos with this magical video making app. I also love to create short videos with Boomerang. Here I will describe its special features based on my personal experience and also aware you how to use it for Android.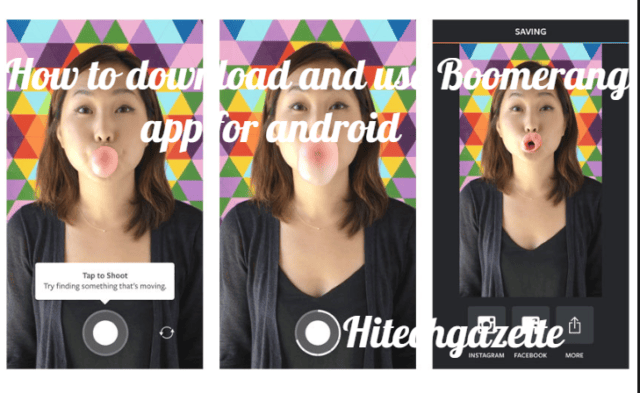 Boomerang App: Make Everyday Moments Fun
If you are looking to create short, unique videos that you can stake on various social media platforms such as Facebook, Instagram then Boomerang is the perfect pick for you. One of the best thing about Boomerang from Instagram is that it only consumes 2 to 3 seconds to convey you the video. Just use front or rear camera to create video and Boomerang will capture 10 images at ones and then merge them to make a fun-filled video.
5 Best video editing software for Youtube
Boomerang app: Key Features
Before going further have a look at its cool features:
The app enables you to create short and crisp videos and share them on different social media platforms within seconds.
You can use the front camera or Rear camera to capture your moments.
There is no sign in or registration formality you just require to download the app and start capturing amazing short videos.
A quite simple interface and contains an only single button to take 10 photos and gather them together to make a video.
All depends on you whether you want to share your video on Facebook, Instagram within the app or later with your camera roll.
One of the best app to convey your selfies with a motion to your close ones.
Snaptube vs Videoder apk download: which is best video downloading app
How to use Boomerang App on Android
In order to make a looping Boomerang video the app capture a burst of images and you need to follow these steps to create videos with Boomerang on your Android device.
When you will open up the app then you will notice a Circle at the bottom of the screen, tap on it. Also, choose whether you want to use the rear camera or front camera by swiping the screen.
That's it Boomerang will capture 10 pics and will merge them to create a short video.
Here you will find also Facebook, and Instagram options to share your videos within the app and you can tap on your desired icon to share your video instantly.
In the top right you will find "Save" option, tap on it to save your video in camera roll.
WeVideo download for PC (video editing app)
Concluding lines
Hey, are you ready to create videos with Boomerang app? If yes then download it now and s.capture all your day today moments to create short videos. Hope you found the post informative and if you did then pass it on with ones who love to create videos to share on the social media platforms.
Still, any query regarding Boomerang from Instagram then drop your question in the comment section below. Don't forget to bookmark our site for more exciting and informative updates.