Shadow Fight 2 is a fighting game created by Nekki and got huge popularity. The game enables you to show up your martial art skills. More than 10 Million people are crazy behind this RPG style game. You just need to fight with Titans and defeat them to earn coins and gems to buy different upgrades for upcoming levels. It is pretty tough to defeat Titans in Shadow fight 2 but I have some effective tips and tricks to get victory over Shadow Fight 2 Titan.
To defeat Titan without any loss is quite necessary and if you want to grab victory in the game then you have visited the exact place. So observe carefully my guide on how to defeat Shadow Fight 2 Titan easily.
How to hack shadow fight 2 with lucky patcher 2019: easy hacking guide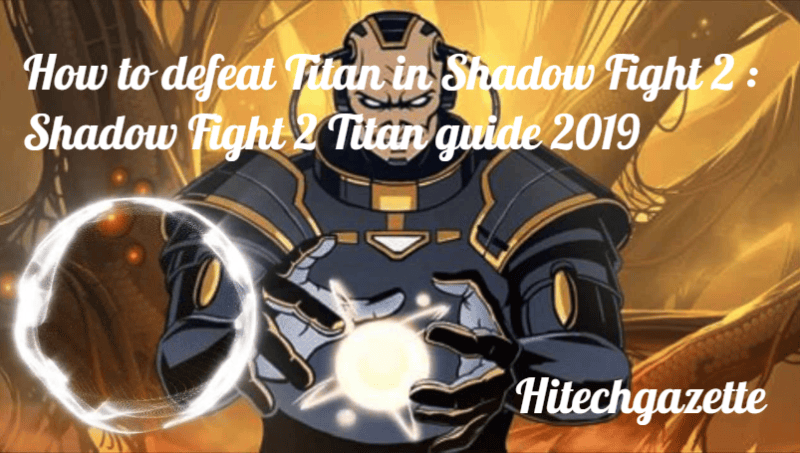 How to defeat Shadow Fight 2 Titan: Complete guide
If you are a fan of Shadow Fight 2 then you must aware of the salient features of the game. The game comes with a dark background and you have to fight with shadows. I am here to suggest you the best tips and tricks to have more fun in this fighting game and I have made this guide on the basis of my personal experiences. As you know Titans are brawny with their protective shield and they regenerate themselves with every second. But don't worry folks after applying these tactics you will definitely defeat Shadow Fight 2 Titan. So have a look below and observe carefully.
Shadow Fight 2 Special Edition 1.0.4 apk Download for Android (2019)
1. Selection of weapons and enhancements
First of all, you need to choose weapons and enhancements wisely. To get victory over Titans you should utilize Batons, Tonfas, and Knives etc. Frenzy, Time bomb, Bleeding are some enhancements which leave a great impact on the Titan's shield. You can also go for Damage Absorption and Regeneration enhancements to keep fighting in the SF 2.
2. Keep Attacking
One of the foremost strategies to defeat Titans in Shadow Fight 2 is to keep attacking. Titans have a gigantic body and if you will keep attacking them then they will not have a chance to take a breath by getting knocked down and like this, there will be damage until defeated.
Shadow Fight 2 Game Hack And Cheats To Win Every Game
3.Continuous attack on legs
To use this trick, first of all, you must upgrade the flame club weapons with armor and helmet and then go close to the Titan at a secure distance so that he can't hit you and then attack his legs. He will try to come towards you but unable as he will stick due to the continuous attack on legs. You can also apply an enhancement on the weapon to defeat him with a great score.
4.Learn the control system
There are various punching and kicking moves in the Shadow Fight 2 for fighting. All depends on how you hold the virtual joystick to change the moves. You will launch attack moves if you point it forward and on the other hand, by pointing backward you will grab a defense move. Practice makes a man perfect and the rule is applied here. You will be a great player by practicing your own.
Download Shadow fight 2 Mod apk V1.9.38 (Unlimited everything)
Concluding lines
With the appropriate selection of weapons and right fight style, you will be able to defeat the Shadow Fight 2 Titan. So, guys, these were the few tricks to get victory over Titans and grab points. Hope you will apply these tips whenever you fight against titans and hope you found the post informative.
If you have some more ideas to defeat Titans in SF2 then share your ideas with us. In case any trouble while applying these tips then let me know below in the comment section. Till then Goodbye and happy gaming.
How to download shadow fight 2 for pc?