Like Avengers Endgame, Game of Thrones season 8, iOS 13 is also the most awaited happening of 2019. Every year Apple presents new updates with lots of improvements in the older ones and this time it is going to reveal iOS 13. If you use an iPhone, iPad, and then probably you would eagerly waiting for this update. iOS 12 brought the enhancements in the user interface and the features of the upcoming update are under folds but we have a blur idea of its features on the basis of rumors.
What measures changes will take place in the next update of iOS? When will iOS 13 will come to you? Let's initiate our discussion and try to get a fair idea of its release date, rumors features, etc.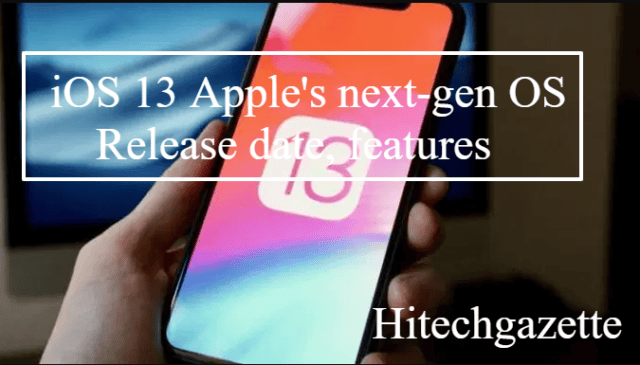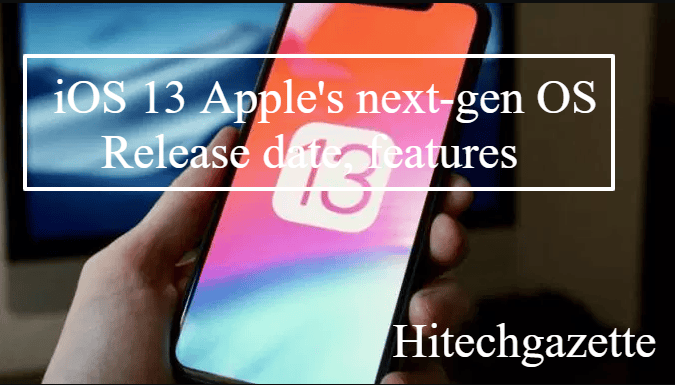 iOS 13 release date
Reveal date
When we observe the past updates then we conclude that Apple discloses all its updates in June at the World Wide Developer Conference. Like other updates, iOS 13 will also reveal in June 2019 at WWDC.
Betas
Betas are the unfinished version of an update and if you are too courageous to try a beta then it will reach to you in late June. The developer beta of iOS 13 will be available on the same day of its reveal date.
Final release date
All the updates of Apple have released in September and I am saying this after observing the older updates release date. But the exact date is still hidden and whenever we got it we will update to you.
How to download iOS 12 beta on iPhone or iPad
Expected features of iOS 13: What we want
Siri enhancement
Siri is going to better with every update and we wish that iOS 13 will bring a major upgrade in Siri. iOS 12 had come with new shortcuts and appearance and this time we are expecting the personalized reply to the call decline. Let's watch will it happen.
Various users account
My phone is used by my son, daughter and many times my mother in law use it. So it is pretty necessary that it must have multiple users accounts facility and a wide number of users are demanding for this facility. We think this time it will happen.
Notification snoozing
Another most wanted attire of the upcoming iOS update is Notification snoozing for a particular day, a weak or later. Indeed this feature exists currently but it contains limited options.
Social feature
We all have such friend with whom we can share each and everything and even our private chats. It is expected that you and your friend can view all your chats, emails, and all your texts in a single window. Cool Na!!!
Smart Wi-Fi
Suppose you enter into a strong Wi-Fi area and your phone automatically connects with the network. You will feel amazing but unfortunately, this facility currently is not available for Apple users. But upcoming update can gift you this attire.
GIFs
We have to pay $10 monthly to turn our live photos into Gifs appropriately. iOS 13 may bring the facility to modify your images into GIFs with spending your money.
Rumors Features
Dark Mode
For all night geeks, Dark Mode is vital. Indeed all the iOS users are waiting for this facility from a very long time and this time it will happen in iOS 13. It will smooth up your nighttime chattings and other tasks.
Modified Home Screen
Apple is working on the whole new home screen for both iPhone and iPad but we can't say exactly how it will look. We just need to wait and watch until the official release of the upcoming iOS update.
Upgraded gestures
Whenever you want to undo anything on your device then you have to shake it and lots of users find it inconvenient. Even many users are not familiar with this gesture. According to 9 to 5 MAC's sources now this undo gesture has modified into three finger tap in the keyboard area. After availing this gesture you have to simply swipe left or right to undo and redo actions.
Mail
It is pretty complex to shortlist the mails based on their importance and category but now for Apple users, things are going to be smooth in terms of mail. Now Mail app will manage all the messages into different categories like marketing, purchase, less important, etc. Also, it will contain read later and a mute option for your ease.
Cool new Emojis
Emojis make our conversations our chats more approachable and I am waiting for this feature eagerly. You will not find new emoji just after the release of iOS 13 but you will facilitate w8ith them after the later update in 2019. flamingo, otter, waffle, sloth, white heart, people holding hands, ice cube, snorkel, orangutan, juice box, falafel, and many more new emojis will available.
Shareability of iOS Apps to the MAC
In iOS 12 and MACos Mojave, Apple has launched the facility to port iOS apps to MAC but this facility was for selected iOS apps like stock, homes and voice memos. But this time Apple is looking to expand this feature and developers will easily port the iOS apps to MAC.
Check out the infographics about iOS 13 Apple's next-gen OS Release date, features and other details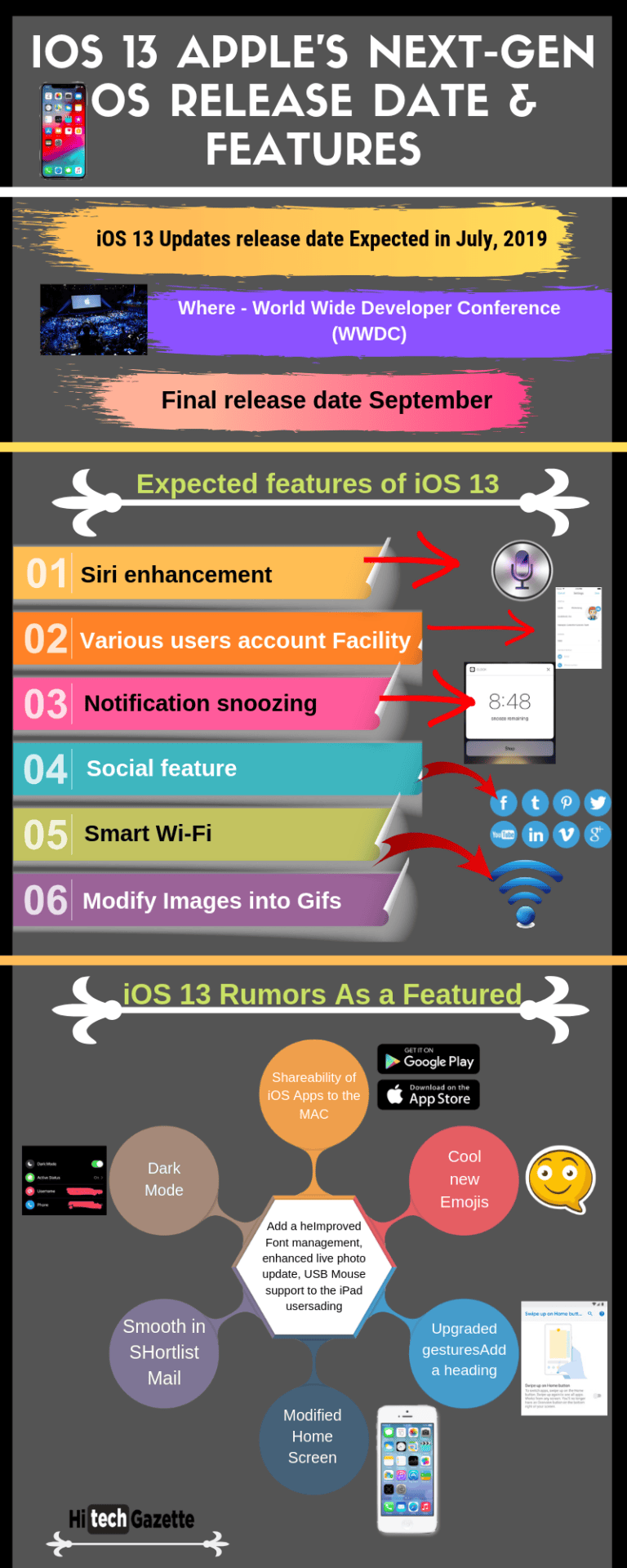 Other new features
Improved Font management, enhanced live photo update, USB Mouse support to the iPad users and many more features will be added in the iOS 13. I think your excitement is going to be higher and higher but you have to take patience until it releases.
Well, folks, these are the rumoured features and expected features of the iOS 13 and we hope this update will fulfil many of our desires.