Battle Royale games dominate all genres of online game. Indeed people are crazy about these Role-playing games and currently, the most popular game of this category is Players Unknown Battle Grounds Aka PUBG. PUBG is available on several platforms like Android, iOS, Windows, Xbox, PlayStation etc. But playing PUBG is not everyone's cup of tea and it requires high-specs device and extra skills as well. No worries folks, there are many more look-alike games of PUBG which offers you almost same gameplay and features. If you are searching for PUBG alternatives then you reached the exact place.
I am here with 5 best PUBG alternatives and you can play b these games on average to low specs devices. So observe the post carefully to choose the best PUBG Style game.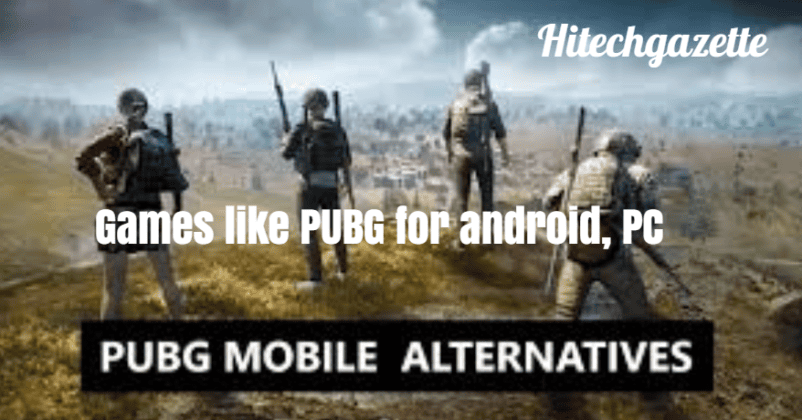 5 Games Like PUBG: Best PUBG Alternatives
1. Fortnite
If you love PUBG then you would also love Fortnite as it will give you almost the same experience of the online multiplayer game. Fortnite is published by Epic Games in 2017 and it is available for Windows, MAC, Android, Xbox, and PS4. Like PUBG you have to fight with other 99 players on the unknown island and collect gears and vehicles for your existence in the game. Being the best clone game of PUBG it also enables you to be the lone player in the game to win the game. Millions of users are connected with Fortnite on multiple OS.
2. Free Fire
The game comes with similar gameplay and it is also known as Garena Free Fire but the only key difference is that only 50 players can play simultaneously. This Action-packed game was launched by 111Dots Studio in 2017 and your motive is also to be the last player in the fierce island. You can download Free Fire on Android and iOS devices and also choose the favorite character in this online multiplayer battle royale game.
3. Hopeless Land
After battling among 100 and 50 players let's go for something more. Yes, our next game in the list of PUBG Alternatives Hopeless Land will offer you the opportunity to play with 120 players. Comes with the same gameplay and you can shoot anyone, hide in buildings, drive vehicles to be the winner of the game. The game was developed by Hero Games and you can say it the perfect look-alike game of PUBG. Comes with a wide array of weapons and vehicles to give you great user experience.
4.Rules Of Survival
Let's jump on our next game listed in the best PUBG like games, ROS aka Rules Of Survival. This is also free to play an online multiplayer game published by NetEase Games. ROS doesn't permit you anything different and like other multiplayer games, your mission is to survive till the end. All depend on you whether you want to play in single player mode or in a team. There are four modes to choose from such as Solo, Squad, Duo, and fireteam. ROS has grabbed the record-breaking success and it has more than 150 Million players across the globe.
5. Rust
Our next game is available for MACos and Windows and permits you the same characteristics of an online Battle Royale Game. It is published by Facepunch Studio in 2018 and your motive in the game is to eliminate your rival for your survival. You have to collect weapons, Build your own base and fight for your existence to win the game.
Concluding Lines
Well, folks, these are the best PUBG like games for Windows and Android and I hope you will choose the best one based on your OS and taste as well. All the games offer the same play and your goal is to be the last player to get the victory in these games.
Still, any question regarding the above-mentioned games then let us know below in the comment section. And also feel free to ask if you want to know about any specific survival game. Don't forget to bookmark our site for more informative updates.