In the past, game consoles were popular before smartphones replaced them all. Gamers enjoy console video games, but these days are long gone. Nevertheless, many people remember gaming classics with warm appreciation and have looked for ways to play those games on modern smart devices.
Some websites/mobile apps allow you to download ROMs of classic video games. You can use these platforms to play retro-style ragdoll games on your mobile device. So, going forward in this post, I'll list some of my go-to apps to play retro ROMs on an android device. Let's get started:
Retro ROMs Android Emulators
Romsmania
Romsmania has been around for a while, providing Android users with emulators and ROMs of retro games. Recently, the site had undergone a significant overhaul of its design and layout to give the best user experience.
The site is divided into three main parts – Emulator Zone, Retro Zone, and Community Zone. All sections are neatly organized, and it's easy to navigate through them.
Emulator Zone – is an area where you can find emulators for different gaming consoles such as GameBoy, NES, GBA, SNES, and many other retro gaming platforms. All the available emulators are well-described to help you choose the best one for your needs. You can also refer to the FAQ section if there's anything specific you want to know about an emulator.
Retro Zone – is a collection of ROMs currently hosted on Romsmania servers. More than 30 000 games are available in this section sorted by genre. You can easily search through this extensive database using filters that include game title, developer name, and release date. Besides, you can sort the games by their popularity or add them to your favorites list to access them later on.
Community Zone – is another convenient section where you can interact with Romsmania users who are deeply rooted in the website.
Gamulator
You can find the ROMs for your favorite PC, Mac, and Consoles with a quick search. The website covers all the retro systems such as Sega, Atari, Sony, Nintendo, and more. So whether you are looking for a classical Super Mario game or want to play some classic Sonic game – Gamulator.net has everything you need.
More than that, this platform is also famous for its extensive ROM collection filled with exclusive options. In other words, even if you're struggling with finding a particular retro game, the chance to get it here is relatively high. Furthermore, the website also covers the games from all the possible platforms. Thus, no matter if your fave game was released on a PC, set-top box, or a console — Gamulator has you covered.
Easy Roms
Easy Roms is an extensive collection of classic gaming ROMs.
It's the best place to find free games for your emulator, from the NES to the Sega Genesis and everything in between.
The website is easy to navigate, and all games are clearly labeled by their system (e.g., NES, Game Boy, etc.). Therefore making it one of the safest ROM sites to explore. In addition, easy Roms is updated frequently with new titles and has a search bar that makes it easy to find a specific game or compare titles across different systems.
EasyRoms also has links to emulators so you can play your favorite ROMs on a PC. There is also a link next to each game that downloads the emulator directly to your PC if you don't have one installed already. If you love retro games, Easy Roms is the site you should bookmark as your first stop for classic gaming fun!
ROMNation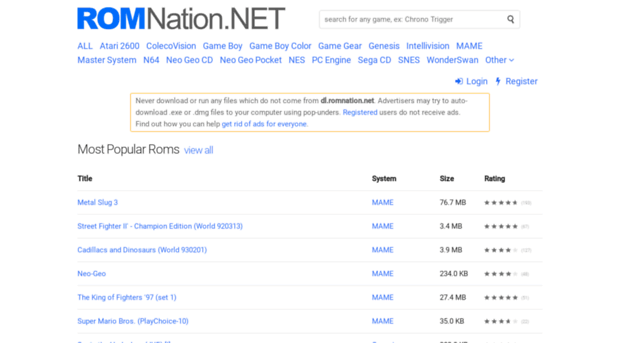 ROMNation is a website that's all about retro gaming. So if you want to play some of the best games from the past, this site is a fantastic platform.
Even though the future of gaming might lie in smartphones, many people still enjoy classic consoles and their games. And thanks to ROMNation, it's possible to get your hands on various ROMs and play them on your computer or a mobile device.
First of all, let's see what this site has to offer. As you can guess by the name, ROMNation is a site that covers various retro ROMs. So it doesn't matter which console you like playing — there are rare games for every single one that you can download right away.
The majority of these games are classics, but some are relatively modern. It all depends on your preferences and needs. There are many categories that you can use to find the game you want without any problems.
The design is pretty straightforward (which is good), and it doesn't contain any ads at all (which is even better). Plus, this site allows users to post their ROMs to share them with other gamers.
Romulation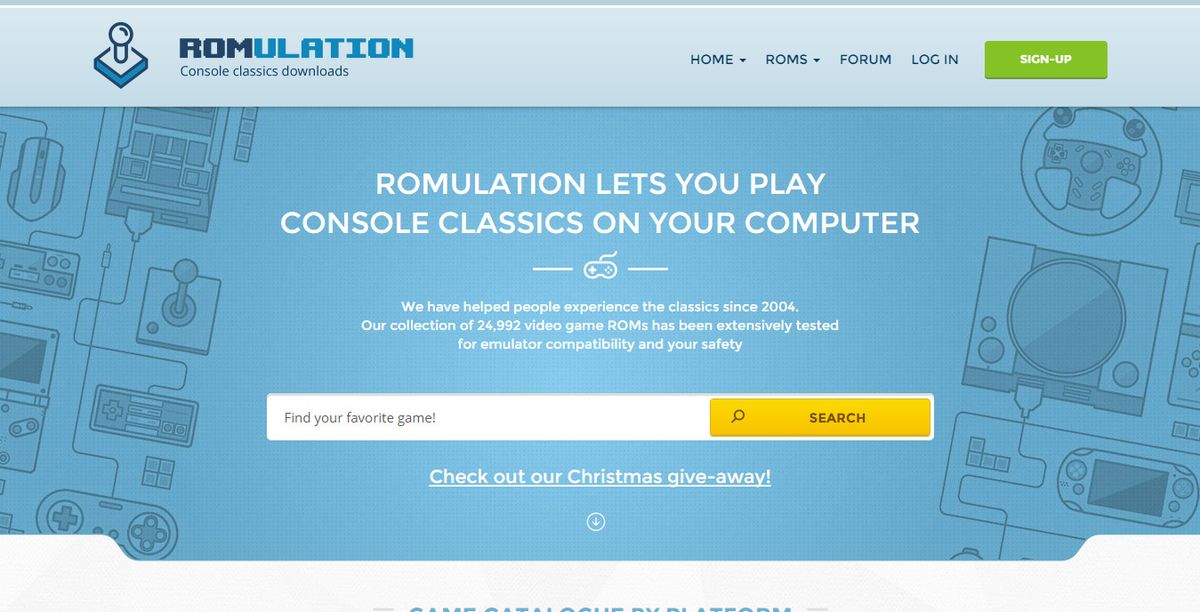 Romulation is an excellent website for every fan of retro games and other stuff. There is a large number of downloads available on this website. You can download anything from Nintendo and Super Nintendo to PlayStation and Xbox consoles. Romulation has a lot of categories, which makes it easy to search for the game you want to play. You can also use their search engine and find the page you are looking for in just a few clicks.
The best thing about Romulation is that it has many free downloads available to everyone. You can download your favorite games in just a few minutes if you know where to look. If you do not like to waste your money or search for some old console games that are not popular anymore, this website is perfect for you. Still, if you want to get the newest games, there is a premium section available on this site.
Concluding Lines
I've listed my go-to websites to download retro ROMs for an android device in this post. Hopefully, you will find them helpful. I'm sure there are other good platforms available on the internet, but these should be some of the most popular ones.
In a nutshell, these are the best platforms to download ROMs and play retro-style games on your android device.
That's all for now.
Do you have any favorite apps for playing retro ROMs on android? Comment below to let me know!