The world is shifting to internet at very rapid pace. In past one decade, the users of internet has been increased by more than 4-5 times. The most interesting fact we found in it is that the pattern of using internet also changed significantly. Earlier, most of the people use to access internet using Personal computers only but over the time period, this things changed and now most of the people use it using mobile phone, and other smart devices. There are various browsers you can use to access internet on mobile phone. Most popular web browsers for mobile phones are Opera Mini, UC Browser, Chrome etc. Here in this article, we will discuss about one such browser that is UC Browser, In this article, you will get complete information and top 10 features of UC Browser.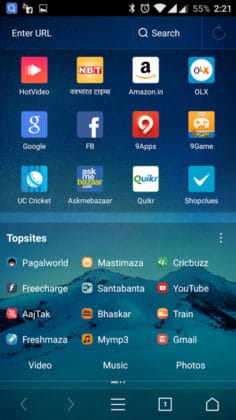 The browser comes up with the feature known as cards. One can use the cards feature to display the customization homepage content on your browser. In simple words we can say that browser is capable of generating the widgets of your choice on home-screen of your browser. For Example, you can select the websites you want to see on your homepage, the headlines etc. It will save a lot of your time and give you the exact content you want to check. If you are displaying the Facebook on your home-screen, you can directly visit the website from homescreen without entering its complete URL or any other details. There are variety of cards available on homescreen that include Headlines, Top Sitesm Trending Videos, Shopping etc.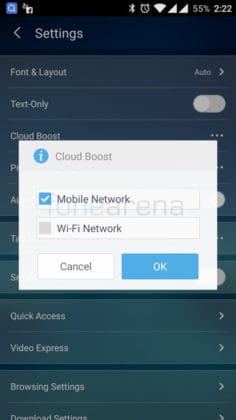 Cloud Boost technology help the user to load the internet pages fast on slow speed internet connections. One can enable this technology on Wi-Fi as well as mobile networks. As per our experience, cloud boost technology work best with Mobile networks instead of Wi-Fi Network. Usually Wi-Fi networks are pretty much fast due to which cloud boost technology could not impact but in case of slower Wi-Fi networks, cloud boost technology is very effective and efficient.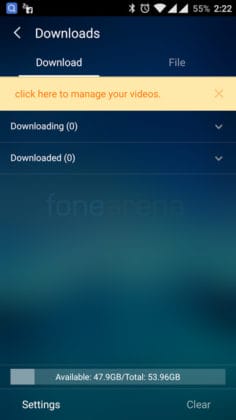 As clear by Name, download manager is useful to track and manage all your downloads. Using download manager, you can simultaneously download upto 60 files at a time in the UC Browser. You just need to specify the targeted download location and your file will automatically get saved in that location. You can also select to enable or disable the download location in download manager. Along with download manager, there is a video manager too that can help in tracking the download of video files.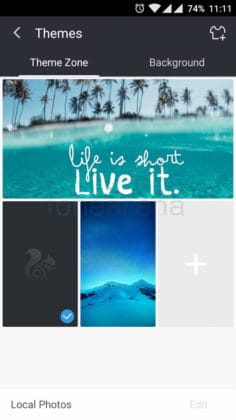 The theme library of UC Browser is very extensive and you can use it very well according to your choice to make the necessary customization. You can make a lot of customization in UC Browser without any problem that make your experience much better as compared to previous browsers. There are more than 100+ graphic themes in the UC Library that you can use to customize your browser experience.
The basic fundamental of Night mode is to make the use of browser easier during night. In Night mode, the settings of browser change in such a way that you can comfortably use the mobile during night. So if you love to read or use the mobile at night or in dim light night mode of UC Browser is one of the best thing you can ever use.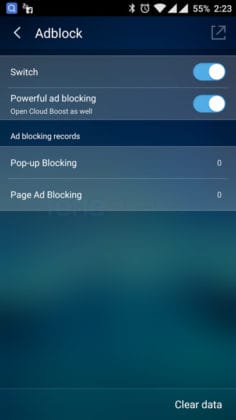 It is one of the efficient and effective feature of UC Browser, One can use Ad blocker to block the ads so they can surf internet properly without any interruption in between. Those Ad-Blockers are helpful in blocking all the kind of ads shown on the browser. A lot of times it happen that the ads start hampering the quality of web page due to which user start avoiding to use that site particularly. With Ad-Blocker you can block all such ads and experience the seamless browsing experience.
Quick Access: It is very time saving feature as you can quickly access the particular sites that you use to visit earlier. The quick access feature will give you shortcut to access Facebook Newsfeed, Notifications, Messages etc. With the quick access feature, your search will become much more easier as compared to other browsers. It is very unique and new feature that is not available in most of browsers usually.
Smart Gestures: Using Smart Gestures, your browsing experience can be enhanced a lot. You can browse properly using single handed. Using Gestures, you can swipe towards right,left, downwards or backwards.
Text Only Mode: A web page is a combination of Text and Images both but not always images are useful to you. Along with this, it consume a lot of data as well. In order to figure out this problem, UC Browser provide the text only mode where the images will neither be displayed nor they will consume your data on the phone.
Extra Add-Ons and Speed Mode: UC Browser provide you many Add-ons in its browser, Speed booster is one such extra add-on that you can use to increase your browsing speed. Along with this, there are many such browser add ons available in it.
See More: New Interface of Firefox Browser
Final Words on Top 10 Features of UC Browser:
There are many other features available in the UC Browser that make it different from other mobile web browsers. If you want to add any more add on in the list of Top 10 Features, please let us know in the comment box and our team will surely appreciate that.