There are several messaging apps available out there in the app stores. We will definitely pick up the one that is used by most of our contacts. The purpose of social media is communication and that is only served if a large group of people whom we are willing to contacts is using them. Every smartphone user has an account on one or the other social media application. You do not have to install the app to decide which one is better. We have made that easy, with the comparison of WhatsApp and WeChat. Have a look at the comparison and decide it for yourself.
Wechat VS WhatsApp
WhatsApp Features
WhatsApp is totally free to use
Earlier, WhatsApp used to charge. Now, the application is totally free of cost to use. Also, Facebook has owned the app and declares that WhatsApp user rating is more than Facebook.
Do you know about GB Whatsapp? And how to download GB Whatsapp on PC. If no then click on the links and know all about GB Whatsapp.
See More:- Everything You Wanted to Know About Whatsapp Web
WhatsApp Supports Multiple Languages
The WhatsApp supports, English, Arabic, Catalan, Croatian, Czech, Danish, Dutch, Finnish, French, German, Greek, Hebrew, Hungarian, Indonesian, Italian, Japanese, Korean, Malay, Norwegian Bokmål, Polish, Portuguese, Romanian, Russian, Simplified Chinese, Slovak, Spanish, Swedish, Thai, Traditional Chinese, Turkish, Ukrainian, Vietnamese.
WhatsApp allows you to share all types of media
All the types of media such as image in .png, .jpg, or GIFs, videos of any format, and files in word, pdf, excel or any other format can be easily shared across the WhatsApp. The only thing you need to enjoy this free service is the active network.
WhatsApp saves your messages if you are not active
In case, your network faces failures, WhatsApp saves the messages until you come active. All your chats are restored back by WhatsApp.
WhatsApp has Status as story feeds
WhatsApp allows you to put a status that disappears after 24 hours of posting.
WhatsApp allows you group chatting and broadcasting
WhatsApp allows you to send the messages over the group. You can create a group of people to which you can send all the types of media that you can send over a personal message. Broadcasting is another great feature of the WhatsApp that allows you to send the single personal message to the number of people.
WhatsApp allows Backup and Restores Service
Even if you have to uninstall the WhatsApp, you don't lose your previous chats. WhatsApp has the option of Backup and it asks you if you want to restore the previous data on the App or not.
WhatsApp is Encrypted
You don't have to worry about your messages been read by any other third party accept the desired person. WhatsApp has given the end to end encryption, meaning your messages and information are not read by anyone else.
See More: Quick way to schedule messages on Whatsapp
WeChat Features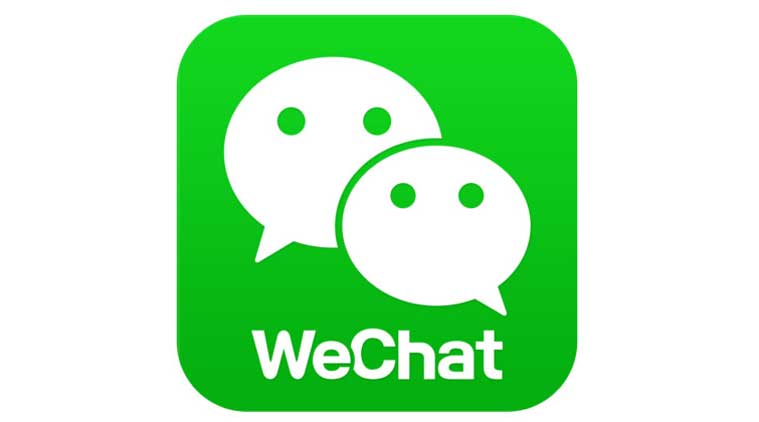 WeChat is Free to use
WeChat service is completely free to use. WeChat is available and compatible with Android and iOS.
Languages that WeChat support are multiple
The WeChat supports, English, Arabic, Chinese (Hong Kong), French, German, Hebrew, Hindi, Indonesian, Italian, Japanese, Korean, Malay, Polish, Portuguese, Russian, Simplified Chinese, Spanish, Thai, Traditional Chinese, Turkish, Vietnamese.
WeChat allows you to do more than Chatting
WeChat allows you to play games, get news and to send animated stickers. WeChat allows you to invite your friends to play along with you.
WeChat has moments as the story feeds
WeChat has moments to share the story feeds. The Story feeds disappears within 24 hours after posting it.
WeChat allows you to connect with friends in multiple ways
To connect on WeChat you have a lot many options. Besides, being in contact with the contact number, you can be friends with those who are not in your contact list. You can send the invite and connect request through emails. Also, WeChat has an option of connecting with proximity people who are using the App.
WeChat allows you to make payments
WeChat has an option of making the secure payments. You can ask for money, accept the payments and make the payments securely and within the fraction of seconds.
Now the Wechat is also available for pc. Let's have a look, some easy steps to download Wechat for pc.
Conclusion
Both the Apps have their own perks and falls. It is up to the user, which all features the user prefer the most and matter them the most will decide which app is better for the user. We will keep updating as the Apps update themselves. For more updates and features, stay connected and stay reading us. Comment below your favorite social media app and let others know why is it your favorite one.