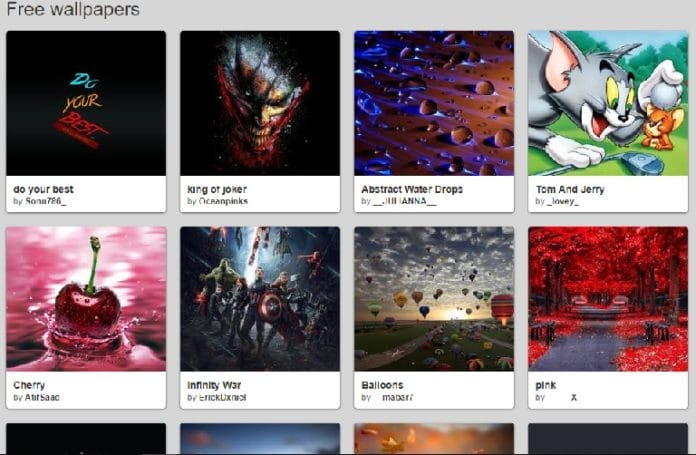 350 Million Installs – Just imagine it! Zedge is the #1 Free Personalized app with million of wallpapers, ringtones, notifications and alarm sounds.
Absolutely easy, just like a Google – Search anything and download the wallpapers of your choice. Not only the image, You can explore millions of video wallpapers too.
Isn't that great?
Apart from this, If you are a premium member of Zedge, you can check out with the profiles of talented creators.
Talking about the free and premium features of Zedge app, here are more functionalities to explore:
You can create your own wallpaper with stickers.
If you have any creativity in your mind, you can start creating your wallpaper from scratch and ofcourse, you have an option to share with your friends.
Now, there are lot of queries such as "where is zedge app from?, "Is Zedge harmful or safe to use?", "is Zedge free or paid?" etc.
Who Created Zedge?
Zedge was founded by Tom Arnøy, Kenneth Sundnes, and Paul Shaw in Norway in 2003.
Is Zedge free?
Yes, Zedge is absolutely free to use. There is no subscription fee but in-app purchases. We can download a number of wallpapers, ringtones, games, icons, notifications without spending a single penny.
Now, the question arises
Why we need credits in zedge app?
See, there are lot of creators who just want their credits if you use their premium wallpapaer, images or ringtones etc. Zedge credits let you unlock premium content.
If you are android user, zedge costs you anywhere between 0.5$ to $18 per item and if you are iOS user, zedge asks for
500 Credits  in

$0.99

2750 Credits in

$4.99

6000 Credits in

$9.99

14000 Credits in

$19.99
Can I get free Zedge Credis?
Yes, zedge shows lot of ad to their users and as much as you watch the ads, you earn zedge credits.
Moving further, we had query:
Is Zedge Harmful to Use?
If we talk at the developer level, there is nothing to worry about the security of zedge app but while using it, you must avoid sharing personal information to the strangers and that's the only case, Zedge could be harmful to use.
Here, personal information refers to Full name, Contact number & address, credit card information, etc.
I personally recommend using this app very carefully as strangers can access your personal data which you share with app very easily.  I even recommend to talk and chat with strangers very carefully. You can get in trouble easily if someone cons you.
Downloading wallpapers, ringtones, and other media files are very easy to do but downloading files from some other strangers can harm our computer system. Those files may contain viruses, malware or trojans.
Why Zedge removed from iTunes App Store?
There was a time when Zedge got removed from iTunes app store but now, it's live.
https://apps.apple.com/us/app/zedge-wallpapers/id1086101495
I understand, you might be worrying about that why it has been removed from iTunes playstore! You might be familiar with the fact that Zedge has the copyright issue with wallpapers, ringtones, and other products.
Yes, you heard it right! the reason for removing Zedge from iTunes was, they used Apple logo. As we all know, Apple has zero tolerance for such acts – they have removed zedge app from their app store.
Also, there is another story regarding the zedge app, lot of users complaint about this app saying "Zedge is harmful". There might be something they didn't work on but as far as I used, know about this app and researched, everything is fine at developer level.
Now, let's come to compatibility of zedge app.
Zedge App Compatibility
Zedge app is compatible with all versions of Android, iPhone, iPad, & iPod touch. In case of iOS, you require iOS 11.1 or later.
A Quick Overview on Features of Zedge app
Do you know what a personalization can do for you? How it feels when you have premium wallpaper of your choice on your screen? and so on!
Yes, Personalization is a key in Zedge wallpapers & ringtones.
You don't need to go anywhere for wallpapers.
Cool filters and stickers make this app amazing.
Amazing video effects as a background on your home screen.
Endless selection of free ringtones
Perfectly categorized in Different genres.
The security issue is always involved if we are sharing any kind of our personal information.
I recommend not to share personal images with anyone or publically on Zedge app. I suggest minors to use this app under the observation of adults or you can ask someone in your family to download the desired wallpaper or ringtone from it.
These were our views towards Zedge app, I would love to share other users reviews about it with you.
How safe is zedge.net for downloading ringtones and wallpapers?
Zedge.net offers so many entertainments to the people by downloading favorite ringtones, wallpapers, or screensaver, making creative content, etc. to heir Android, Windows, or iOS devices. Zedge.net is best, right from their perception, to build your phone with attractive customization.
But if we see some customer's review, you will find some negative sides of zedge.net. So, Google Play has removed it recently, due to allegation of harmful for devices. 
Hopefully, the next version will recover the issues, and we will get the zedge.net in a new way, which will be bug-free and free of Malware.
As the reason for the blocking of zedge.net is unclear, so the answer to it's harmfulness is also unclear. Hopefully, it will come with a new, flawless version quickly.
Zedge App removal
The Zedge App's recent removal was approved from the play protect, as some people have noticed that this app is trying to hamper their phones or desktops. So we can expect that the app will soon come to the play store again with the error-free version. Still, if you feel uncomfortable using the Zedge app, then you can quickly uninstall it or remove it from your phone.
Zedge App back on play store
Zedge app offers customers the opportunity to make their phone more beautiful by customizing with HD wallpapers, stickers, musical or funny ringtones, notification tone, alarm tone, etc. You have noticed that your Zedge app has been removed from your Google Play account of your device because some error has been quested in some of the tools. 
But do not feel worried we will again love with this app by again installing it. Do not be disappointed with the removal of the app. Theories a guide by following you can again restore the app from your Play Store.
There are various ways you can follow to regain your Play store's app. All the applications are primarily installed into the Play Store, so it is not too easy to remove the backup of the app. So you can quickly get it in any case of removal.
Customer's Reviews
I think this app is amazing! I like how you can customize ringtones for different people who are trying to call you. But there is one issue I don't like how it doesn't work for WhatsApp users. Hopefully, they will add that in soon. Also, the icons don't work and that is quite annoying. But other than that the app is great.
ArmoredTrain 553, 

March 29, 2018
This is great so if you don't like your basic ringtones, notification sounds, and alarms. This app also has wallpapers and Live Wallpapers. I like this app very much, though some things aren't in there yet, had almost everything you need.
Top 5 alternatives of Zedge app
Undoubtedly the Zedge app is one of the popular apps for downloading wallpapers themes ringtones for your Android, Windows, and iOS devices. As this can be run threw three popular operating systems, so it has gained much popularity.
But this app has some problems, so people are now expecting alternatives to Zedge. Zedge's searching algorithm is unique. For example, if you search for keywords, you will get the corresponding, limited results for the particular keywords. You will not get any varieties in Zedge. 
To get additional pictures, you have to search again with similar kinds of keywords. This is time-consuming. Here, we will mention some best alternatives to the ZEDGE app, whose operations are identical to Zedge, and you do not have to face the same problems.
Mobile9
You will get this app by the link mobile9.com. You will get the same opportunities for downloading abundant themes ringtones wallpapers stickers like Zedge APP. Moreover, this app has only 7 MB in size. So we can say mobile9 would be a great alternative to the Zedge App.
Ringtones and wallpapers for Me
Ringtones and wallpapers for Me is an attractive and colorful app with a simple user interface. Here you can download both ringtones and wallpapers as much as you want. This app also offers a sharp division of wallpapers, like – animals, animated pictures, cartoons, etc.
You will also find the same divisions in ringtones, like – relaxing tone, funny tone, business tone, patriotic types tone, etc.
Backgrounds HD
If your priority is only to download the HD wallpapers, then you can go for it. Here you will get a collection of recent famous wallpapers in the app. You will also get the division of wallpapers, like – animals, scenery, cars, monuments, etc. So it would be the best alternative to the Zedge app for wallpapers.
Mobile 24
If you use the Zedge app for ringtones only, the Mobile 24 would be the best alternatives to the Zedge app. It is excellent just for hearing and downloading various kinds of tones. Also, you can decorate your phone with some superb HookUp themes from it. One of the best things in this app is it works so first and easy to browse.
Backdrops
Backdrops are one of the popular apps for downloading numerous wallpapers. You will get four types of the screen after installing the app. The displays include community, explore, collections, and favorites. The divisions are just for the categorizing different kinds of wallpapers, like – foods, patterns, shapes, abstract, and scenery, etc.
In the community section, you may see the various posts uploaded by other people, just like Facebook and Instagram. If you want, you can also upload images, but you need to sign in the app.