Is the Zedge app harmful or unsafe? There are a lot of questions around this topic but Just Imagine 350 Million Installs on any app says all about the trustworthiness and safety of the app.
Zedge is the #1 Free Personalized app with million of wallpapers, ringtones, notifications, and alarm sounds.
Absolutely easy, just like a Google – Search for anything and download the wallpapers of your choice. Not only the image, but You can also explore millions of video wallpapers too.
Isn't that great?
Apart from this, If you are a premium member of Zedge, you can check out the profiles of talented creators.
Talking about the free and premium features of the Zedge app, here are more functionalities to explore:
You can create your own wallpaper with stickers.
If you have any creativity in your mind, you can start creating your wallpaper from scratch, and of course, you have an option to share it with your friends.
Now, there are a lot of queries such as "where is the Zedge app from? "Is Zedge harmful or safe to use?", "is Zedge free or paid?" etc.
Is Zedge Harmful to Use?
As said earlier, Zedge is 100% safe to use but at the developer level. You need to take few precautions on your own level such as
Don't share your personal information with strangers such as full name, contact number, address, credit card information, etc.
Don't download apps from the unofficial store or 3rd party app store.
Take necessary precautions before downloading files from strangers or avoid downloading unknown files from strangers. Those files may contain viruses, malware, or trojans.
There is nothing to worry about the security of the Zedge app but while using it, consider the points listed above. You can get in trouble easily if someone cons you and that's why I personally recommend using this app very carefully.
Downloading wallpapers, ringtones, and other media files are very easy to do but downloading files from some other strangers can harm our computer system.
Even after my thorough explanation, you're still not convinced that Zedge is a safe 3rd party app, these are the 2 things that you can do from your end to stay on the safer side:
Update the Zedge App to Latest Version
If you're having issues with the installed Zedge app for quite some time then the very 1st thing you need to do is update the app to its latest version.
And this is possible using the Play Store (For Android Users) & App Store (For iOS Users) only. However, in case, the Zedge app is blocked in your region, you can download its apk file manually from its official website zedge.net
Reinstalling Zedge App
The final nail in the coffin for you would be to reinstall the Zedge app. If the app doesn't work for you smoothly after reinstalling it then nothing would.
No…No… I'm not trying to scare you. It's the harsh reality. Reinstalling the Zedge app may be the last resort for you. And you can do that by first uninstalling the Zedge app from either the play store or device settings.
Once the Zedge app is removed, it's time to reinstall the app. And this time you can do this by installing it straight from the play store or 1st download & then install it from zedge.net manually.
Now, let see who created Zedge & when? How much it costs? Can you get free credits and so on…!
Who Created Zedge?
Zedge was founded by Tom Arnøy, Kenneth Sundnes, and Paul Shaw in Norway in 2003.
Is Zedge free?
Yes, Zedge is absolutely free to use. There is no subscription fee but in-app purchases. We can download many wallpapers, ringtones, games, icons, notifications without spending a single penny.
Now, the question arises
Why we need credits in the Zedge app?
See, there are a lot of creators who just want their credits if you use their premium wallpapers, images or ringtones, etc. Zedge credits let you unlock premium content.
How much Zedge costs for premium images or credits?
If you are an android user, Zedge costs you anywhere between 0.5$ to $18 per item and if you are an iOS user, Zedge asks for
500 Credits  in

$0.99

2750 Credits in

$4.99

6000 Credits in

$9.99

14000 Credits in

$19.99
Can I get free Zedge Credits?
Yes, Zedge shows a lot of ads to their users and as much as you watch the ads, you earn Zedge credits.
Apart from this, you can get free Zedge credits in 3 ways:
Moving further, we had query:
Is Zedge Really Harmful?
Back in 2019, the Zedge app was removed from the Google Play Store & the iOS app store. Both the app stores flagged the Zedge app as harmful before taking it down from their platform. Here's a complete analysis on the removal"
Why was Zedge Removed from iOS App Store?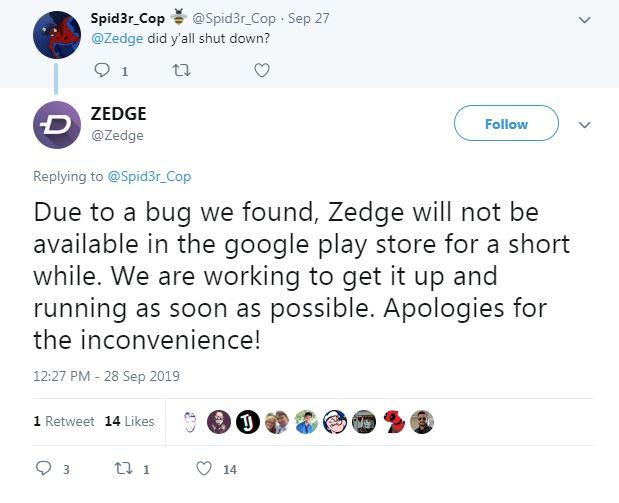 There was a time when Zedge got removed from the iTunes app store but now, it's live.
https://apps.apple.com/us/app/zedge-wallpapers/id1086101495
I understand you might be worried about that why it has been removed from the iTunes play store! You might be familiar with the fact that Zedge has a copyright issue with wallpapers, ringtones, and other products.
Yes, you heard it right! the reason for removing Zedge from iTunes was, they used the Apple logo. As we all know, Apple has zero-tolerance for such acts – they have removed the Zedge app from their app store.
Why was Zedge App Removed from Google Play Store?
Back in 2017, Google rolled out Play Protect on Android Smartphones to protect its users from harmful apps.
So, the same Play Protect app started flagging the Zedge app as harmful.
However, the warning message was limited to few users on One Plus & Google Pixel Smartphones. Immediately after that Google removed the Zedge app from the Play Store.
When asked about the same, Google support cited security vulnerability as the primary reason to remove the app.
Then the app developers removed the bug to once again getting listed on the Google Play Store. Today, even you can download the Zedge app from the play store.
Zedge App Compatibility
Zedge app is compatible with all versions of Android, iPhone, iPad, & iPod touch. In the case of iOS, you require iOS 11.1 or later.
A Quick Overview on Features of Zedge app
Do you know what personalization can do for you? How it feels when you have premium wallpaper of your choice on your screen? and so on!
Yes, Personalization is a key in Zedge wallpapers & ringtones.
You don't need to go anywhere for wallpapers.
Cool filters and stickers make this app amazing.
Amazing video effects as a background on your home screen.
Endless selection of free ringtones
Perfectly categorized in Different genres.
The security issue is always involved if we are sharing any kind of personal information.
I recommend not to share personal images with anyone or publically on the Zedge app. I suggest minors use this app under the observation of adults or you can ask someone in your family to download the desired wallpaper or ringtone from it.
These were our views towards the Zedge app, I would love to share other users' reviews about it with you.
How safe is zedge.net for downloading ringtones and wallpapers?
Zedge.net offers so many entertainments to the people by downloading favorite ringtones, wallpapers, or screensaver, making creative content, etc. to their Android, Windows, or iOS devices. Zedge.net is best, right from their perception, to build your phone with attractive customization.
But if we see some customer's reviews, you will find some negative sides of zedge.net. So, Google Play has removed it recently, due to allegations of harmful for devices. 
Hopefully, the next version will recover the issues, and we will get the zedge.net in a new way, which will be bug-free and free of Malware.
As the reason for the blocking of zedge.net is unclear, so the answer to its harmfulness is also unclear. Hopefully, it will come with a new, flawless version quickly.
Zedge App removal
The Zedge App's recent removal was approved from the play protect, as some people have noticed that this app is trying to hamper their phones or desktops.
So we can expect that the app will soon come to the play store again with the error-free version.
Still, if you feel uncomfortable using the Zedge app, then you can quickly uninstall it or remove it from your phone.
Zedge App back on play store
Zedge app offers customers the opportunity to make their phone more beautiful by customizing with HD wallpapers, stickers, musical or funny ringtones, notification tone, alarm tone, etc. You have noticed that your Zedge app has been removed from your Google Play account of your device because some error has been quested in some of the tools. 
But do not feel worried we will again love this app by again installing it. Do not be disappointed with the removal of the app. Theories a guide by following you can again restore the app to your Smartphone.
There are various ways you can follow to regain access to the app. All the applications are primarily installed into your device which can be easily removed by simply uninstalling them from the settings.
Customer's Reviews
Darklight2815 on Feb
24, 2020
Liked the old version
"So I had Zedge on my Samsung for a while and I loved it I was always changing if my wallpapers and sometimes my ringtones. I had some funny ringtones it was awesome but then I switched over to iPhone and I was very disappointed all of the stuff had to be bought with in-app money and to get in-app money u had to buy it with real money. Then I tried searching for some wallpapers I had on my old phone to see if those were free but I couldn't even find them and the one I did find cost as well. Why did u change it up Zedge hope u go back to the old version"
Zbasketballgirl, August

 13, 2020
It's not good anymore
"I remember the good old days of Zedge where you didn't have to pay for stuff and all of it was free. It has changed a lot, and not in a good way. Even though I may not like how it is now I tried to set the "Best Friend" ringtone by oh. This then led me to the tutorial on how to upload it. This was a lot more complicated than I ever remember it being. My eight-year-old self at the tile would not have been able to download that. Anyways, I followed the instructions opened the garage band opened the keyboard went to the three lines pressed loop went to the files app and NOTHING was there for Zedge. This is a garbage app compared to how it used to be. I want the old Zedge back. Maybe then you'll stop getting all these bad reviews."
This is great so if you don't like your basic ringtones, notification sounds, and alarms. This app also has wallpapers and Live Wallpapers. I like this app very much, though some things aren't in there yet, had almost everything you need.
Top 5 alternatives of Zedge app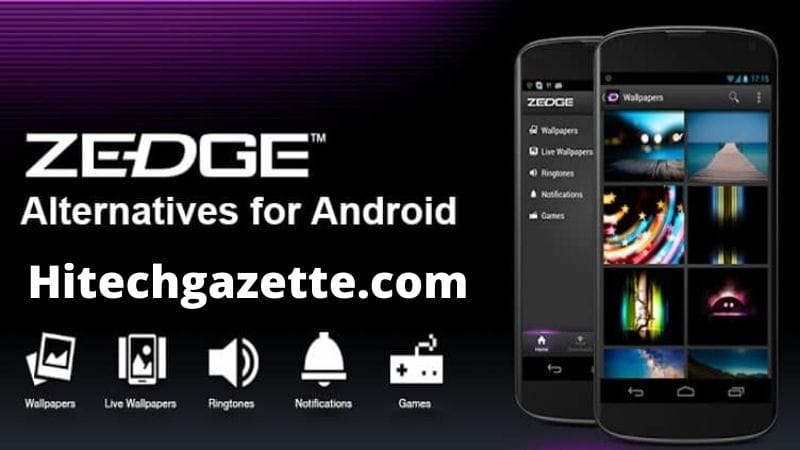 Undoubtedly the Zedge app is one of the popular apps for downloading wallpapers themes ringtones for your Android, Windows, and iOS devices. As this can be run through three popular operating systems, so it has gained much popularity.
But this app has some problems, so people are now expecting alternatives to Zedge. Zedge's searching algorithm is unique. For example, if you search for keywords, you will get the corresponding, limited results for the particular keywords. You will not get any varieties in Zedge. 
To get additional pictures, you have to search again with similar kinds of keywords. This is time-consuming. Here, we will mention some best alternatives to the ZEDGE app, whose operations are identical to Zedge, and you do not have to face the same problems.
Mobile9
You will get this app by the link mobile9.com. You will get the same opportunities for downloading abundant themes ringtones wallpapers stickers like Zedge APP. Moreover, this app has only 7 MB in size. So we can say mobile9 would be a great alternative to the Zedge App.
Ringtones and wallpapers for Me
Ringtones and wallpapers for Me is an attractive and colorful app with a simple user interface. Here you can download both ringtones and wallpapers as much as you want. This app also offers a sharp division of wallpapers, like – animals, animated pictures, cartoons, etc.
You will also find the same divisions in ringtones, like – relaxing tone, funny tone, business tone, patriotic types tone, etc.
Backgrounds HD
If your priority is only to download the HD wallpapers, then you can go for it. Here you will get a collection of recent famous wallpapers in the app. You will also get the division of wallpapers, like – animals, scenery, cars, monuments, etc. So it would be the best alternative to the Zedge app for wallpapers.
Mobile 24
If you use the Zedge app for ringtones only, the Mobile 24 would be the best alternatives to the Zedge app. It is excellent just for hearing and downloading various kinds of tones. Also, you can decorate your phone with some superb HookUp themes from it. One of the best things about this app is it works so first and easy to browse.
Backdrops
Backdrops are one of the popular apps for downloading numerous wallpapers. You will get four types of the screen after installing the app. The displays include community, explore, collections, and favorites. The divisions are just for categorizing different kinds of wallpapers, like – foods, patterns, shapes, abstract, and scenery, etc.
You may see the various posts uploaded by other people in the community section, just like Facebook and Instagram. If you want, you can also upload images, but you need to sign in to the app.
Final Words
Throughout this post, I've tried my best to answer whether Zedge App is safe or not to download HD Wallpapers, Ringtones & Live Wallpapers.
If the Zedge app isn't enough for you, how you can use zedge alternatives to download HQ wallpapers & ringtones at your fingertips.
That's all for now.
If you still have got any doubts concerning the Zedge app in 2021 then shoot them down in the comments section given below.