Is all your Phone memory consumed by these: Audiobook, Livestream, Soundcloud channels, and RSS Newsfeed? Or You visit different apps and websites for live streaming, audiobooks, or sound channels?
Then you know what, you are giving unnecessary load on your mind as well as your phone…..If one app could successfully managea all of your podcast channels, then why to have bundles of apps and websites.
Podcast Addict is one of the apps that will provide you all the above-listed work of apps and websites. To know more about this app, continue reading until the end. Here, we will share every minute detail of it.
Podcast Addict:
Podcast Addict is one of the topmost podcast apps with more than 10M downloads and 500K feedback from the users. The average rating of Podcast Addict is 4.7/5 which is quite high in comparison to other similar category apps.
The ads are no so frequently displayed but small banner ads are displayed at the bottom of the screen.
Moreover, you can disable the ads by doing in-app purchases.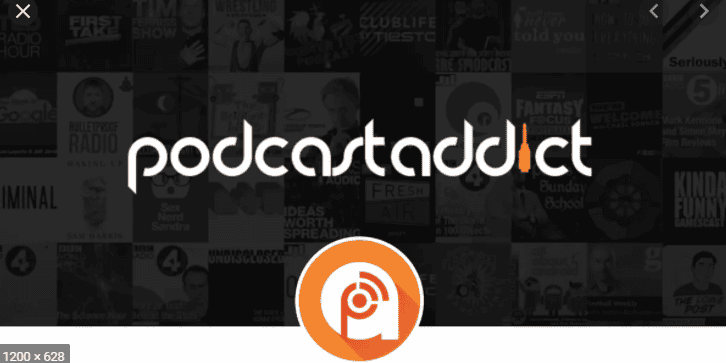 You can manage all your favorite video and audio podcasts along with your YouTube channels and RSS News feeds with the help of the Podcasts Addict. Simple and easy-to-use Podcast Addict will solve all your problems with your handy device- Your Android Phone.
Before moving ahead, I think you must check the reviews so that you know the user's experience and whether the app is beneficial for you or not.
Looking for the best 3D Emulators but didn't get any accurate list to decide which is the best for you. Here, is a list of the best 3D Emulators that will help you to play your game on Android and Pc without using the console.
Feedback from the Users:
To give you more clarity about the app, check the audience review:
Dyankk:
Great app, I've tried many podcast apps and this one seems to be the best and most versatile. According to the stats, I'm coming up on 21 days of listening time. The only issue I have with it is the back button behavior is really annoying when you're on the now playing screen.
Leila:
Very happy with this app, keeps everything simple and organized. It's easy to see and download items in my feed and delete things when I'm done with them. I have tried other apps and used to use Apple's Podcast app on my iPad, which grew more and more frustrating with their updates. Been using the Podcast Addict free version on android for long enough now and just donated today, thanks for the great app!
Nabb:
The search for a reliable podcast app continues. This one has the same problems as most others: does not sort the podcasts in any meaningful order despite changing in settings; does not display the full title of the podcast along with description despite changing in settings; downloaded episodes disappear despite not having played or listened.
Do you want to make your normal picture amazing with a moving background? You can make it without any technical knowledge. There are numerous apps available for photo editing and one such is Zoetropic App. We have mentioned details so that you can easily animate your photos.
Attributes of Podcast Addict:
Your list is so long….whether this feature is available in this app or not. My current podcast app is offering this..Is this app having it or not or What extra features it is delivering. Don't worry..here, is a list of the traits that the app is offering to you.
What's special in this:
In-built Audio Effects:
It has in-built audio effects such as playback speed, volume boost, mono playback.
Works perfectly while streaming:
The podcast app works perfectly while streaming and playing download files.
Advanced Playback Features:
Features like Shuffle mode, Loop mode, timer are also available in this app.
SONOS, Full Chapter support:
The Podcast app supports fully SONOS and full chapter.
Work as a Standalone Player:
It can work as a free-standing player not much is required for this.
Automatic Updates, Download:
Download, Update, Make Playlist, and delete can be done automatically with this app. You have to simply set the time for your favorite podcast to download and it will be downloaded at the specified time. Your Podcast is ready.
Customize as per your Need:
It offers you different options and features so that you can do custom settings as per your need.
Third-Party app is also allowed:
For better user experience, it also allows third-party apps intent.
Capturing videos of gameplay and from live streaming is not as difficult as you think. It is far easier. If you think it's not then GameOn is here to change your mindset and will further increase your involvement in the game.
What kind of Networks are supported and From where you can Import?
All the embedded networks such as:
Chinese: HK Reporter
English: 5by5, ABC, AfterBuzz TV, BBC, CNN, Carolla Digital, ESPN, FrogPants, LibriVox, Nerdist, NPR, Revision3, Smodcast, Twit, The Joe Rogan Experience (JRE), True Crime, TWiT, Wall Street Journal (WSJ), Wondery, Gimlet, LibriVox, Loyal Books, MSNBC, My Favorite Murder, NASA, Nerdist, Netflix, NPR, Parcast, PodcastOne, Podiobooks, Serial, Showtime, Slate, Smodcast, S-Town, The Guardian, This American Life (TAL).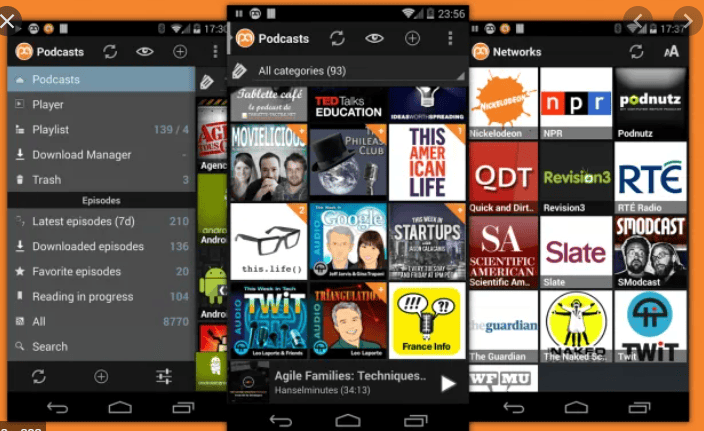 French: Jazz Radio, Radio Campus Paris, Radio Canada, Radio France, Virgin Radio
German: Deutsche Welle, DRadio Wissen, ORF, SRF, ZDF, WDR
Italian: Radio24, Rai Radio 1 & 2 & 3
Misc: 103fm
You have to simply subscribe to your favorite Podcast from the above-listed networks. Furthermore, you can also import your podcasts subscription from iTunes or Google Reader OPML file and search engine (embedded) podcasts.
The app has a Search Engine Podcast ( 200k podcasts) and iTunes databases (250K podcasts).
Also, Read Pixaloop Review | Quick Features, Various Effects & Step by Step Guide to Use It
Podcasts Addict Pricing:
The app is available for both modes: Free and Paid. If you want basic features then the free mode will be okay for you whereas if you want "Podcast Addict Premium" then you have to pay for it.
For normal usage, the app is absolutely free-to-use but it displays some ads as already stated. You can further remove the ads by going for In-App purchases.
Podcast Addict Premium- It will cost you $0.99/month or $9.99/year. Currently, The app is providing automatic discounts for the first year to the users if they are willing to choose Podcast Addict Premium. Additionally, you can cancel the subscription any time as per your preference if you don't like the premium features.
Podcast Addict: Supported Devices:
I know you are thinking about whether your device supports Podcast Addict or not? Well, Podcast addict supports Android and chrome extension for PC only.
iPhone users can't access this app.
The person having an Android phone can use the Podcast app as it is compatible with only the Android platform.
Also, Read MongoDB vs PostgreSQL | Database Management Systems
From where to download?
You can download it from various websites or you can download it in APK mode but we recommend you to install it from a recognized source. You can download it from the official website or you can download it from Google Play Store.
You can Download Podcast Addict from here as well.
If you want to use it for your PC then you can add Chrome Extension- Podcast Addict for Pc.
Summation:
The article is entirely precise Podcast Addict app. All the major information relating to the app is provided in the article. We have mentioned all the relevant details so that get insight into it.
So, simply install the Podcast Addict app and delete unnecessary apps consuming your mobile memory. Share your experience with us and enjoy all your podcasts.
For any doubt, you can contact us or write to us in the reference section.
Also, Read Solid Explorer Review | File Encryption – Rich Cloud & Network Functionality
Frequently Asked Questions:
1. How can I use Podcast Addict?
To use Podcast Addict, firstly you have to download it. You can download it from the Google play store or you can use the link mentioned above in the article. Then complete the procedure and open it.
Now, Import your favorite podcasts, download them and enjoy them.
2. Where do people listen to podcasts?
According to the data shown by Edison- Smartphones are the most widely used to listen to Podcasts. More than 65% of the Podcast followers listen to podcasts on mobile phones whereas 25% listen on computers and 10% of people prefer listening podcasts on smart speakers.
3. How to delete Podcast from Podcast Addict?
To delete the Podcast from your Podcast Addict, acquaint yourself with the below-listed steps:
Go to the settings option and finds the Podcast app and from there you have to select the Clear storage option from the available options.
In this way, all your downloaded podcasts will be deleted.
Furthermore, the app also has an "Automatic Cleanup" option that offers you some deletion features.
4. Is Podcast Addict available on iPhone?
No, the Podcast Addict is not available on the iPhone. There are numerous other alternatives that you can on the iPhone with alike functionality. For iPhone, you can use Overcast (Freemium), Apple Podcasts (Free).
5. How to customize the Podcast orders on the main screen?
You can easily do this by drag and drop facility available on the app main screen. To do this, follow the steps:
Select the sorting mode option "Custom".
By this, you will be able to use the options menu known as "Reorder (Drag and Drop)".
Now, on every podcast, there will display a handle. Use this handle to move your podcast to your desired location.
Once you are done with all the podcasts then press the banner 'x" button.
You are done with the new position of the podcast.