Gone are those days when we have to struggle with the complicating rooting process to get maximum control over our Android devices. Nowadays lots of Rooting apps and software available to root your device. Indeed root your device without the help of any rooting tool is quite tricky and if don't perform in an appropriate manner then it can damage your phone. If you want to root your device and looking for the best android rooting apps then you are lucky as you have landed at the exact page.
So here is a list of 7 best apps to root your Android device so without being late let' jump into it.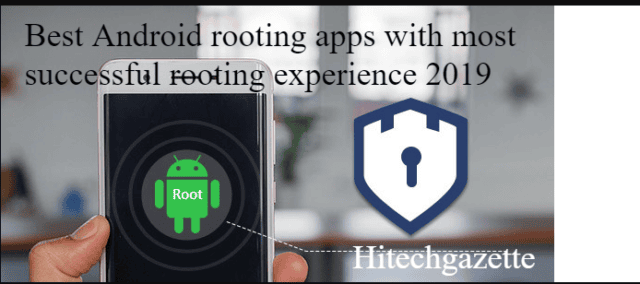 What is Rooting?
When we buy a smartphone then it comes with some limitations which were set by the developers of the phone. But if you want to overcome these limitations to maximize your Android experience then you have to root your smartphone. After rooting you can uninstall in-built apps, block pop-up adverts, move apps on the SD cards and much more.
But it is a tricky process to root your devices, thanks to rooting apps which make it the easier task ever. You can use these rooting apps to make the complex process of rooting a bit easier. Some apps even offer service to root your android device with just one tap. However, you must consider some important points before rooting your smartphone. Otherwise, you might repent your decision. Let's find out what are the reason.
Things to consider before rooting your device
If you are rooting your device first time then you must remember certain things. Have a look below to know about them:
First, go for intense research about Android rooting and have the proper knowledge of rooting.
Android Rooting is prohibited in some countries and it is illegal.
It can void your device's guarantee.
Don't forget to take a full back of your device as it will help you at the time of complications.
Rooting your smartphone is equal to hacking.
Best 7 Android Rooting apps
1.dr.Fone – Root
dr.Fone root is the most advanced and easy to use rooting tool which offers you one-click rooting. The app supports a wide array of smartphones such as HTC, Samsung, Sony, Motorola, Acer, Google, etc.
Advantages 
You don't need to pay a single penny as it is quite free to download and use.
The app supports Android 2.1 and older devices.
No need to take tension about security as it is a pretty secure rooting app.
You can also unroot your smartphone or tablet with this app.
This app doesn't spoil your device's warranty.
2. Kingo Root app
Kigo Root also supports a huge variety of Android phones and its desktop version is also available. This tool also empowers you to perform one-click rooting. HTC, Samsung, Motorola, LG, Acer, etc are compatible with this amazing rooting tool.
Advantages
The app is totally free to use.
Also, provide your safety.
You can root different Android OS from 2.3 to 4.2.2.
If you want to unroot your device then it enables you to do so.
3.iRoot App
Another tool to avail the safe rooting experience is iRoot which supports Samsung Galaxy, LG, Huwai, Zenphone, Asus, Nexus and many more. The iRoot app is available for both Android and PC and like others, you can root your device with a single click. One of the major drawbacks of this app is that you can't unroot your device with it.
Advantages
Compatible with over thousands of smartphones.
No cost needed to use iRoot.
4.Root Master
The Root master is another alternative that you can consider while looking to root your android device more securely. You can download the apk file of the root master and install it to your device after that run the rooting process, it's quite easy and secure. By using the root master you can update the oldest android devices like from android 1.5 to android 5.0
The app is totally free to download and install
compatible with the old android update from 1.5 to 5.0
5.Root Genius
Root genius is a lightweight app that you can download to root your phone in a single click. By using this app you would be able to enjoy all the features and can make all setting of the update android updates. Just install the Root genius to your android phones. Take the back up of all your phone data and enable USB debugging on your Android phone by connecting it with the USB cable.
It is compatible with many Android OS like the android cupcake to android lollipop.
Final words
Install any of the above apps and get rid of updating your device to the latest updates of Android. These are the top rated rooting apps on the web which are quite easy to use and root your device in one click.