Clash of Clans has been going strong for over 5 years now. While many games come and go in a short interval, Clash of Clans has managed to keep gamers interested in the game for a really long time. They have been bringing new and exciting stuff to the game constantly to keep it interesting. The new update in 2018 summer is expected to be on similarly refreshing. It's expected that Clash of Clans Update 2018 will change many aspects of the game.
If you are looking for clash of clans update reviews or clash of clans update news, you have come to the right place.
In this article, we will be looking at all the new stuff you can expect in the Clash of Clans 2018 Update.
Clash of Clans Updates on 2nd October 2018:
Additional Quality of Life Improvements in Next Clash of Clans is confirmed
It-is confirmed that the Next update will bring more quality of life. Here is the confirmed list of improvement:
Siege Machines – The game will automatically default to the last deployment you used. If you used a Siege Machine in your last attack, it will default to that setting for your next attack.
Siege Machines – Donating Siege Machines will now provide 30XP instead of 1XP.
Troop Selection – When starting an attack, no troops will be selected by default. You will have to select manually which troop you will deploy first.
Replays – New replay speed available. Rewatch battles at 1/2 replay speed.
*NEW* Electro Dragon – Eddie's Lightning Spell upon death will now deal damage to Resource buildings.
*NEW* Grand Warden – The Grand Warden's mode can be toggled even while he is healing.
The game reviewers working on all these improvements that we will see soon in the upcoming updates.
1) Clash of Clans Update 2018 brings 5 New Potions
Supercell has released 5 new potions within the official Fan Kit for Clash of Clans Update 2018.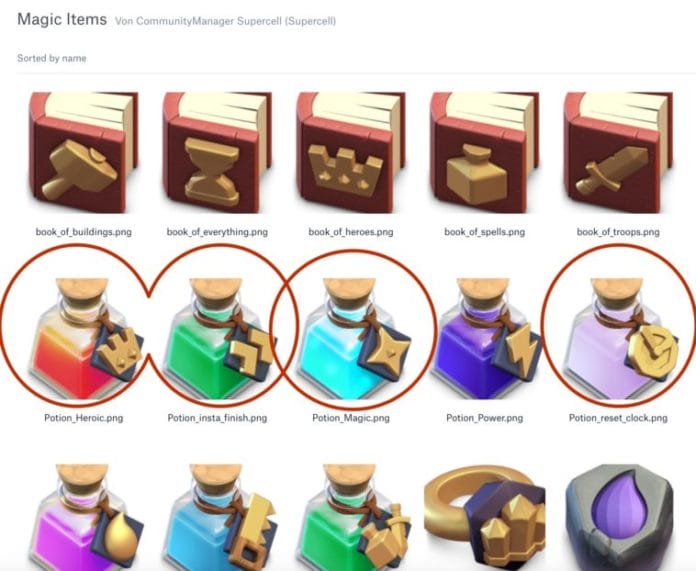 As per latest reports, these new Potions are:
a) Heroic Potion – It is expected to be used to either boost hero regeneration time or to upgrade your hero for a limited time. Either way, this potion can be really helpful.
b) Insta Finish Potion – We cannot really be sure of its use but according to rumors, it will help finish your upgrades instantly. However, we already have books to do that. So, how useful this potion will be is debatable.
c) Reset Clock Potion – It is expected that this potion would reset the Clock Tower cooldown.
d) Magic Potion – There are many rumors about this potion but nothing certain is known at this moment.
e) Potion of Strength – It is expected to max out the strength of your troops.
2) Town Hall 12 & Giga Tesla
Town Hall 12 has been confirmed now and rumors are that it is a great improvement over Town Hall 11.
Here is the list of building updates expected in Town Hall 12 in Clash of Clans Update 2018:
Storage:
Elixir Storage level 13
Gold Storage level 13
Dark Elixir Storage level 7
Defenses:
Cannon level 16
Archer tower level 16
Mortar level 11
Air Defense level 10
Wizard Tower level 11
Bomb Tower level 7
X-Bow level 6
Hidden Tesla level 10
Inferno Tower level 6
Eagle Artillery level 3
Walls level 13 (100x pieces)
Traps:
+1 Giant Bomb
+1 Seeking Air Mine
+2 Spring Trap
+1 Air Bomb
+1 Hidden Tesla
Village:
Clan Castle level 8 (+5 housing increase)
Laboratory level 10
Army Camp level 10 (+5 housing increase each)
Adding to the update of Town Hall 12, there is The Giga Tesla.
As soon as you upgrade to Town Hall 12, the Town Hall becomes a defensive structure. As soon as there's an attack on the town hall, the Giga Tesla emerges.
Giga Tesla starts firing beams of electricity at the attackers, heavily damaging the attackers. Pretty good, right?
That's not all.
Like all other defense structure in COC, even the Giga Tesla can be upgraded. Yes, your Town Hall's awesome weapon can be upgraded to become deadlier. With each upgrade, Giga Tesla can target an additional opponent. There are 5 upgrade levels available.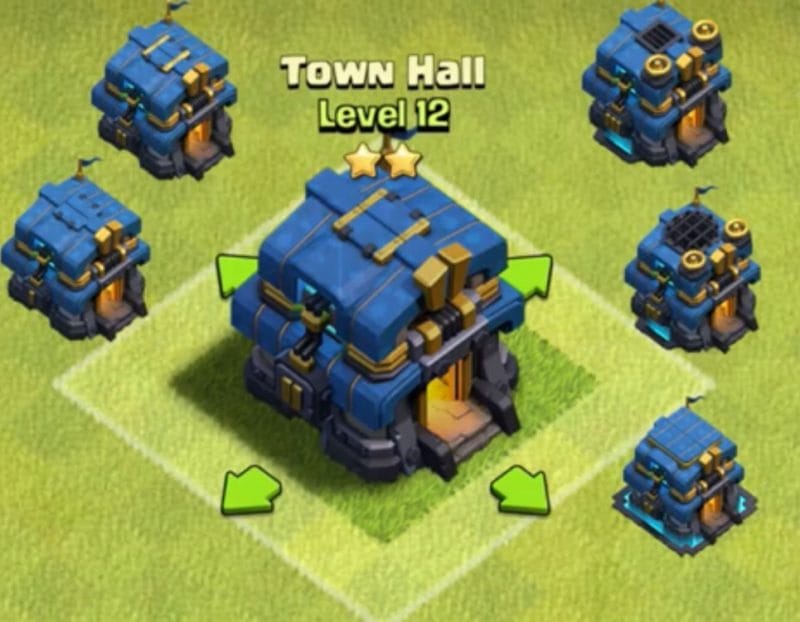 Once you have upgraded to the 5th level of Giga Tesla, the Town Hall is essentially a massive bomb. In a last-ditch attempt to cause maximum harm to the opponents before falling, the Town Hall does blast damage to all surrounding opponents. This is known as Giga Explosion.
3) Clash of Clans Update will bring A New Troop
Gamers will be excited to learn that Town Hall 12 update will bring a new troop into the game.
We don't have all the details at this moment but it looks like the new troop may be a dragon.

4) Clash of Clans Update 2018 will bring Siege Machines
According to the buzz going around, we should be expecting siege machines to become available at Town hall 12. According to currently available information, you can bring 1 or 2 siege machines into a battle.
The number of siege machines depends on the level of the workshop that you have.
According to Supercell, the introduction of siege machines will change the whole game. It will completely change how players & clans attack each other.
5) Balancing Changes in COC Next Update
Any major update is incomplete without some balancing changes. Clash of Clans Update 2018 brings the following balancing changes:
Wall rings will now cost only 100 gems. The old price was 200 gems.
You will be able to update your walls with fewer rings. Each ring will cover 1 million required resources.
The new update allows the Trader to offer additional wall rings.
You will now be able to store a maximum of 12M each of Elixir and Gold in Town Hall 12.
Limit for Maximum Dard Elixir at Town Hall 12 is now 240k.
The cost of walls in level 5-10 will be rebalanced. This will reduce the cost of building walls.
The update increases the amount of storage for treasuries in all Town halls.
You will now get more loot on winning wars with other clans.
Lightning spells, freeze spells, and clone spells will be more powerful now.
So, I am sure this sounds exciting to you? But you may still be curious about when the next COC update will arrive?
Clash of Clans Update 2018 is expected to arrive around the third week of June 2018.
Are you excited about the latest update about to come in Clash of Clans? Which feature do you like the most? Are you as excited about the siege machines as we are? Tell us all about it in the comments section.
See Related Article: Add New Troop In Clash of Clans