If you're worried about your privacy when sending sensitive PDF files over the internet, such as financial reports or scanned documents containing personal information, you should know that you can password protect PDFs and encrypt PDF content with the right tools.
There are a lot of online tools that can do the job for free. Yet, what's the point in securing the document when you already uploaded it online? Once the digital files leave the safety of your computer you can never be certain that they won't get hijacked.
The bottom line is, if you really want to put your mind at ease when sharing confidential information that can be misused over the World Wide Web, prepare yourself to spend some money for it. Once you discard free options, all that's left is to make sure you get the most out of  your investment. That's why we've decided to help you make an informed decision.
Before we get into details, let's just briefly remind ourselves why the PDF is so popular.  Much of its appeal comes from the fact that everyone with a computer (whether it's a PC, tablet, or smartphone) can view a PDF file displayed exactly how the sender intended it to display when he or she made the file. That characteristic also means that the printing layout of a PDF file is always the same no matter which hardware or software is used. Additionally, since it's a read-only format by default, it's the perfect solution for sharing information that can't be (easily) edited.
Able2Extract Pro 12: All-in-one PDF Solution with Security Features
After some research, we've concluded that a cross-platform PDF suite called Able2Extract Professional 12 can do just about everything when it comes to dealing with files saved in the Portable Document Format. Considering the software's rich features, the developer's experience in the industry, the reliability when it comes to speed and accuracy, and the pricing model that allows you to get a lifetime license for a one-time payment of $149.95, Able2Extract is certainly a contender for the most cost-effective solution for PDF management.
Besides the ability to create secure PDFs from other file formats and password protect native PDFs, Able2Extract can also:
Convert PDFs to over a dozen other file formats
Edit PDF content and pages on the spot
Annotate and watermark PDFs
OCR them and make content inside image-based PDFs searchable and editable
Create, fill in, and edit interactive PDF forms
Nevertheless, in this article we'll concentrate solely on its file encryption feature. Read on to learn how you can easily password protect a PDF and create a secure PDF from other file formats such as Microsoft Word.
Password Protect a PDF in 3 Easy Steps:
If you already have a file saved in the Portable Document Format that isn't password protected and you're wondering what's the easiest way to make sure no one can view it without your permission, follow along.
Step 1: Open the PDF. Browse for the file after you click on the Open icon in the Able2Extract's Command toolbar.
Step 2: Enter Edit mode. Click on the Edit icon in the toolbar.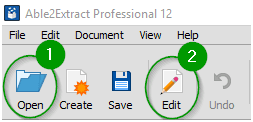 Step 3: Encrypt the document. Go to Edit > Encrypt Document… In the dialog set Owner and User passwords, along with Permissions for anyone opening the file with a User password.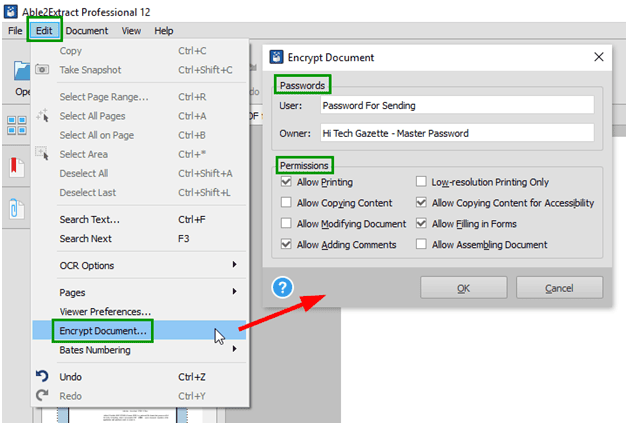 Bonus tip: Note that the Owner password acts like a master password, so permissions don't apply to the document when opened with it. You should keep the Owner password only to yourself and send just the User password to the people you want viewing your encrypted PDF and doing only what your pre-set permissions allow them to do.
All that's left is to save the password-protected PDF by clicking on the Save icon in the toolbar and your encrypted file will be ready for a safe online journey to its recipients.
Create a Secure PDF from Any Printable File Format
Before actually creating a secure PDF with password protection and deciding on permissions, you should start Able2Extract and go to View > PDF Creation Options… In the PDF Creation Options dialog click on the Security tab (the second one) and check the Secure PDF box.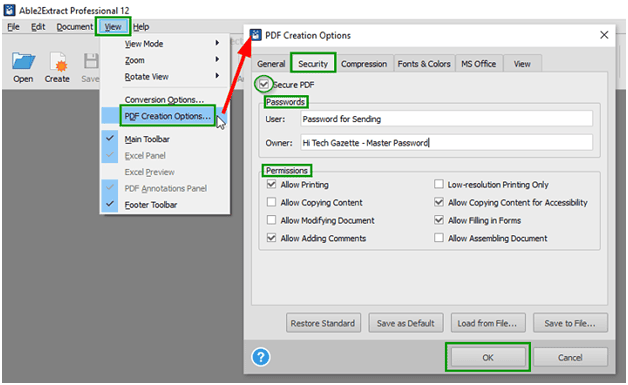 As explained above, set the file's passwords and permissions bearing in mind that the Owner password is for your eyes only and click OK to confirm.
Now, click on the Create icon in the toolbar and choose a document from which to create a secure PDF. It can be any printable file format such as image file formats or the ones created by Microsoft Office programs.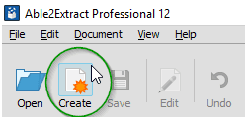 Finally, save your new password-protected and encrypted PDF in the same way we described earlier. You should now have a secure PDF that is safe for online sending as long as your User password is strong enough.
Before we wrap this guide up, we want to point out that you should ALWAYS send your encrypted PDFs and passwords in SEPARATE emails (or even better, over different platforms and services) to minimize the chances of your confidential information being compromised.
If you want to know more about Able2Extract and its features, click here and explore how can it help you enhance productivity and become more efficient when working with PDF files.
Of course, this is just one PDF tool we found interesting enough to cover that provides you with an easy way to password protect your digital documents. We can bet many of you have a favourite alternative, PDF security tip, or some other useful advice when it comes to online safety. We'd love to hear from you, so feel free to share your thoughts on the topic in the comment section below.