Before exploring the online stuff which thing strike in your mind? If someone ask me such type of question then I would like say that Browsers, the medium of exploring, should be choose wisely before using them. Browser, a software application to navigate the world wide web. We can't compromise with our safety while surfing online world. We have to choose that kind of browser which have all these features like URL refining, download security and do not track etc.
For escaping from malicious sites and third parties, there are variety of browsers which are concerned for your safety. These browsers provides you fast and innovative browsing experience. There are plenty of companies which have made browsers and claims for your security, anonymous browsing, add blocking etc. All websites are not safe and their motive is to infect your devices through malware. Among tons of browsers I am here with 5 most secure browsers.
These 5 privacy browsers will keep you up to date and you don't need to take tension about your privacy. Here is a list of top 5 secure browsers for fulfilling all your safety requirements.
Tor Browser:
Tor browser specially designed for anonymous exploring and works through onion router. A large number of reporters, industrialists, law enforcement officers used this for hiding their personal data. Tor is a free software for unidentified browsing. If you are using Tor then it is impossible to track your online activity. For proper security your data from encrypted subways within the network. Tor obstruct everyone who can watch your internet connection and it also stave off the sites you visit and they can not find out your location.
Tor was designed by U.S Naval Research Laboratory in 1990. Tor is the safest tool for preventing your confidential information from infected sites. You can switch it off or on according to your uses. Tor provides you a online detector for checking its functionality. Tor also give you confidential services and instant messaging server.
Features of Tor
Simple user interface and don't need any other software.
Totally portable as you can drive it on USB and cloud service.
Works through relays for your privacy.
Brave Browser:
Our online surfing become headache when we have to see irritating Ads. Why we see those worthless Ads which don't have any use for us. Brave Browser is the revolutionary invention for blocking unwanted Ads and trackers. Brave is a free and open source internet explorer for surfing online content.
Brave was designed and presented by co-founder of Mozilla Project and makers of javascript Brendan Eich. You can benefited with it on different platforms such as Android, Windows, iOS, MacOS etc. The most unbeatable and advanced feature is that it blocks all the Advertisement and website trackers.You can multiply your browsing experience with brave. It protects your personal information from malicious sites. Brave promised you that your data can never be handed over to the third party.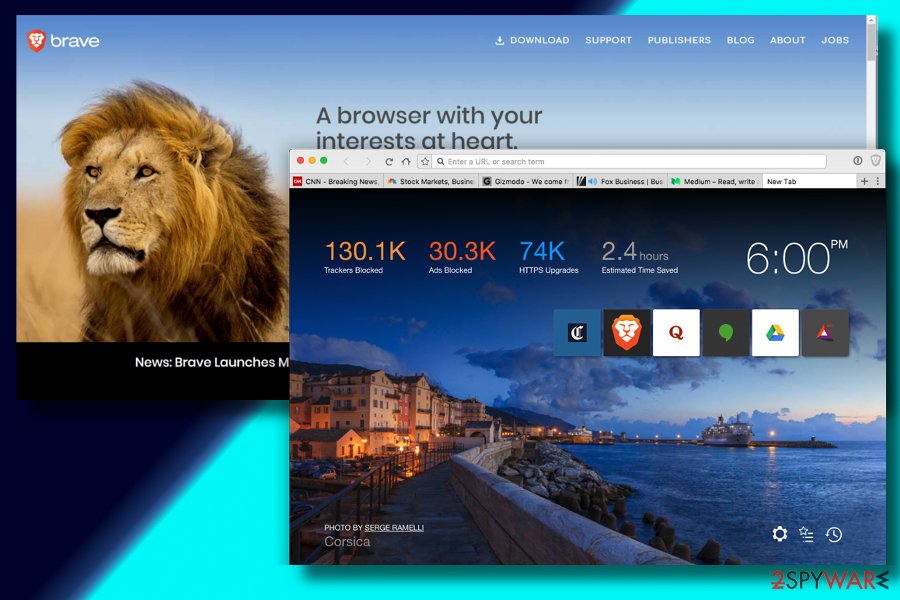 Feature of brave
Automatically updates HTTPS for your safety.
Enjoy your favourite content with default setting.
Brave encrypt and synchronize your settings and bookmarks.
Decrease page loading time.
Reduce battery and data consumption.
Click here to download Brave browser
Yandex Browser:
Now its time to discuss about another secure browser known as Yandex Browser. Internet have become our basic need and we are depend on it for entertainment, knowledge and being updated. We have to be attentive for our safety and Yandex can fulfill all our safety requirements.
Yandex browser was created by Russian Web Search Cooperation Yandex . Firstly it was launched on October 2012. It is available in 6 language. You can enjoy its security features on Android, Windows and iOS. When we download something, yandex check the web pages for security. It use an anti virus tool kaspersky for checking files.
Yandex provides us fast exploring even on slow connections. It minimize your data consumption and you feel free from irritating ads. Even when you use public Wi-Fi, you do not need to take tension of your privacy. Yandex does not noted down your personal information like Password, search queries and history etc.
Features of Yandex
Yandex gives you individual recommendation service.
Turbo mode for fast browsing even on poor connections.
Yandex provide you DNS Spoofing Protection. it blocks infected web pages and secure your confidential details.
Provides you smartbox for quick access to your favourite sites.
Eye-catching backgrounds for refreshing your mood.
Most promising feature is smartphone sync.
Dolphin Browser:
When we surf, two factors are most noticeable, security and speed. Now come to the point and let's talk about another secure browser Dolphin Browser. Dolphin browser claims for fast and secure browsing. It is designed especially for smartphones for quick exploring. It is a freeware search engine.
Dolphin was designed by Mobotop for Android and iOS. It was the first standby explorer for smartphones. Dolphin is fast and beautifully designed for user's engagement. It evaluate the best stock browser for android devices. Dolphin is loaded with wonderful features which differentiate it with its rivals. If you are Video lover and spend plenty of hours in watching videos then Dolphin is the best pick for you.
User interface is so simple that even a child can use it. I really love it and I forgot all the browsers I have ever use.
Features of Dolphin Browser
Dolphin sonar provides you the facility of voice commands. You don't need to type just speak up and your results will disply.
You can access your favourite sites with a touch of your fingertips with gestures. It gives you the most innovative way of navigating.
With one tap share you can share online content with friends or on social media platforms.
Dolphin connect, another prominent feature of browser. You can sync all your data like bookmarks, history etc among multiple devices.
Fully updated for innovative browsing.
Dolphin gives you desktop+mobile mode with which you can choose your favourite one according to content.
Dolphin Browser For PC And MAC
Psiphon Browser:
Last but not least, Psiphon browser, another privacy bowser. Did you ever face the problem that you want to access any website and it is restricted by government for some safety issues. In that case what will you do? Psiphon browser is the answer of all your questions with it you can unblock censored sites. It also helps you in the condition when you visit another country and there you can not access the internet.
Psiphon acts like a bridge between blocked sites and you. It is a free software. Psiphon was designed by Citizen Lab and initially it was launched in 2004. Psiphon also allows you anonymous browsing that means nobody can track your on line activity. Its only drawback is that you have to see Ads while exploring through Psiphon. You can setup pages and add your favourite sites, just like other browsers.
Features of Psiphon browser
Psiphon provide you high level of privacy,even internet service provider can't track your online activity.
Psiphon helped you to unblock the censored sites.
Psiphon's network acts through a wide protocol and you can access anything you want.
Easy interface and easy to use.
Click Here To Download Psiphon Browser
In a nut shell all the browsers have different specifications but the main motive is to provide you safe and fast browsing. This brief description will definitely help you in choosing the best one for you. Still have any question regarding these browsers, comment below. If you have ever use any of these explorer then please share your experience with us..