Now, it becomes clear that Pagani's latest multi-million cars are going to be previewed in CSR racing 2. Those who don't know what I am talking about no need to worry as everything will be described in this article. 
It is a dream for every petrolhead to have a Pagani or even drive it. Not everyone can afford a Pagani due to its exclusiveness and cost. 
But now you can experience the charm of driving a Pagani virtually that too the latest model. Pagani is all set to unveil his Huayra Roadster Bc which is Said to be a Jewel on the road.
Let's move forward and explore each and every detail about the car, game, and brand. Let's get started.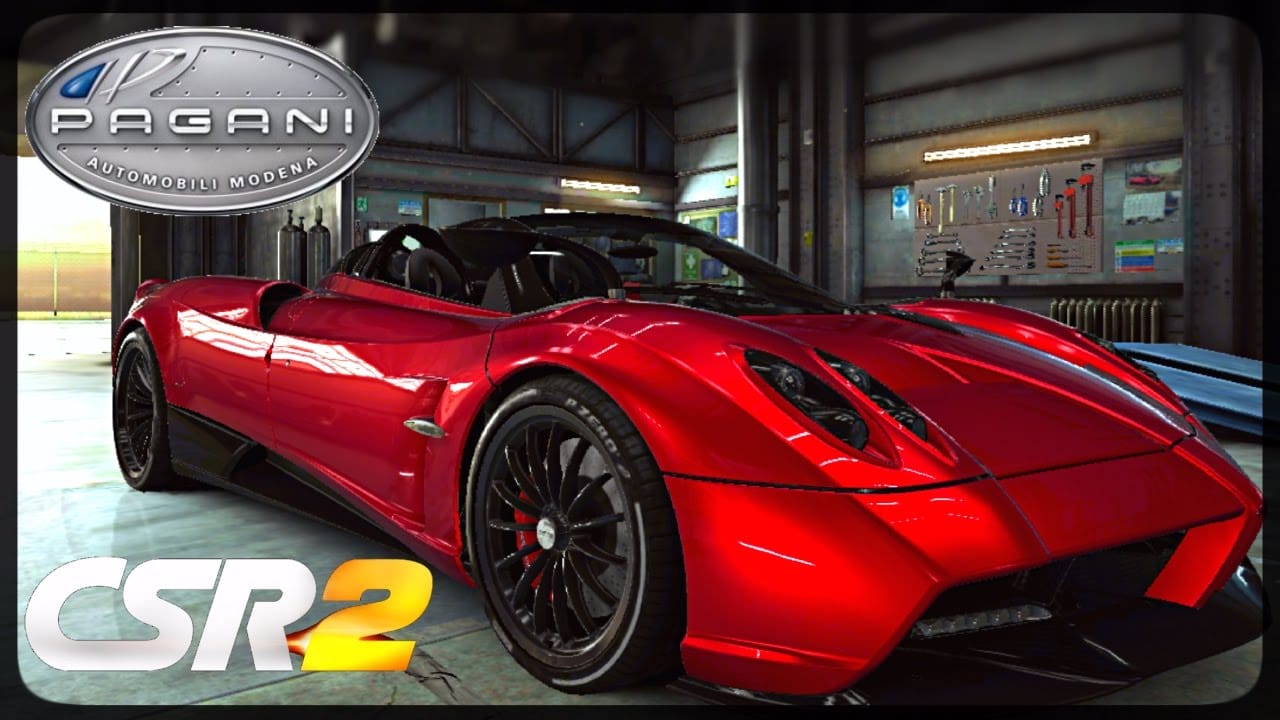 Pagani Huayra Roadster
After 2 years of development, the Huayra Roadster officially launched in Geneva Motor Show of 2017. The car delivers much extra than mesmerizing beauty its efficiency includes a seven-speed gearbox, single disc clutch, twin-turbocharged Mercedes AMG M158V12 engine. 
The car uses brake calipers, rotors, and pads from Brembo which is a leading brand for the automotive brake system. Huayra has a top speed of 383km/h with an acceleration time of 2.8 seconds. The expansion tank is mounted on top of the engine to cut off the piping and fittings this provides greater safety and security. 
Huayra Roadster is the true example of aerodynamics shape. By the use of science the car is able to change the height from frontside along with independent operational four flaps. All these things made the car to become a part of dynamic game CSR Racing 2. For me, Pagani's Huayra Roadster is a car of dreams no matter where you drive this car in real life or in CSR Racing 2.
Pagani an Introduction
Pagani is an Italian car manufacturer which is well known for its expensive sports cars. Most of the cars that Pagani has made is a true example of innovation, superior design, and class. The recent model Huayra Roadster that is also associated with legendary game CSR Racing 2.
To own a Pagani is a dream of every car finiac but not everyone can own even the richest one as cars are made in very limited quantity. But now you can experience the joy of driving a Pagani virtually in CSR Racing 2. 
CSR Racing 2
CSR Racing 2 is an extension of the no 1 racing game of all times. The famous racing is well known for its high-end graphics, sound effects that gave a feel of real-life racing. For every racing geek, it is a must to try CSR Racing 2 as it is just like the celebration of cars in your pocket. 
Also, this game makes possible to try out some of the most amazing cars on the planet. After listening to all these pros. I am sure that you must be dying to play the wonderful racing game to download just follow the steps given below.
Highlighting Features of CSR Racing 2
The game has out of the box features that are as follows:
Download Procedure
For Android
For iOS
For Pc
Final Words
That's all for today, I hope you like the information shared above and will refer it to your friends and family members. The in-depth information is designed to help you and contains all major points of the game, car and its brand. Still, have any questions or confusion regarding the game. Mention it below in the comment box. Our team will try their best to answer them in upcoming blogs.