Not in a Good Mood? Feeling depressed? Listen to music & everything will be great again. But, let me ask you a question— Which app do you use for listening to music? Most of you might be using Apple Music, Spotify & other popular apps. However, in this post, I am going to tell you about the Spotify Web Player.
Now, before going ahead, let me ask another question— Do you still use the Spotify Desktop app to listen to your favorite Music on Desktop PC's? Well, stop using it right away & replace it with Spotify Web Player. Wondering, why I said so? Well, to get all your answers, continue reading the post: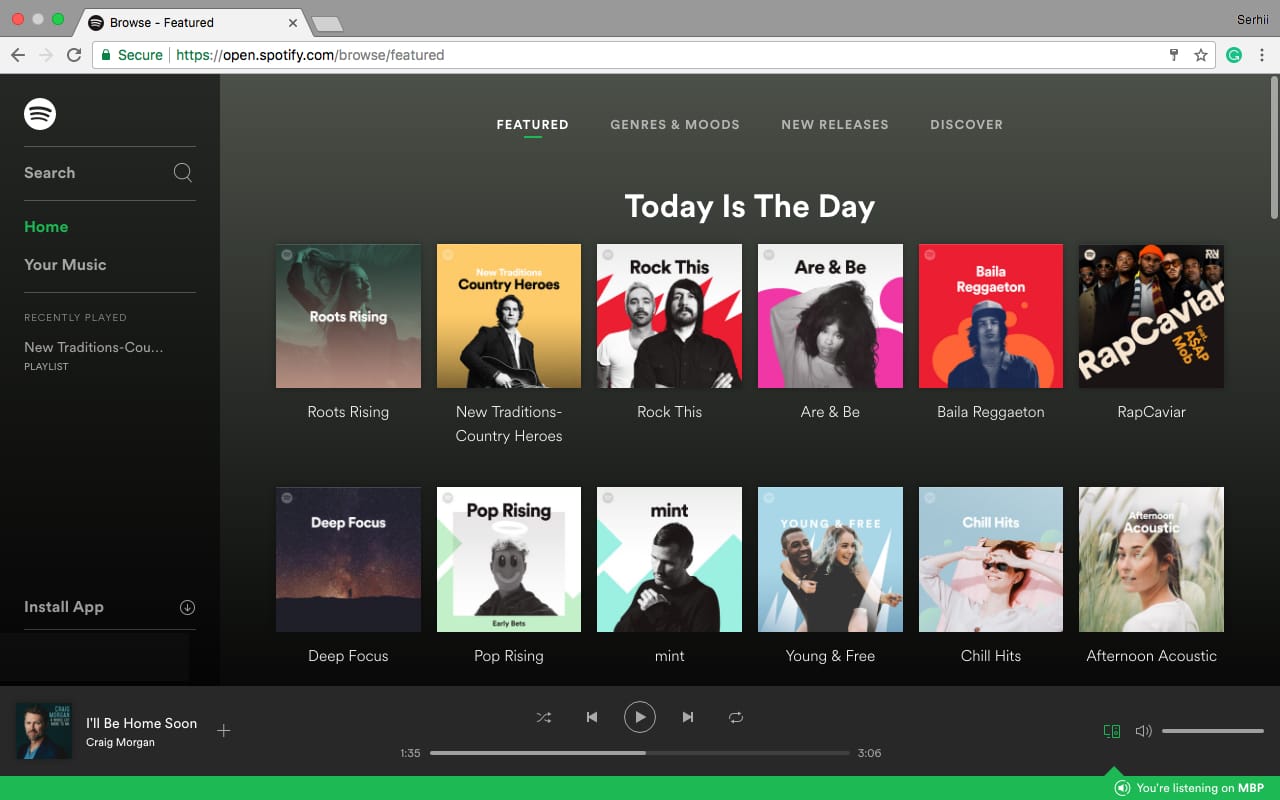 How to Access Spotify Web Player in PC
Accessing Spotify Web Player is quite easy. Follow these simple steps & start listening to Songs:
Launch any web browser in your PC.
Go to the Spotify Browser Page.
Select Log in & enter your account details, or you can directly login using your Spotify linked Facebook account. However, if you don't have an account then create a new one to start listening to your favorite music.
Spotify web player Interface & Homepage
After logging in to the web player, you'll see a simple & clean UI (User Interface). On the left pane, you'll see 4 options— Home, Search, Your Library & recently Played. These are some options that you'll need the most while using the Spotify web player.
There are the options that you'll see on the homepage of the web player:
Suggested Music based on your history of Song Listening.
Recently played music.
Songs & Albums of tour Favorite singer.
Recommended Music.
List of Top music.
Spotify web player Hotkeys
Do you miss hotkeys features of Spotify Desktop app? Well, don't worry as you can still use this feature in Spotify Web Player. All you have to do is install the Spotify Web Player Hotkeys extension. Moreover, you can use all these Hotkeys to quickly access the web player.
Play or Pause: Alt+Shift+P
Play Previous Track: Alt+Shift+,
Play Next Track: Alt+Shift+.
Save Track: Alt+Shift+F
FIREFOX SPOTIFY HOTKEYS ADDON HOTKEYS:
Play or Pause: Alt+Shift+P
Play Previous Track: Alt+Shift+,
Play Next Track: Alt+Shift+.
Repeat: Alt+Shift+R
Shuffle: Alt+Shift+F
Play Album: Alt+Shift+B
Why I Prefer the Spotify Web Player?
Do you still feel that Spotify Web Player is not good enough? Well, then let me prove you wrong as I will tell some benefits of this web player. Here are some of them:
Spotify on Chromebook: Do you own a Chromebook? Well, there is good news for you folks as you can use almost every feature in your Chromebook as you expect to work in a fully-featured Spotify client.
Add-ons: Want to expand the functionality of the Web Player. Well, there is an easy option for you. Search Spotify in extension store of your browser & you'll find tons of extensions to increase the functionality of the Web Player. One of the extensions of web player is Spotify Web Player Hotkey Extension.
Portability: It is one of my favorite features as it allows me to use the Web Player almost anywhere. All you need is a web browser & an internet connection. So, don't panic, if you have forgotten your devices at home.
Online Widgets: Earlier, it was quite irritating when I had to open an additional application for accessing a new playlist. But now, embeds all the playlists directly into the page. By doing so, the developers have made my life much easier.
PC resources: I uninstall the Desktop app of Spotify as it used to consume a lot of CPU usage in the background which resulted in lag problems in my pc. So, if you want to save your pc resources just like I did, then start using the Web Player released by Spotify.
Frequently Asked Questions | Spotify Web player
Q- Spotify Web Player is blocked in my region. How I can unblock it?
A- VPN or Virtual Private Network is the solution all you need. Download & Install any Free or paid VPN services in your PC, change your location to the USA, enter your login details & start using Spotify web player in the blocked region.
Q- Spotify web player is not working. What should I do?
A- Clear the cookies of your browser & you can start using Spotify web player again. Besides, if you don't want to face the same problems again, then I recommend you clear the cookies of your browser at regular interval.
Bottom Line
That's for now. If you want to make full use of your Spotify premium subscription then I would suggest you to start using Spotify Web Player. In addition to this, if you want to get some additional features of a web player, then you can always use hotkeys mentioned by me above.
However, if you have any question related to using Spotify web player then you can always ask me in the comment section given below.