"Sometimes, if you have faith in people they'll surprise you." Yup, these lines from the heartland are true as series keep you surprising every time, most recently they surprised with providing Mystery Mondays back from 22 September as Heartland season 13 will be premiered at 7 P.M.
Well… this is not the first instance I have witnessed a surprise at the time of  Amber's pregnancy. Yes, that time she was pregnant in real and portraying the same condition in reel life as well. Do you remember Amber kid in that season? He is the same child whom she gave birth in real life. Its time to witness the fresh breeze of Heartland 13 as the long wait is going to end very soon. 
Heartland 13: Things Noticed in Production
The storyline of Heartland 13 is still a mystery, as per rumours the series can be getting revamped this time with several changes. As I mentioned, these are just rumours so doesn't make sense to believe those. So, I have been observing heartland 13 sets to get some idea of what actually can be seen in Heartland 13.  Here are some questions along with answers that contain evidence as well.
Will Heartland have season 13?
Yes, heartland is going to have a season 13 as many of you know. Shooting for Heartland 13 got started way back on May 6, 2019 in the direction of Ken Filewych. Who has been working for long with the series as editor. 
Heartland 13 first episode is titled as "Snakes & Ladders" want to know who crafted this mysterious title? Well… this idea is a brainchild of Heather Conkie who is the writer for Heartland 13.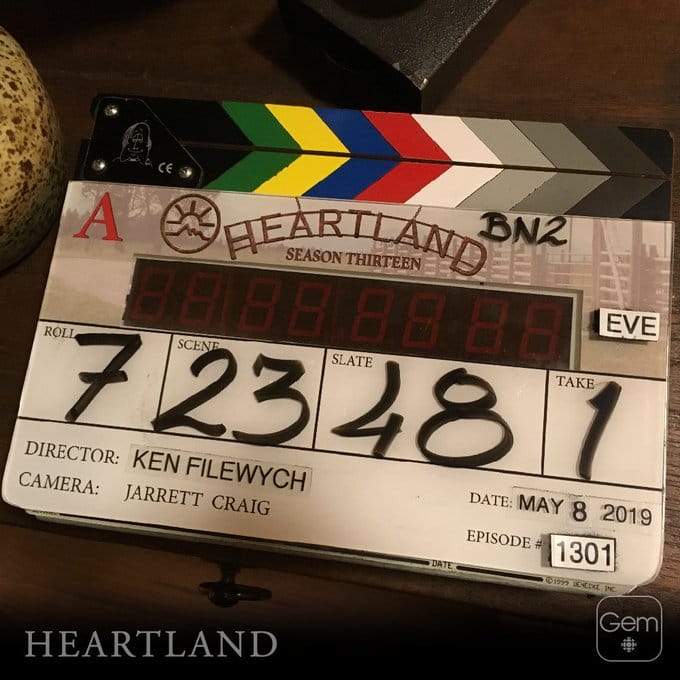 As I mentioned answers with evidence so here is the pic of production slate with details of first episode which is originally numbered as 1301. Well, it is hard to count as series running from last 10 years.  
Will we see the Revamped Heartland Season13? 
The shooting has been started at Ranch House which is well known in series. Even the saddles are spotted that depicts the old relation between amber and horses. You are well aware of amber's who is playing the role of equestrian. 
The entire spotted crew is same as in season12. After checking the above points the possibilities of getting a revamped Heartland are seemed to be a rumour only. That means the story will continue from last season forwarding the legacy of our beloved Heartland. As per me, it is the best possible way to continue the series as there are still many unanswered questions that can be answered in season 13. 
When heartland season 13 will release on Netflix?
Well…. Heartland is back and will be broadcast on CBC from coming September. That is for Canada only still there is no official statement has been made by Netflix. I would like to mention that Heartland season 13 shoot is started but heartland season 11 and 12 is still pending even for broadcast on Netflix. The show received a tremendous response that creates strong possibility of being premiered on Netflix any time sooner.
Heartland Season 13 Fan Extra's Day
There is never a better way than experiencing the thing you love most. You can experience the show live by participating at fan extra's day. It is an opportunity for fans to be a part of an exciting scene that will be a life long memory for you. 
To become a part of Longest-running Canadian Tv Series all you need to do fill the form the provided at Heartland official website. The candidates will be chosen by production house no need to worry as you get a mail confirming that along with venue and time. To help you I would like to tell you that Calgary is the place where shoot is going on.
Who will play Amy Fleming in Heartland Season 13?
This one is most asked question among fans due to several news and rumours but somewhere they lacks authority. I would like to inform you that Amber Marshell will play the role of Amy as always. Actually, Marshell loves horses and lives an authentic western lifestyle something that really makes best to play the character. 
The actor is also seen living with husband and horses at her farmhouse situated at city outskirts. Amy received the honour of being Marshal Parady of Calgary Stampede which is known for displaying woman culture of the west. If you don't know who is Marshal Parady? It is the person that leads the stampede. 
Final Words
There are many popular tv shows running but I was really looking for heartland season 13. The show is the longest-running Canadian tv show besides it there are many other things to watch the show. 
Some of my friends watch it to experience a healthy family drama, some to for horses, rest for the ghost. I love to watch the show as it tells us how to face ups and downs of life. I learned that nothing is permanent but life must go on.