Boost your Discord server's fun with Hydra Bot.
Hydra Bot adds music streaming, making your virtual gatherings lively and enjoyable. This user manual, "Installing Hydra Bot to Discord Made Simple," walks you through each step, providing clear instructions and helpful tips.
Now, let's get started with its brief overview –
A brief overview of Hydra Bot
Hydra Bot is a feature-rich Discord bot designed to enhance your community experience. It is equipped with various functionalities that include streaming music from multiple sources like Spotify, YouTube, and SoundCloud, among others.
Besides playing music, the bot enables users to loop, replay, skip, and shuffle songs and even provides song lyrics.
One key aspect that sets Hydra Bot apart from other Discord bots is its user-friendly, web-based interface, allowing server administrators to configure and manage the bot without remembering complex commands or syntax.
The importance or benefits of adding Hydra Bot to Discord
Here's a list of benefits of adding Hydra Bot to Discord:
Versatile Music Streaming: Hydra Bot is capable of streaming music from a variety of popular platforms, including YouTube, Spotify, SoundCloud, and more. This lets you and your community conveniently enjoy a wide range of music within your Discord server.
User-friendly Interface: With Hydra Bot's web dashboard, it's possible to customize the bot's settings without having to remember complex commands or syntaxes. This adds to ease of use and allows you to tailor the bot's features to your community's needs.
Feature-rich Usage: Besides its music capabilities, Hydra Bot is one of the more popular bots for automating tasks on Discord. This additional functionality can enhance user engagement and simplify moderation tasks on your server.
Community Interaction: If your Discord chats are too quiet, Hydra Bot can add a layer of engagement by playing music, making virtual gatherings more entertaining.
Please note: as of March 2023, Discord imposed restrictions on music bots, causing Hydra Bot to remove all its music functionalities.
Step-by-step Guide on Adding Hydra Bot to Discord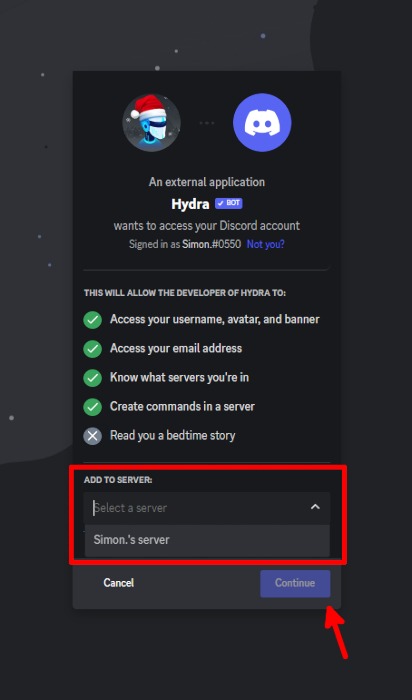 Here's a detailed step-by-step guide on how to add Hydra Bot to your Discord server:
Finding Hydra Bot
Go to the official Hydra Bot website or find it on the Discord Bots listing.
Check the specific features and functionalities Hydra Bot provides to ensure it aligns with your requirements.
Sending an Invitation to Hydra Bot
Click the 'Invite' or 'Add to Discord' on the Hydra Bot page.
You'll be redirected to Discord's website. You should select the server where you'd like to add Hydra Bot.
Configuring Permissions
After selecting your server, you will see a list of permissions the bot requires to work properly.
Verify these permissions and make sure you're comfortable providing them.
Click on 'Authorize' once you've reviewed all the permissions. You might have to complete a captcha to prove you're not a robot.
Confirmation of Hydra Bot Addition
At this point, Hydra Bot should now be a part of your server. You can check this by visiting your Discord server and finding Hydra Bot on the list of members.
From here, you can start configuring Hydra Bot settings or using its commands to benefit from its features.
Tips on Using Hydra Bot in Discord
Commands for Hydra Bot
Popular Commands Include:
"!play [song name or link]" –  This will queue the song or playlist you request.
"!skip" – This will skip the current playing song.
"!loop [track/queue/off]" – This allows you to loop the entire queue or the current track.
"!lyrics [song]" – This will display the lyrics of the song you specify.
"!stop" – This will stop the bot from playing music.
Setting up a Song-Request Channel with Hydra Bot
Start by creating a new channel in your server.
Name it something like "#song-requests" to indicate its purpose.
To ensure Hydra Bot operates primarily in this channel, restrict the bot's 'Read Text Channels & See Voice Channels' permission in other channels and allow it in the '#song-requests' channel.
Troubleshooting Common Issues
Hydra Bot Not Responding: Check if the bot has been given proper permissions.
Song is Not Playing: Verify that Hydra Bot has the proper permissions in your voice channel. Also, check if the song's URL is from a supported platform.
Hydra Bot Commands Not Working: Commands may have been customized on the server. Check '!help' or the bot's dashboard to view a list of commands.
Final Words
In conclusion, Hydra Bot brings more excitement and interaction to your Discord community.
Now that you know how to install and use the bot, what are you waiting for? It's time to install it on your Discord server and enjoy its benefits.