Things become pretty tough when we want to choose the best smartphone among the huge variation. As you know the Indian market is full of Chinese handsets and even I can say there is a monopoly of Chinese gadgets. Oppo is the Chinese smartphone giant recently has launched two Android devices in the market. these are the Oppo F9 and Oppo F9 Pro and all the two are mid-range devices. Both devices attributed with waterdrop notch.
Although Oppo has introduced numerous devices in the Indian market but its F9 range comes with all new display design. Both devices are the first which comes with Gorilla glass 6. Although there is no great difference between the two but some features differentiate them. Here we will discuss the differences between Oppo F9 Pro VS Oppo F9.
Oppo F9 vs Oppo F9 Pro: Price difference
The topmost difference between both is the price. As the name shows pro means some additional features so obviously it costs more than F9. You can get Oppo F9 Pro at Rs. 23999 in the Indian market. On the other hand, Oppo F9 costs Rs. 19999. Both phones have a neck to neck competition.
Oppo F9 vs Oppo F9 Pro: Specs and Features
Now take a look at their features and specifications. Above I said that they are not much but few one exists so here is a complete analysis:
RAM and Camera
The Oppo F9 pro offers you 6GB RAM and 24MP front camera. Pro version also featured with VOOC flash charging which enables you to quick charging. It is a wonderful spec of this device and you can talk up to 2 hours after charging it for 5 minutes.
Whereas Oppo F9 comes with 4GB RAM and the front camera is of 16MP. F9 doesn't support VOOC charging. And you can consider it the chief difference between them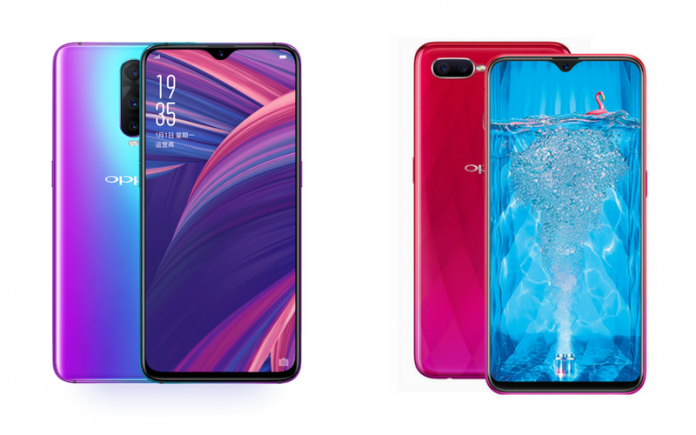 Display and design
Now discuss the common features of both devices. All the two comes with the same display and design. The little bit different is that the F9 has a slight incline at the back. Both devices featured with a 6.3-inch display and which contains 19.5:9 aspect ratio. Gives you full HD resolution.
Processor
Oppo F9 and F9 pro come with the same processor. They contain Media Tek Helio P60 processor. All the two phones have 64GB internal storage and can expand up to 256GB through the SD card slot.
Rear Camera
Both featured with the same rear camera. Oppo offers you 16MP primary unit and has 2MP depth sensor.  You can capture ideal pictures with both smartphones and an oval-shaped fingerprint sensor exists on the back of the phone. Featured with Face unlock through front camera.
Software
Another similar feature is software. Both devices rush the updated Android 8.1 oreo operating system. Both have 3500 mAh battery but F9 Pro has fast charging system so it is ahead in this spec. There is a headphone jack in both devices and a micro USB port.
Final verdict
All the two devices are equipped with latest features and give you an advanced experience. Although there is not much variation between them pro variant provide you few more specifications like VOOC charging and 4GB RAM. Price is also slightly different but if you want to get updated then Pro version is best.
Well..above description will definitely assist you to differentiate them. And you are wise enough to choose the best one for you. Still, any question regarding these devices then comment below and there are lots more updates so stay connected.
Also check : Poco F1 vs Oneplus 6 Which Phone Is Best To Buy