"Games give you a chance to excel, and if you're playing in good company you don't even mind if you lose because you had the enjoyment of the company during the course of the game."
Irrespective of our age, we all enjoy playing games. However, Stupid games are more interguing as these brings out your childishness. Whether you agree or not but the point is when you play stupid games, you become more open towards new experiences.
If you want to know more about these games then continue reading until the end. We will unfold many new experiences for you.
"Play Stupid Games and Win Stupid Prices"
Let's start with the literal meaning of the phrase to get you the right idea about it.
If you are doing something intentionally, knowing your actions are illegal, unethical, out of regulations and ethics- still pursuing it, then you should adapt yourself to bear the consequences. When you are willingly putting yourself in the wrong situation instead of your own making to win something, the result will not be fruitful for you.
The reason we are stating its meaning is- the term is well searched on various platforms and meaning of the phrase is getting plenty of answers, even some are pointless. Still, facing difficulties have a look to the example described below.
For better clarity, Let's take an example:
Example
Let's suppose Jone chooses to get some pleasure by breaking into the exposition and riding all the rides himself and decides to swing alone. While having the rides, Jone gets a bruise on his leg,, and then he exempts to sue the entire exposition.
Want to see example in form of video? Here it is:
Guy jumped on an exercise ball from the terrace from r/WinStupidPrizes
 While writing the above example, I got clicked by my old story which relates to the topic. Additionally, it will clear all your doubts. So, begin with my personal story:
Personal Experience
When I was a teen, I like to surf the internet alot. It was my habit to search for the paid tools for free, as I don't have much money at time. Ofcourse, When we don't have any source of income, everyone do it. This line well suits on me.
At that time, I have HP PC very old model, actually I didn't remember the model number..that freeze most of the times. One day, I was able to get "original" Photoshop software for free and hence download it. Basically, it was a cracked version. I was so happy.
But the software was yet to install. When I attempted to open the software, it didn't open. I tried it plathero of times with multiple methods but no method work for me.
After several attempts to figure it and I was not able to find the solution and I finally reinstalled Windows XP. Resulting, in loss of all my data. Everything that was in my PC was gone- videos, tools, softwares and various files. Actually, a deadly virus attacks my PC, through the free the software.
"Play Stupid Games, Win Stupid Prices". Do you get what I mean? If I had bought a authorised copy of the software, then I don't have to face these problems. I must say it was a stupid price for a stupid game. Isn't it?
Overall
In short, if you play a stupid game, then you will receive a ridiculous price. This phrase best suits carnival-style games, wherein case you win, you end up getting an over-priced and poor quality prize. The more broadly lesson for this is: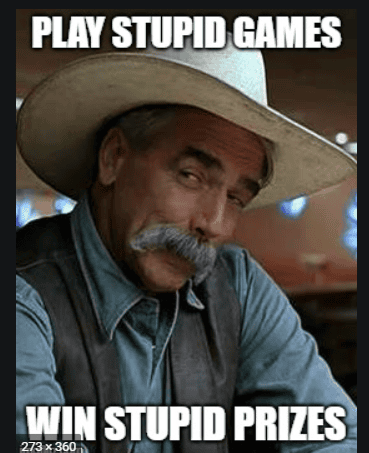 If you pursue pointless projects and activities, then the result will also be meaningless.
If you think something is useless and a waste of time, then it will be useless.
Moreover, you can apply the phrase to numerous situations. Maybe, you also experience some of the situations when you do something silly and wrong and end up backfired. Yes… I know there are situations where you have to cut corners and complete the difficult task illegally,, but you can't regret it, as it opens some other difficult paths for you.
Are these Activities in Discussion?
Still of the above, these types of games are getting popular, and you can even check the discussions on the various forums. Shared a screenshot from Reddit, have a look:
These types of activities are trending these days; even you can see the topic is hot and trending.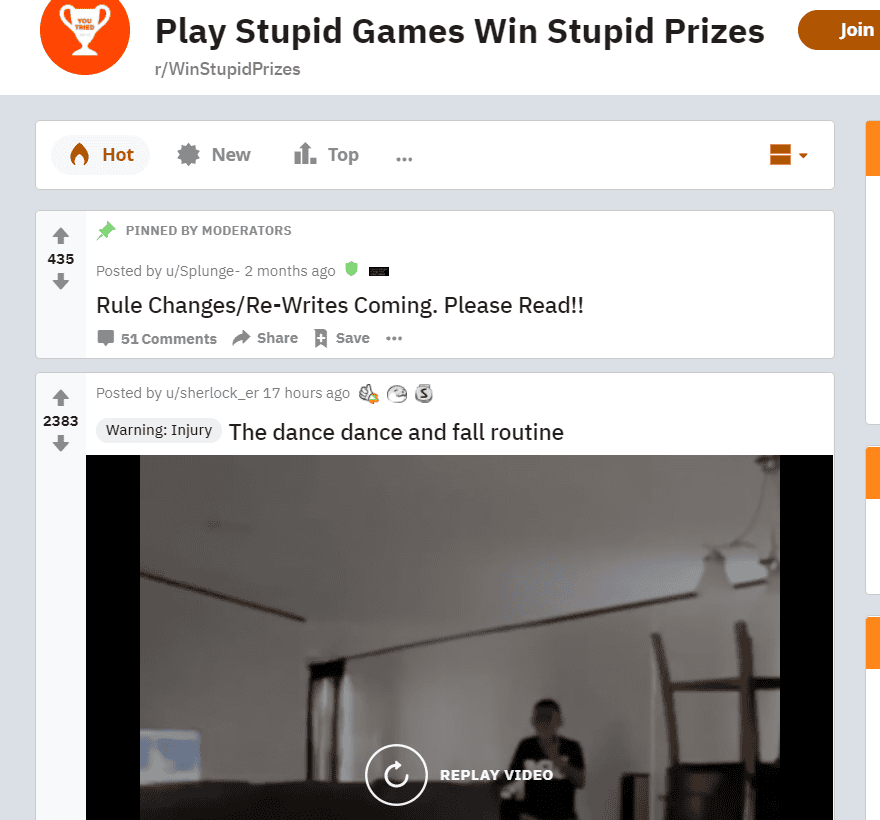 You can post on these platforms and take part in these Stupid Games. You have to simply post- a human doing something weird.
Moreover, the video must compel the audience "That's a bad idea" and then bear its upshots. This is the only requirement for the Reddit platform for this group.
History of Play Stupid Games and Win Stupid Prizes
You might be wondering when the phrase will be first used? Well, I was wondering it….
So, I searched hard but didn't get any satisfactory answer. At last, I tried Google Ingram Viewer, and the results were enough but still not great. Before telling you all the whole story about it, let me explain to you about Google Ingram Viewer; through this, you will get a deep insight.
It is an online search engine that shows the results and charts the frequency of your searched term using a yearly count of n-grams found in the printed sources between 1500 and 2019 in the Google text. Hoping you get it.
Let's get back to the track
I searched for the term in the Google Ingram Viewer,, but the results show no chart. However, when I searched only for the "Play Stupid Games," then the chart shows the phrase has been found since 1894.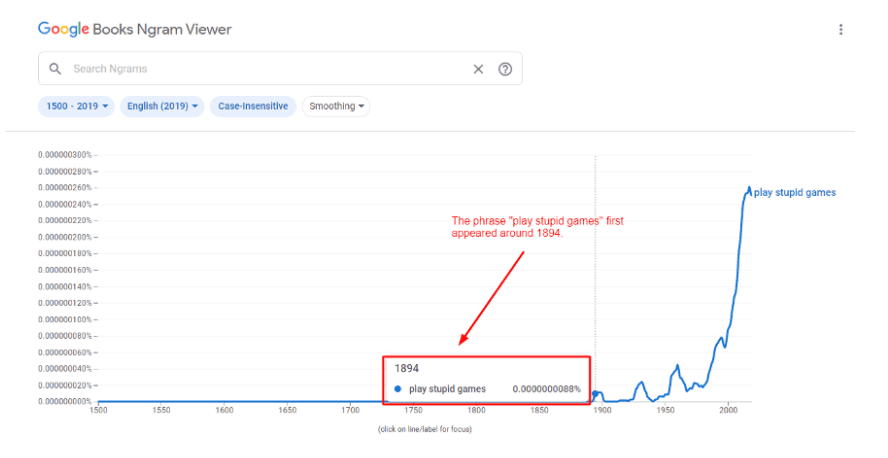 We are not sure with the full phrase, but the "Play Stupid Games" was even used in 1894,, which is quite interesting. Isn't it? Share your opinion with us.
So, to be sure and search for the outcome, we explored it on various google manually. My search term was "Play Stupid Games," and the result was unusual. Have a look at the screenshot:
While we search for the Play Stupid Games but the result was for the full term. This means that public means for the entire phrase even when we don't enter the entire phase. And this time I got a sufficient answer. So, on the whole, the phrase was still looked in 1894. My search is productive.
Gift Ideas- "Play Stupid Games and Win Stupid Prices":
Well, this is the fascinating thing that one wonders after knowing about this phrase. What if we do wicked things, then what prices we can get, what types of prizes are presented or listed for the winners. You should know someone who needs this kind of advice.
You can even share the phrase with your friends as getting a gift for yourself or your friends that states " Play Stupid Games, Win Stupid Prizes" is immeasurable in any terms.
So, Let's proceed towards a few ideas:
Play Stupid Games Win Stupid Prizes T-Shirt:
You can check its price on Amazon, Redbubble, and Etsy.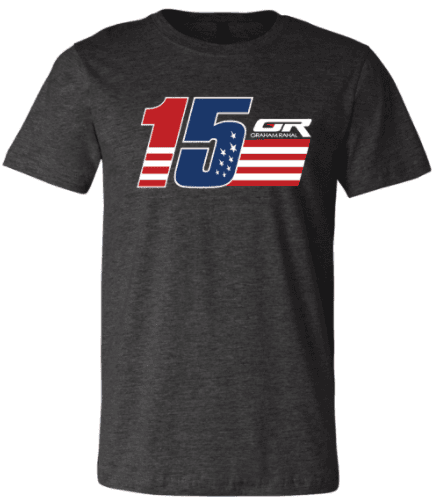 Play Stupid Games Win Stupid Prizes Pullover Hoodie:
You can search this on Amazon, Teespring, and Redbubble.
Play Stupid Games Win Stupid Prizes 2×3 Patch:
For this, you can search it on Amazon.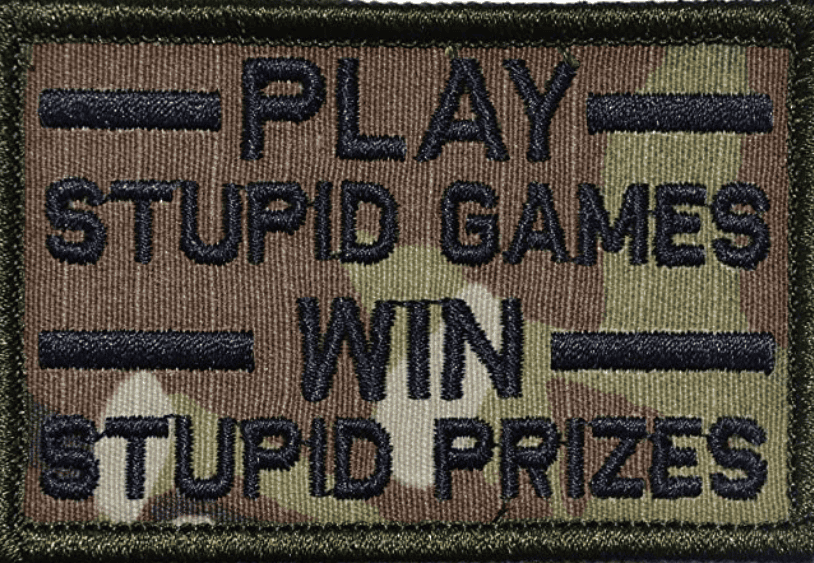 Other Play Stupid Games Win Stupid Prize On Amazon:
Other than all of the above, you can also search it on Amazon. To, help you get more options, you can choose as per your likes and dislikes. For this, simply search "Play Stupid Games Win Stupid Prices in the Amazon search bar.
Play Stupid Games Win Stupid Prizes On Joom:
Stupid games and prices are available on Joom, there you can access six products. The platform offers high-quality elements and materials with popular brands as well like Blue Orange, Hasbro and Paul Lamond Games.
Alright, those are the most used prices in the category of games. If you like to add something to the list, You are most welcome….notify us in the comment section.
After acquiring all the above information then you will have a question- How to buy the product for Play Stupid Games, Win Stupid Prices:
How to Buy Products and Play- "Play Stupid Games, Win Stupid Prizes"
For platforms other the forums, you sometimes needs to buy the product, if you want to explore more. These Stupid games are well known for the amazing sites. So, to know about the buying process stay connected:
The buying process for this category is similar to the other simple products. Simply follow the listed steps, to buy your favourite product. I have listed step-by-step to help you. Let's begin:
Choose a product that you want to buy.
Tap on the buy option to enter the product in the cart.
Once you are done with above then select the quantity of "Play Stupid Games, WIn Stupid Prices" (Normally it is 1, Maximum number – 20)
Now, enter your full delivery address( make sure you enter ZIP code and the apartment number), personal details, phone number and an email address.
We recommend you to recheck your details, once you are done with the recheck then confirm it.
You are one step away. Simply pay for your order.
Congrats..you are done.
If you still face any issue in ordering your product, tell us in the comment section. We will help you to figure out it. We will not be able to know about
You can play these kinds of games on any of your device like PC, Mac. Even you can listen "Play Stupid Games, Win Stupid Prizes" on Apple Podcast. From there you can explore more and it will help you to get more understanding about it.
Kinds of Activities and Games: Play Stupid Games and Win Stupid Prizes
For the above listed platform like Reddit, you have to post the video of the human being doing something quirky which engage the audience. Recently, I viewed a video on Reddit, a person was hitting his head with the bottle and ends up with the injury on his head.
This is an great illustration of Play Stupid Games and Win Stupid Prizes. If these kinds of activities relish you then these games are the one for you.
Learning from Play Stupid Games Win Stupid Prizes
Whether stupid games are working for you or not, but as a whole, if you do unethical activities then the result will also be of some insufficient quality. So, I recommend you highly to think correctly before playing these games and activities.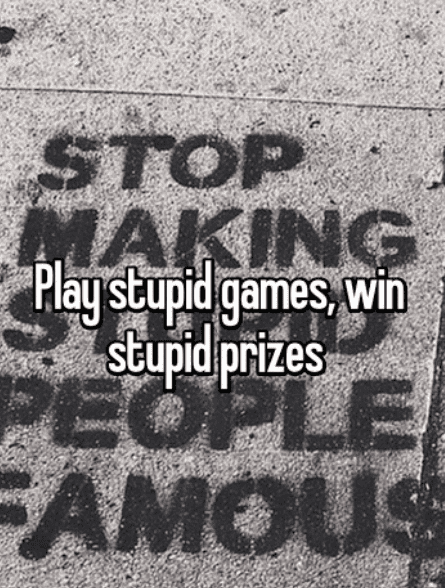 If you utilize your time on illicit activities, then you have to face the consequences in one or other way.
In case you don't give good effort and attention to your professional's games then you will not get the full benefit from it.
The activities which are not related to your field and didn't have any right effect in any way then you should rather skip them, instead of spending your time on such schemes.
These are mostly to engage you in the different types of activities and bad ideas to which the other person say- That a Bad Idea and then facing the outcomes. Don't utilise your time on illicit ways to get prices, even for that prices which will not be productive for you.
Summation
We have tired to mention all the necessary information at one place for you. If you have played Stupid Games then share your experience with us and even tell us about your gift, whether it is stupid or not….do tel us.
We willl be happy to hear from you, your experience and furthermore it motivates me to write on these topics. If the article is useful for you then do share it with the ones, who admire playing games, especially prefer new experiences and gifts.
For any further support or query, you can ask us in the remark section. We will like to help you.